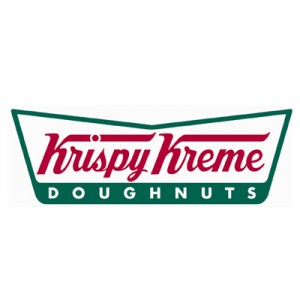 Krispy Kreme got its start after its original owner bought a secret doughnut recipe. The original business plan was to sell the doughnuts to the local grocery store industry, but the smell of fresh baked goodness was so profound that people began knocking on the bakery door. Shortly after the first knocks on the door, Krispy Kreme owner, Vernon Rudolph, knocked down a wall and started selling his doughnuts to customers on the sidewalk.
Over 75-years-later, Krispy Kreme has grown and evolved from a glorified sidewalk stand to a worldwide doughnut chain with 884 stores in 23 different countries. They have even begun producing their own brand of coffee and K-cups to provide the perfect morning beverage pairing with their doughnut creations.
Krispy Kreme's mission is to touch and enhance lives through the joy of their doughnuts and to create a link between sharing delicious tastes and having joyful memories.
Krispy Kreme Careers
Team Member
Requirements for team members are very straightforward and have to do with the physical and mental capabilities of performing day-to-day tasks. Some of these requirements include being able to reach the counter and lift and move up to 50lbs. Excellent customer service and communication skills are the desired attributes of team members.
Production Specialist
The physical demands of the production specialist are a little tougher than the team member's. These employees frequently move 50-75lbs of mix, dough and other ingredients. Sometimes using a cart, other times without. Other essential requirements are the ability to keep a time schedule for the yeast, and an understanding of measurements and weights.
Shift Supervisor
Supervisors must be at least 18-years-old. Prior career experience working with customers and a history of dependability are must haves. Supervisors have the same physical demands of production specialists and team members; they occasionally have to lift up to 75lbs and frequently lift around 25lbs.
A flexible availability is required as applicants must be able to work any day or shift. Krispy Kreme shift supervisors must complete a Krispy Kreme Shift Management Training Workbook prior to being hired or promoted to this position.
Get Your Degree!
Find schools and get information on the program that's right for you.
Powered by Campus Explorer
Shuttle Driver
Driving a vehicle means you have to have a valid driver's license. Krispy Kreme requires all of its drivers to have three years clean driving record and be at least 21 years of age. Prior experience driving a truck is always preferred.
Shuttle drivers have to be used to driving long periods of time and sometimes doing overnight shifts (8pm – 4am) to make deliveries. Physical aspects of the job involve using handcarts to push, pull and lift up to 75 lbs.
Management
Krispy Kreme managers must undergo an intensive training course. The course is six weeks of on-the-job training packed with instructional videos, computer-based exercises and a workbook. Immediately after the six weeks, trainees go to the Krispy Kreme training center in Winston-Salem, North Carolina for an additional week of classroom sessions, hands-on training and lectures from corporate employees.
In addition to this rigorous training program, all Krispy Kreme managers must meet additional requirements. They must be at least 18-years-old and have the same clean driving record as shuttle drivers. Potential managers must possess outstanding leadership, communication and organizational skills to be successful.
The answer to the commonly asked question 'how old do you have to be to work at Krispy Kreme?' really depends on what position you are applying for. All Krispy Kreme employees must pass a pre-employment background check and drug screening.
Team Member – The average team member wage is around $8.50 an hour. These employees start at minimum wage.
Production Specialists – Wages hover around $9.00 an hour.
Shift Supervisor – Average hourly pay for this position is around $10.50 an hour.
Shuttle Driver – A wage of $14.00 an hour and lots of hours of travel give the shuttle driver a pretty wealthy living.
Manager – Salaries for managers are impacted greatly by experience and performance. The salary can be anywhere from $40,000 to over $50,000 annually.
Krispy Kreme offers a long list of benefits. These are some of the highlights, but take note that there are even more benefits that Krispy Kreme offers qualified employees: Product discounts, holiday pay, floating holidays, medical, dental, vision and life insurance, 401(k) savings plan, maternity/paternity leave, adoption assistance and much, much more.
Krispy Kreme Job Descriptions
Team Member
These employees are responsible for providing service to customers by taking their orders, answering any  questions and doing it all in a manner that is friendly and helpful to ensure that these customers have the best experience possible.
Other duties include restocking products to guarantee freshness and overall store cleanliness. Keeping a clean store requires regularly emptying the garbage containers, sweeping floors, wiping down tables and counter tops and making sure the facilities are cleaned.
Production Specialist
This position harbors the employees responsible for preparing all Krispy Kreme products. They must pay keen attention to the quality of their ingredients and the finished products to ensure that it meets Krispy Kreme standards. Their duties include preparing the dough, yeast brew, glaze and fillings and combining them all into the tasty treat the world has come to love.
Additional duties require production specialists to routinely check on their equipment and the production process as a whole to make sure everything is working up to code. They must also keep meticulous notes and schedules to make sure the finished product is as fresh and great tasting as possible.
Shift Supervisor
Supervisors carry many of the same responsibilities as a team member, but with some added workload. In addition to team member duties, supervisors must also oversee the performance of all store activities. Their additional tasks include coordinating with production specialist to fill orders, answering phones, conducting tours (if applicable) and handling any difficult customer situations.
Supervisors are meant to be role models for team members and must always carry themselves in a professional, courteous and pleasant manner. Their level of customer service should go above and beyond that of a normal team member and act as a level of performance that others should strive to match.
Shuttle Driver (not applicable at all locations)
Safely transporting Krispy Kreme doughnuts from the production store to nearby outlets is the main priority of the shuttle driver. They load their trucks to the top with racks of delicious smelling products and deliver them by the dozens. They must maintain a strict schedule to ensure that doughnuts are still packed with freshness when they arrive at these external outlets. This position is not available at all Krispy Kreme locations.
Manager
A Krispy Kreme manager oversees all levels of store operation. These areas are guest service, sales, sanitation, safety, equipment, personnel, accounting and of course leadership. Guest service roles reflect the same duties that a shift supervisor has. Sales tasks involve directing store efforts by implementing strategies like suggestive selling and monitoring profits. Managers also have a hand in the production line by coordinating demands with schedules to make sure everyone gets their doughnuts on time.
Sanitation and equipment involve keeping general upkeep with production equipment and making sure team members are keeping a clean storefront. Personnel duties involve all scheduling, training, hiring and employee development duties for all Krispy Kreme jobs. Accounting means protecting company assets, completing required financial documentation for corporate, depositing revenue and managing expense budgets, profit loss and more.
Managers leadership tasks require him or her to be in constant communication with corporate office personnel. They must follow company model, standards and policies in their store and watch that employees are following these as well.
Krispy Kreme Interview
Be sure to dress in business casual wear for the interview and be prepared to showcase your customer service and communication skills.
Advice For Application Process
Krispy Kreme asks that you apply online for Krispy Kreme jobs. There is no printable application form. You must apply for Krispy Kreme jobs online. You can find the free application to apply for jobs at Krispy Kreme on the 'Krispy Kreme Careers' section of their website.
Krispy Kreme keeps a listing of all of their open positions on their website. They even include a job description for each. It is easy to search through locations to find available Krispy Kreme careers at your neighborhood store. If there isn't a store near you, or no available job opportunities, you can still submit an application and they will keep it on file if there is ever an opening in your area.
The Krispy Kreme application process takes no more than thirty minutes to complete and only asks basic information questions (name, address, work history, education etc.) You can attach a resume and cover letter if you choose, but it is not a requirement.
There is no Krispy Kreme job application online for Manager positions. People who successfully complete the Krispy Kreme manager training program will be relocated to a store location with an available manager position.  You do, however, have to submit a Krispy Kreme application to enter the manager training program. The training program gets lots of applications from all over the world. As expected, there is no printable application for Kripsy Kreme manager training programs either.
If doughnuts aren't your thing, but you love baked goods with holes in the middle, a bagel cafe-restaurant might be your speed. Einstein Bros. Bagels has high quality bagels that some people travel miles just to have. You'll still be working in a bakery that creates its products fresh  in the store, but you'll just be selling bagels instead of doughnuts.
If doughnuts are up your alley, but you can't find a local Krispy Kreme, be on the lookout for a Yum Yum Donuts location near you. Based mostly in California, this doughnut cafe is a west coast favorite. They are known for making delicious and eye-catching doughnuts that are practically baked works of art.
Visit the web page for easy-to-follow instructions on how to apply for Krispy Kreme online.
Also See:
Starbucks: For employment at Starbucks visit the application page.
Yogurtland: See our guide for careers at Yogurtland.
Golden Spoon Frozen Yogurt: See our guide for careers at Golden Spoon Frozen Yogurt.
Boudin Bakery: Boudin Bakery offers opportunities for both, beginners and experienced roles.
Tim Hortons: Visit the Tim Hortons application.
Company Links
http://www.krispykreme.com/careers/info