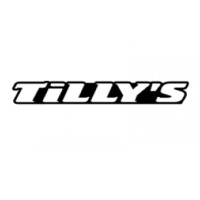 Tilly's is a retail company based in Irvine, California. They sell a wide variety of branded accessories, apparel, shoes, and more. The brands they retail focus on active lifestyle like lounging, motocross, skateboarding, snowboarding, and surfing.
The company was founded in 1982 by the husband-and-wife team of Hezy Shaked and Tilly Levine. From having only a few items at a swap meet, it eventually opened its first retail store in Los Alamitos, California.
They have more than 200 stores in 33 states in the US. With almost 5,000 employees, they annually earn revenues at a range of half a billion to a billion dollars.
Employees get 20% discount from store items. They get flexible schedules and asking time-off can be easy. Annual reviews are done for their employees that give them a chance to earn a pay raise.
Although there are some complaints of relatively low wages, people still find it as a great place to work. The company gives generous incentives for good results in retail sales. Also, management proactively maintains a good relationship with its associates.
How old do you have to be to work at Tilly's?
Tilly's requires their retail employees to be at least 16 years of age. As for corporate positions, there's no age requirement mentioned other than the educational background and/or work experience required for a position.
Tilly's Careers
They have positions available in the retail outlets and in their corporate headquarters. Positions can be either full-time or part-time and year-round or seasonal. Here are some of the careers available:
Sales Associate: The Sales Associate is responsible for providing a good experience to customers. They are expected to be comfortable in conversing with complete strangers. They must be able to deliver results while creating an engaging customer experience.
Lead Sales: They have similar responsibilities to Sales Associates. But, in addition to these responsibilities, they are expected to support Sales Associates through training and coaching. They are also responsible for executing operation tasks in the store. They are expected to deliver results while creating an engaging experience for the customers.
In-Store Merchandiser: The In-Store Merchandiser creates the brand's customer experience through how they present and arrange store merchandise. They assist the management in achieving the store's goals by leading and executing the store's visual and operational functions. They are expected to have a strong creativity and imagination in the execution of their duties.
Assistant Manager: The Assistant Manager works with the store's management team in ensuring the customers get the experience expected of the brand. They are the role models in providing service and performing sales to their customers. They hire, train, and develop the store's team of Sales Associates.
Store Manager: The Store Manager leads a team of managers and associates in the delivery of the expected brand experience for their customers. They are in-charge of managing store personnel and overseeing store operations. They are expected to drive the store in the achievement of company goals and objectives.
Information Security Analyst: They act as subject matter experts in the Information Security team. They are expected to be knowledgeable in the subjects of security compliance, vulnerability, and risk management. They develop, implement, and maintain policies and procedures concerning security and risk. They manage daily security compliance standards in the organization. They conduct and manage yearly information security assessments.
Driver: They deliver supplies and merchandise to stores in accordance to the schedule and standards set by the company. They provide customer service and assistance in the store if needed. They check the necessary documents and perform vehicle preventive maintenance procedures before making a delivery. They get the necessary signatures and documentation from recipients.
Payroll Assistant: The Payroll Assistant reviews timecard reports and makes necessary corrections in it. They resolve invoices provided by staffing agencies. They issue and distribute final payments for the employees. They consolidate and issue paychecks to store locations. They accommodate and resolve payroll related phone and e-mail queries from employees.
Divisional Merchandise Manager: They are responsible for meeting goals concerning sales, gross margin, and inventory turnover in their assigned areas. They lead and develop execution of inventory management and merchandise assortment strategies. They supervise the buyers and the staff in their areas. They work with marketing, allocation, and visual teams for the correct execution of merchandise assortment in the stores.
Loss Prevention Officer: They are responsible for ensuring contract security guards are following their schedule. They train said guards in securing store premises and business assets. They enforce safety and security guidelines like store opening and closing, employee access control, and warranted investigations. They test and audit loss prevention programs like truck audits, sensor compliance, and emergency measures test.
Tilly's Application
They have a database of vacant positions with the indicated job location. One can easily search vacancies by entering preferred work location and duration. Registration with a personal e-mail account is required.
Application is only done online as these would be screened by the corporate office. The personnel from the work location would only get involved during the interview phase of the application.
It is best to be thorough with providing the information required in the questionnaire. In cases wherein an applicant cannot fill-up the online form, they can print it out, fill out the information, and submit it to the store.
Although there's an application form, submitting one's resume can give an impression of professionalism. Therefore, it is recommended to submit a copy in the required file format. Also, you can write a cover letter that will provide more information about your career goals and best time for contact.
For the interview, it is advised to dress well and showcase your personal style. This could give an impression of your passion for fashion which is always a plus for any related job in retail.
Things to Know about Tilly's
The brand places an emphasis in giving their customers a unique shopping experience. Because of this, employees are expected to be creative, talented, and energetic in performing their tasks.
There are no newsworthy stories so far about their brand or their management. There had been bad reviews regarding their customer service but this had been more of a case of bad store management.
The company is known for carrying well-known active lifestyle brands. Although these brands are known to be expensive, customers like shopping in their stores for their good deals and promos.
They have a charitable foundation known as Tilly's Life Center. It caters to the youth and have programs that focus on teaching life skills and promoting a healthy body and mind.
Application Links
Company: https://www.tillys.com/
Careers: https://www.tillys.com/about-tillys/join-us/jobs-landing.html
Application: N/A