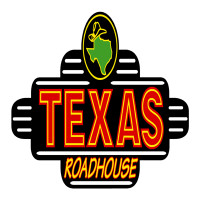 Texas Roadhouse is an American restaurant franchise that offers a variety of hand-cut steaks, ribs, sides and freshly baked bread. According to the company website, they pride themselves for beautifully hand-crafting dishes that they serve. The restaurant chain is known for serving dishes in large quantities so customers can get the best value for money.
The company was founded by Kent Taylor in February 17, 1993 when he opened the first ever Texas Roadhouse restaurant in Indiana. Taylor's idea behind opening up a steak restaurant was not just to serve delicious and heart-warming steaks. Taylor's vision was to create a place where the whole family can have a great meal and some great fun.
The steak house mogul now operates in 450 branch locations across 49 states of the US. It also opened international branches in the United Arab Emirates, Saudi Arabia, Kuwait, Qatar, Philippines and Taiwan. The company employs over 58,905 workers across its store locations in the US and abroad.
In 2018, the company was certified by the Great Place to Work Institute. According to the Great Place to Work, 91 percent of the company's employees agreed that the restaurant chain provides them with a good working environment. In 2017, the company was awarded as the 16th Best Workplace for Millennials in the United States. The reason behind this is the generous benefits package for its employees including an amazing 501(c)(3) fund called Andy's Outreach Fund. Andy's Outreach Fund was designed to assist employees in times of need. In addition, they also offer medical insurance coverage, paid vacation and medical leaves, as well as an outstanding 401(k) retirement program.
The company has built a reputation among its employees for its efforts to create a fun but hard-working environment. The company's support center regularly encourages employees to take time off and spend some time on having fun. Fun contests, and team building activities through the year also ensures employee camaraderie. The restaurant chain also offers quarterly outings at amusement parks, the zoo or a lakeside roadtrip for its employees to relax.
How old do you have to be to work at Texas Roadhouse?
Texas Roadhouse abides by federal laws and state regulations on the minimum age of hiring. Applicants 16 years old and above are encouraged to submit their resumes and/or application forms in accepting stores worldwide.
Texas Roadhouse Careers
Its innumerable awards for being one of the best workplaces in America indicate a progressive management style that puts premium on professional growth. The following careers are available in all accepting franchise locations:
Server – Servers are expected to be able to work in a fast-paced environment. The job includes service to restaurant guests and service representatives to answer all customer queries. Servers are expected to demonstrate outstanding salesmanship.
Dishwasher – Dishwashers or Dish Machine Operators are in charge of operating the dish machine and ensuring that all utensils, plates and glasses are rinsed and washed in the right temperatures. Dishwashers also supervise the proper use of dishwashing chemicals as well as the setting up and maintenance of the restaurant's dish racks.
Server Assistant – Busser – Server assistants provide support for restaurant servers. Their primary task is to clean tables, attend to customer concerns and work well with the team.
Accounting Intern – The company is looking for accounting interns that will be primarily responsible for assisting the Accounting Team. Accounting interns will be designated in the following areas of operations: Accounting Administration, Staff Accounting, Payroll, Accounts Payable, Cash Accounting, etc.
Senior Accountant/ Assistant Manager of Lease Accounting & Analysis – The Senior Accountant position is responsible for recording all real estate leases in compliance with GAAP guidelines as well as in keeping with company policies. As Senior Accountant, the position takes on a leadership and supervisory role.
Accounts Payable Associate Vendor Invoice Team – The position requires knowledge and experience in processing invoices, reviewing AX/Menulink reports, code and distribution store check requests, RaconNet review and processing, invoice collection, and assistance in accounts payable when needed.
Tax Associate – The Tax Associate is primarily responsible for providing assistance to the Senior Sales Tax Account as well as the Property Tax Accountant. Tax Associates compile relevant information, including personal and real property tax notices, sales returns, and other special projects.
Managing Partner – A Managing Partner (MP) oversees daily operations and is responsible for all decisions made inside their designated restaurant. The MP ensures that all employees comply with company rules and regulations and that food quality is legendary.
Service Manager – The Service Manager is in charge of keeping customers satisfied. The Service Manager is also responsible for other tasks such as providing excellent customer service, top-notch server attitude and daily employee management.
Kitchen Manager – The Kitchen Manager is responsible for the preparation and presentation of all the restaurant's food products. The position also involves managing food purchases on a timely manner and in keeping with company recipes, standards and procedures.
Texas Roadhouse Application
How to Apply? Applications at any of the restaurant's accepting franchise locations are welcome. Interested applicants are encouraged to submit their resumes and filled out application forms to any franchise location and talk to the manager.
Is online application available? Most applications are processed online. By visiting the "apply now" link, applicants would have to fill out a questionnaire on their personal details. Once filled out, the system will ask for a 4-digit pin just in case you need to revive your previous application.
Tips for filling application form. The online application interface is a 13-step application process. The first page asks about personal details such as name and birth date. The next few pages would be on consent and disclosure as well as another set of questions that explores your personal background including where you wish to work as well as previous criminal records. Next up, the system will ask if you would like to add your employment history. The next items will look into your educational background. The last few pages would ask for personal references as well as agreement with the application form's terms. 
Advice on resume. Resumes are absolutely optional for all applicants. However, if you wish to elaborate on some of the entries you put in the online application form, it would be best to supplement your online submission with a hard copy of your resume or CV.
Advice on interview preparation or process. Interviews at Texas Roadhouse are quite straightforward. Managers or human resource department representatives usually take on interview sessions with applicants. The usual questions would include topics such as how fit would you be in the position desired, what are your strengths and weaknesses, and why do you want to work with the company. Some 2-3 days after the interview, a company representative will contact you with a job offer.
Facts about Texas Roadhouse
People-First Culture – The restaurant chain has what it calls a 'people-first' culture wherein the management puts people's interests first. This translates to the promotion of a work-life balance for all of its employees.
Willie Nelson – In 2002, Wille Nelson signed an agreement to become Texas Roadhouse's official spokesperson. Since this deal, Nelson has been actively promoting the restaurant chain including in one of his shows on Food Network. However, due to Nelson's legal issues in past years, the company chose to terminate its partnership with Nelson.
Former KFC Manager – While the restaurant chain is largely known for its free peanuts and yeast rolls, little do people know that founder W. Kent Taylor was a former Kentucky Fried Chicken Manager. Taylor dreamed of establishing his own restaurant while working at KFC. Then Governor of Kentucky John Y. Brown, Jr. helped him with his dream by lending him $80,000 to jumpstart his steak restaurant chain.
Homebuilding Program – The company has a corporate social responsibility program aimed at supporting the homebuilding programs of Habitat for Humanity International. It also provides financial support for Homes For Our Troops. In addition, it sponsors a road cycling team as its own means of giving back to the community.
Application Links
Company : www.texasroadhouse.com
Careers: www.careers.texasroadhouse.com
Application : https://www.applytracking.com/tp/rj6.uaKi-I.K