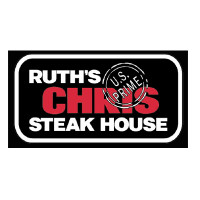 Ruth's Chris Steak House is a restaurant chain of steakhouses. It is considered an upscale, fine dining restaurant, currently the largest luxury steak company in a number of categories, including number of locations, operating income, and overall profit. For more information on the Ruth's Chris Steak House application, follow the link below.
Founded in 1965 by Ruth Fertel in New Orleans, Louisiana, Ruth Fertel purchased Chris Steak House against the advice of everyone including her friends, family, lawyer and banker, in order to provide for her family. Using her brother's restaurant and her family's recipes, she went forward despite objections. Her first day opened, she served 35 steaks for $5 apiece. The name was changed to Ruth's Chris Steak house in 1976.
She butchered her own meat by hand until she could afford an electric saw and had her hand in every part of the business. Her wait staff was originally full of single mothers because she felt they were the hardest workers and were reliable. As a result, for many years her restaurant was the only upscale restaurant in New Orleans that had an all-female wait staff.
This company is currently headquartered out of Winter Park, Florida. There are currently 136 locations across the United States and internationally. They employ around 6,100 employees. This is a company that takes their food very seriously and takes pride in their customer service. They want employees that are just as hard working as Ruth is, and embody amazing interpersonal skills. If this sounds like you, apply today.
Ruth's Chris Steak House Careers
This is a company that encourages growth and advancement in their company. They have numerous opportunities between the corporate office and the restaurant level. The restaurants have plenty of entry-level positions within the company so that people can turn their jobs into a Ruth's Chris Steak House career. Some restaurant positions include server, host/hostess, and restaurant manager.
The corporate office has a lot of different positions in order for people to find the perfect fit for their skills. The corporate office is always looking for new talent to join their ranks at all levels. The corporate office staff can help change the face of this company.  Some corporate positions include marketing, restaurant operations and human resources.
How old do you have to be to work at Ruth's Chris Steak House? The minimum age of employment is 16; however being 18 is required for some positions. For the entry-level positions, there may not be any requirements to work here. However, if you are interested in a higher level position, you will need to be sure you meet the requirements to work there.
This company offers very competitive benefits for their industry. Employee eligibility can depend on hours worked weekly and job title. Some benefits they may receive are medical, dental, and vision benefits. Benefits also include life, short-term and long-term disability insurances. Other benefits include 401(k), profit sharing, and paid time off. There are also excellent training and leadership development program, Management Incentive Performance Plan, and an excellent compensation program.
The restaurant hours are dependent on location and holidays. For certain holidays, there are closures across the restaurants. If you want more information on the restaurant hours, contact them. In general, hours of operation are Monday through Wednesday 11:30am to 12:00am, Thursday through Saturday from 11:30am to 1:00am, and closed Sunday.
Job Descriptions & Salaries
Server- A server is responsible for greeting customers at their table. They will take customer food and drink orders, taking care to note any allergies or special requests. The server will ensure that the order is correct before bringing it back to the customer's table. They will clear the table as needed, and will handle customer transactions. A server may earn around $3 per hour, not including tips.
Host/Hostess- The host is responsible for greeting customers as they enter the restaurant. They will seat customers and give them their menus. They will maintain the wait list and reservation list. The host will answer the phone, answering questions and taking reservations. They will let customer's on the wait list know how long the wait is. A host/hostess may earn around $11 per hour.
Bartender- The bartender is responsible for serving out beverages at the bar. They will mix and give drinks to the wait staff to bring to the customers. They will take food orders for people sitting at the bar, taking over server duties for that area. A bartender must have the qualifications including understanding safe alcohol serving practices. A bartender can earn around $35,000 a year.
General Manager- A general manager is responsible for making sure that their staff follows company policies and are trained accordingly. They will be responsible for all aspects of their staff, and will make sure the customer is satisfied with their food and service. They will also ensure that the inventory is ordered and properly stocked. A general manager could earn around $88,000 a year.
Ruth's Chris Steak House Interview Questions
These are some questions you may be asked during your job interview.
Why do you want to work at Ruth's Chris Steak House? When an interviewer asks this question, they are wondering what has inspired you to work with their company. Be honest and explain what makes you want to work here.
When are you available to work? The interviewer is looking for someone who is flexible when they can work, especially a willingness to work nights and weekends. Be honest about when you are available to work.
Why should we pick you over the other applicants? What the interviewer is really asking is "what makes you stand out from the other". Explain your qualities, and why these make you beneficial to them. They really want you to sell them on your being their best pick.
What is your 5 year plan? The interviewer is looking for an employee with some staying power, and not someone who will quit within a few months. This company has great advancement opportunities, and the interviewer is looking for someone long-term. Discuss what your future career goals are and how this company fits into your plan.
Is team work important to achieve success? The restaurant industry requires team work among the employees to be successful. The interviewer is looking to see if you are a team player. Discuss any time that you have had to work as part of a team to accomplish a goal and why team work was important for accomplishing it.
Advice for the Application Process
Do you want to know how to apply at Ruth's Chris Steak House? You are able to apply for a Ruth's Chris Steak House job by visiting their website. You can also fill out an application form at your local restaurant. You are not able to find printable applications online, nor are there downloadable applications online.
You can find the job descriptions and responsibilities for available positions by visiting the Ruth's Chris Steak House jobs online. This will help you find a job that is perfect for you and your skills. By applying for a position that you are not qualified for, you will likely not be considered. Submit your updated resume as well, and you can really showcase your talents.
It can sometimes take a while before they get back to you about your application. If a long time goes without hearing back from them, you should call up to check on your application and to see if they are still hiring. This helps them know that you are a serious candidate that they should consider.
Preparing for your interview can help you have a more successful interview. By practicing interview questions in front of your mirror, you can watch your body language for any weaknesses to help you have a more confident posture. This can also help you be able to answer questions in a more articulate manner.
Also See:
Fleming's Prime Steakhouse: See this page for jobs at Fleming's Prime Steakhouse.
Sweet Tomatoes: See our guide for careers at Sweet Tomatoes.
Cracker Barrel: For employment at Cracker Barrel visit the application page.
Nando's: See our guide for careers at Nando's.
Coco's Bakery Restaurant: See our resource page for more information on Coco's Bakery Restaurant careers.
https://www.youtube.com/watch?v=XjQXq9gGNAM
Company Links
http://www.ruthschris.com/careers