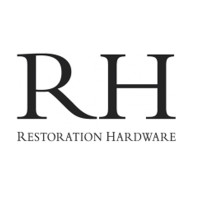 Restoration Hardware is an American brand of home décor products along with gifts and other household items.  The company has its origins in Eureka, California.  To find out how to apply for Restoration Hardware online, follow the link below or use the information to submit your Restoration Hardware application today.
The company was founded by Stephen Gordon in 1980, and since then has become a nationally recognized brand.  Although it started in Eureka, the headquarters have since moved to Corte Madera, California.  The company now has 59 galleries as well as 18 additional retail locations in both the United States and Canada.
Restoration Hardware produces a number of collections of products, often named after the places that inspired them, such as the Maldives or St. Barts Collections.  Their products include furniture for both indoor and outdoor situations, lighting solutions, baths and windows.  They also have a separate section for baby and child.
In addition to this the stores have also begun offering an interior design service to help customers make the most out of their new furniture and design the ideal home that they truly want.  They also offer registry services for various events including offering discounts for any items left on your list.
Restoration Hardware Careers
You can find an opportunity to suit you by searching Restoration Hardware jobs online.  In their galleries they have positions including Sales Associates, Stock Associates, Customer Care Representatives and Assistant and General Managers.  They like to promote from within, so joining at entry-level can have far-reaching benefits for your career.
There are also a number of job opportunities in their corporate offices.  The range of these vacancies includes Designers, Marketing, Merchandising, Human Resources, IT, Finance and Business Analysis and many other diverse opportunities. You can submit a Restoration Hardware job application online for these types of roles using the same link as the retail opportunities.
How old do you have to be to work at Restoration Hardware? You must be at least 18 years old or over to apply for jobs at Restoration Hardware.
All Associates with Restoration Hardware careers will enjoy the benefits of a flexible schedule, discounts on merchandise and opportunities for further training and career advancement.  In addition to this, most full-time and some other employees will also be entitled healthcare packages and 401(k) retirement plans as well as an employee assistance plan.
The galleries are generally open from 10am until 9pm Monday to Saturday and from 12pm to 6pm on Sundays.
Job Descriptions & Salaries
Sales Associate – As a Sales Associate you will need to focus on customers' needs to help them select their items and to make recommendations.  This will require excellent customer service skills and in-depth product knowledge as well as a positive attitude.  This role is usually paid at a rate of $12-13/hour.
Stock Associate – The responsibilities for this position will require you to be physically fit as it involves loading and moving heavy items on a daily basis.  You'll need to be able to lift 50lbs repeatedly.  There will be other duties that include the daily upkeep of stores and quality checking products.  The pay for this job is usually starts at $10/hour.
Client Service Center Advocate – For employment as a Client Service Center Advocate you will be working with customers to handle their enquiries about the various products and services.  You will need a good telephone manner as well as language skills to answer phone calls and emails.  This job is usually paid at $11/hour.
Store Manager – For this position you will need leadership experience, applicants to Store Manager positions will need to demonstrate that they are able to manage and train staff effectively so that they deliver top quality customer service.  Additionally managers oversee sales targets and the operational duties of the gallery.  The expected salary is up to $64k/year.
Restoration Hardware Interview Questions
Always prepare yourself well for any interview with questions like these once you've submitted your Restoration Hardware application.
Why do you want to work for us?  This will probably be the first question asked so do some research on the company and the job description beforehand so that you can personalize your answer.
Do you have any sales experience? It won't always be necessary but it can only help if you do. If you haven't worked in the industry before then describe what skills you have developed from other experience that will make you good at selling products.
How would you handle an angry customer? Show that you can be a problem solver and can come up with helpful solutions. You'll need to be able to demonstrate to the hiring manager that you can be professional at all times.
What is your greatest weakness? This is sometimes a hard question to answer if you don't want to be too negative about yourself.  You can talk about criticism that you've have received before and then identify the steps you are taking to overcome it.
What are your career goals? There are options for further training and advancement with Restoration Hardware jobs so show the person interviewing you that you are willing to put effort in to maximizing your potential.
Advice For Application Process
You will need to create an online application profile to apply for jobs at Restoration Hardware.  If you don't want to make a direct application for a local store you can also submit applications for corporate roles.  You can also pick up a free application form in person but there isn't an option to download a printable application for Restoration Hardware.
If there are no Restoration Hardware jobs that recruiters feel match your skills when you apply online, they may keep your resume on file for a few months and inform you of new jobs when they come up.  Similarly at your local store you can ask for your resume to be kept on file for when positions open.
The process after you submit your application form should not take more than a few weeks to complete.  You may be required to attend up to three interviews with store managers and other representatives including one over the phone.  You may also need to pass a background check and drug test to be considered for their careers. 
When you arrive for your interview remember to be friendly, smile and maintain eye contact with your interviewer.  It is very important to create a good first impression and to be memorable.  Their advice for interviewees is to come wearing business-casual clothing.  It also always helps to have a good, firm handshake.
Also See:
Academy Sports + Outdoors: Checkout the application page for work at Academy Sports + Outdoors.
Pottery Barn: For employment at Pottery Barn visit the application page.
Sleepy's: Checkout the application page for work at Sleepy's.
Home Depot: For career opportunities, fill out the Home Depot online application.
Shane Co.: See our guide for careers at Shane Co..
Company Links
https://www.restorationhardware.com/company-info/jobs/index.jsp
https://www.restorationhardware.com/company-info/about-us.jsp