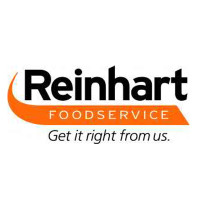 Those who choose to fill out a Reinhart Foodservice application know that the company strives to be a partner in their customers' businesses and offer them products of excellent quality, like they would work to find in a restaurant of their own. Links to apply for jobs at Reinhart Foodservice are at the bottom of the page.
Reinhart Foodservice was founded in La Crosse, Wisconsin at some point around 1950.  Since that point, the company has grown quickly, covering most of the Eastern United States with offices from Massachusetts to Iowa.  However, Reinhart Foodservice has started offering ordering online, enabling to ship almost anywhere.
With distribution centers in twenty-seven cities, Reinhart Foodservice is one of the largest broad line food distributers in the United States.  They serve restaurants, military bases, schools, and health care centers.  Recently, the company launched Good Roots Produce which is their branded line, but in smaller quantities from their usual packaging for smaller foodservice providers,
In their products, Reinhart Foodservice values their customer satisfaction and strives to give their clients consistently quality food.  Within the brands that they offer, from produce to seafood to paper products, this company usually offers the best values to their clients.
Reinhart Foodservice Careers
Reinhart Foodservice jobs at the corporate level are based out of Rosemont, Illinois. Most of these positions are geared towards making sure that everything is working smoothly on the operational level.  Other positions are looking towards the future and gaining more customers while creating more services.
At the local level, Reinhart Foodservice positions are geared towards the customers, by gaining more clients, making sure that everything meets or surpasses their expectations, and making sure that their products arrive on time.  People who are geared for customer service are perfect for these positions.
How old do you have to be to work at Reinhart Foodservice? Age requirements vary by position; however, most jobs need you to be over eighteen.  As you browse Reinhart Foodservice jobs online, make sure to read all position requirements closely as some positions require various certifications, degrees, or experiences.
People with Reinhart Foodservice careers get several benefits which include medical/dental/vision/life insurance, accidental death and dismemberment coverage, and a 401K and retirement plan.  With some automobile insurance companies, you may get discounts on your coverage and insurance.
Reinhart Foodservice Job Descriptions
Class A Driver – Before transporting your products from the distribution center to the customers, you will check your vehicle to make sure that everything is working properly.  When you arrive at your destination, you'll unload to the customer's specifications.  Compensation is around $45,000 a year.
Customer Service Representative – You'll work to respond and interact positively with customers to handle any orders, pick-up or return requests, or substitutions that may be requested.  Compensation is around $40,000 a year.
Order Selector – Selecting the products to go on pallets to reach their final destination is what this position is all about.  You'll make sure that everything that leaves the distribution center is going to the proper destination.  Compensation is around $20,000 a year.
Sales Consultant – You're in change of making your client portfolio grow and maintain any clients that you have in order to maximize your sales and profits.  Occasionally, you will cold call potential clients in order to make a sale. Compensation is around $45,000 a year.
Reinhart Foodservice Interview Questions
These are some questions you may be asked during your interview:
Why do you want to work for Reinhart Foodservice? This is an extremely common interview question, so you should be prepared for it.  Talk about what drew you to the company, whether it was the company culture or benefits and why it's your first choice in places to work.
What experience do you have? Highlight any relevant experience that you have.  If you don't have any, talk about what you can bring to the position and offer the company instead.  Make sure to use plenty of examples to enhance and support any claims you may make.
Where do you see yourself in the next few years? Your interviewer wants to know if you see yourself with the company.  Be realistic in your career expectations, but make sure they know you're willing to take on extra challenges and responsibilities in order to move up in the company.
If you're working in a sales position, you may be asked this question in the form of a hypothetical situation: How would you take care of an upset customer? Because Reinhart Foodservice relies on customer sales for their business, you should be practical and realistic as you walk your interviewer through the steps you would take to turn their experience around.
Several positions, especially in the warehouse, require you to stand for long periods of time and lift heavy boxes so you may be asked this question: Is there anything that could keep you from doing your job? Be honest, they'll try to accommodate any issues that you may have.
Advice for Application Process
How to apply for Reinhart Foodservice online: search for the position that you're interested in applying for in the location that you want.  Once you've found it, read through all the position requirements carefully before filling out your Reinhart Foodservice application.  There is no printable application for Reinhart Foodservice available on their website.
Before your interview, do research on Reinhart Foodservice in order to come up with a list of questions that you can ask.  This may seem excessive, especially for an entry level position, but it will place you in front of other candidates as it shows that you think ahead and are prepared.
Have a positive and friendly attitude when you attend your interview because it will give a good impression.  As your interview will be in a semi-formal setting, dress in business casual unless you've applied for a managerial, supervisory, sales, or corporate position, in which a suit would be appropriate.
Show gratitude at the opportunity to interview with the company.  Afterwards, inquire about the best way to check on your hiring status, few applicants will learn if they got the position during their interview as Reinhart Foodservice will want to screen all candidates before making a final decision.
Also See:
Little Caesars: Visit the job application for Little Caesars to apply today.
Papa Gino's: For career opportunities, fill out the Papa Gino's online application.
Ledo Pizza: Checkout the application page for work at Ledo Pizza.
Hard Rock Cafe: Visit the Hard Rock Cafe application.
Tilted Kilt: See our guide for careers at Tilted Kilt.
Company Links