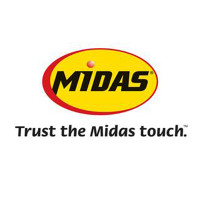 Midas Mufflers is an automotive service center chain that has service centers across Canada and the United States. They provide a variety of automotive services including brakes and repairs, oil changes, car batteries, car heating and air-conditioning and many other services. For information on your Midas Muffler application, follow the link below.
Founded in 1956 by Nate H. Sherman, the first Midas Mufflers was opened in Macon, Georgia. The company name was The Muffler Installation Dealer's Associated Service. They became known as simply "Midas Mufflers" as a result of their specialization in mufflers. Only recently have they begun to refer to themselves as "Auto Service Experts", and began performing all types of services needed to maintain cars.
In 2012, they became a part of the TBC Corporation. Midas Mufflers is currently headquartered out of Itasca, Illinois. There are an estimated 2,300 plus locations. They are most famous for their "Midas Man" that is common in their commercials. They are also known for having the phrase "Midas Touch" in their company slogans.
This company is known for their high quality work and amazing customer service. They also are an organization that takes their community very seriously. They created the "Drive Out Hunger" foundation that aims to help feed those in need. They continually donate to food banks to ensure people get the food they desperately need. If this sounds like a company that you want to be a part of, apply today.
Midas Muffler Careers
There are many career opportunities found at this company for those who are looking for jobs at the service center locations or the corporate office. The service center often has entry-level positions for people to gain valuable experience and turn their job into a Midas Muffler career. Some positions include auto tech, manager, and service writer.
The corporate has a wide variety of options for positions so that a potential job seeker can find something that fits their talents and skills. The corporate office does have some entry-level positions available, however most positions are higher level positions with more requirements to gain employment. Some positions include marketing, human resources, and legal.
Different positions at this company have different requirements in order to gain employment. Entry-level positions may only require a high school diploma or equivalent, with little experience. Higher level positions may require a college degree or completion of trade school with experience. How old do you have to be to work at Midas Muffler? The minimum age of employment is 18 years of age.
Midas has very competitive benefits for their industry. Employee eligibility for benefits can depend on hours worked weekly and job title. Some benefits can include health insurance, dental and vision plans. Eligible employees may also receive pension plans and 401(k) plans. Other benefits include paid time off, employee discounts, and maternity/paternity leave.
The hours of operation can vary based on location and holiday hours. Some holidays may cause closures. For more information on Midas Muffler hours, check your local service center for details. Generally, hours of operation are Monday through Friday from 7:30am to 6:00pm, Saturday from 7:30am to 5:00pm, and closed on Sunday.
Job Descriptions & Salaries
Auto Technician- An auto technician is responsible for providing maintenance services on customer's vehicles. They must be able to properly diagnose problems in order to fix the customer's issue. They must be knowledgeable in car to be able to answer questions the customers may have. An automotive technician may earn around $38,000 a year.
Lead Technician- The lead technician is responsible for all duties that an auto technician is responsible for, including diagnosing car problems and performing maintenance services. A lead technician is responsible for training new technicians in accordance to company policies. They will also help handle customer issues as they arise. A lead technician may earn around $40,000 a year.
Service Writer- A service writer is responsible for greeting customers upon entering the shop. They will help a customer decide on which services will best benefit their needs. They will also be responsible for selling services to customers. The service writer is also responsible for answering phones and assisting customers over the phone. A service writer may earn around $34,000 a year.
Shop Manager- A shop manager is responsible for ensuring customer satisfaction with the services received in their shop. They are responsible for hiring and firing employees, as well as performing job interviews. They will also schedule staff, and ensuring that they are working as a team in accordance with company policies. A shop manager may earn around $50,000 a year.
Midas Muffler Interview Questions
These are some questions that you may be asked during your job interview.
Why do you want to work at Midas Muffler? The interviewer is looking to see what you know about the company and what they stand for. This question may require you to do some research prior to your interview. Describe which values that you feel you share with the company, and why that makes you a good fit to work here.
Why did you leave your previous place of employment? The interviewer wants to know all about your reasoning for leaving your previous position. Describe why you are looking for a new job honestly but without saying anything negative about your previous place of employment or your former bosses.
Why do you want to work with cars? This company wants to hire employees that have a passion for their jobs. People who love their jobs are more likely to work efficiently and enjoy themselves at work which makes a better employee. Talk about why you love cars and working about them.
Why should we choose you over the other applicants? The interview is giving you the opportunity to sell yourself as their best candidate. Take this chance to describe your strengths and why you feel the company would benefit from them. Try to do so in a confident manner without sounding too boastful.
What are your future career goals? The interviewer is looking for an employee that will stay with the company. Describe your future career goals and how the company fits into your plans.
Advice for the Application Process
Wondering how to apply at Midas Mufflers? You can apply for a Midas Mufflers job by visiting Midas Mufflers jobs online. You may also fill out an application form at your local Midas Muffler. There are no printable applications online. There are no downloadable applications online. The easiest way to apply is to apply directly online.
The company website has job descriptions and responsibilities for available positions so that potential job seekers can find positions that are a good fit for them. You should only apply for a position that you are qualified for. You must fill out the application completely and according to the provided instructions. You should submit an update resume along with your application.
After applying at this company, you should hear back within a reasonable amount of time. If not, you can call up the company to check the status of your application and if they are still hiring for that position. They may also provide addition information, such as when interviews will begin.
You may want to consider practicing for your interview beforehand. You can do this by asking yourself potential interview questions and answering them aloud. This will help ease your nerves during your interview, which will help you seem more confident and articulate. Remember to dress in a professional manner. This can help increase your chances of gaining employment.
Also See:
Volkswagen: See this page for jobs at Volkswagen.
McKesson: Visit the job application for McKesson to apply today.
American Medical Response: For career opportunities, fill out the American Medical Response online application.
Advance Auto Parts: See this page for jobs at Advance Auto Parts.
Comfort Keepers: Use the Comfort Keepers job application to apply here.
Company Links
http://www.midas.com/AboutMidas/Careers/tabid/602/Default.aspx