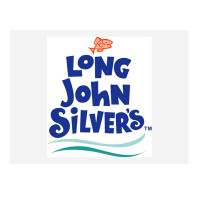 As you fill out a Long John Silver's application, know that you're joining a company that strives to bring delicious seafood to people who may not be able to enjoy it as much as they would like to.  Links to apply for jobs at Long John Silver's are at the bottom of the page, however, those links are for a specific franchise owner.
In 1969, the first Long John Silver's was opened in Lexington, Kentucky under the name Cape Codder.  As the concept of providing excellent seafood in the style of fast food was extremely popular, the company grew exponentially, opening franchises across the United States.  In 1998, after declining sales, the company was forced to declare bankruptcy and was eventually purchased by Yum! Brands Inc.
Under the control of Yum! Brands, Long John Silver's was added to several of their existing restaurants, usually A&W, as they found the restaurants paired well together. Yum! Brands began putting more of their money into their more popular restaurants and announced plans to sell Long John Silver's in early 2011.  When they learned of that news, a group of franchisees and investors joined together to form a new company and purchased Long John Silver's by late 2011, which has helped them expand ever since.
This company is known for their seafood, usually served in platters that include side dishes such as hushpuppies, coleslaw, green beans, corn, and French fries (usually called chips).  Usually, Long John Silver's main dishes have either shrimp, clams, and fish served in a variety of ways.
Long John Silver's Careers
Long John Silver's jobs at the corporate level are all about making sure that the franchises are working well or keeping the headquarters up and running.  Most corporate positions are in Louisville, Kentucky.  Currently, the company is run by a group of franchisees through a company called LJS Partners LLC.
At the local level, there are several positions available, but people with Long John Silver's careers in restaurants will be working under franchisees.  Franchises are available across the United States and interested franchisees are encouraged to talk to the LJS Partners in order to start their own restaurant.
How old do you have to be to work at Long John Silver's? Age requirements vary by position.  As you cannot look at Long John Silver's jobs online, make sure to ask as you fill out your application about any requirements they may have for their positions.
Those with Long John Silver jobs know that each restaurant has different hours because they're generally owned by different people.  Usually, stores are open by ten or eleven am, and close around eleven or twelve pm.  Holidays will usually effect store hours, again, depending on who is running them.
Long John Silver's Job Descriptions
Cashier – Every customer will be greeted with a smile before you take their order to their specification and payment for their food.  As needed, you'll go out into the dining room to clean and wipe down tables.  Compensation is around $20,000 a year.
General Manager – Knowing how to delegate tasks is a big part of this job as you'll work to make sure the restaurant meets and surpasses sales goals.  When you're working on the floor, you'll be an example of what a great staff member should look like. Compensation is around $45,000 a year.
Cook – By maintaining a clean and organized kitchen, you'll meet company, state, and federal standards while turning out food to order for customers. You'll work closely with the Cashiers to make sure that everything is being made and passed out correctly.  Compensation is around $20,000 a year.
Shift Supervisor – You'll make sure that everything is working smoothly during your shift.  As needed, you'll work all of the positions to make sure that food is being turned out and served quickly.  Compensation is around $23,000 a year.
Long John Silver's Interview Questions
These are some questions you may be asked during your interview:
Why do you want to work for Long John Silver's? This is an extremely common interview question, so you should be prepared for it.  Talk about what drew you to the company, whether it was the benefits or culture and why it's your first choice in places to work.
What experience do you have? Highlight all of your relevant experience.  If you don't have any experience, as some positions don't require it, talk about what you can bring to the position and offer the company.  Make sure to use plenty of examples to enhance and support your claims.
Where do you see yourself in the next few years? Your interviewer wants to know if you see yourself with the company.  Be realistic in your career expectations, but make sure they know you're willing to take on extra challenges and responsibilities in order to move up in the company.
As this company relies heavily on customer service, you may be asked this question in the form of a hypothetical situation: How would you take care of an upset customer? Be practical and realistic as you walk your interviewer through the steps you would take to turn the customer's experience around.
Several positions have physical demands that will require you to carry heavy objects or stand for long periods of time, so you may be asked this question: Is there anything that can keep you from doing your job? Make sure to be honest and explain anything that could keep you from doing what you've applied for as the interviewer wants to make sure that you're well taken care.
Advice for Application Process
How to apply for Long John Silver's online: if you are applying for a certain franchise, like Nellis Management which is listed below, you can look for the company online.  If you're interested in filling out a Long John Silver's application that is with the company specifically, it's not possible. They do not advertise their positions online.  A printable application for Long John Silver's are available for some franchises, but it would be better to go in and ask for an application.
Before attending your interview, do research on Long John Silver's and the industry in order to have a list of questions that you can ask.  For an entry level position, this seems excessive, but it will place you in front of the other candidates as it shows that you think ahead and are prepared.
Have a positive and friendly demeanor when you attend your interview, it will give a good impression.  Dress nicely for your interview as it will be in a casual, but formal setting.  If you've applied for a managerial or supervisory position, business casual is appropriate attire.
Show gratitude for the opportunity to interview with the company.  After your interview, inquire about the best way to check on your hiring status as some, but not all, applicants will learn if they got the position during their interview because Long John Silver's will usually want to see all candidates before making a final decision.
Also See:
A&W: A&W offers opportunities for both, beginners and experienced roles.
Moe's Southwest Grill: For employment at Moe's Southwest Grill visit the application page.
Noodles & Company: See our resource page for more information on Noodles & Company careers.
Jack's Family Restaurant: Visit the job application for Jack's Family Restaurant to apply today.
Culver's: See our guide for careers at Culver's.
https://www.youtube.com/watch?v=KdCl9VRT5rI
Company Links
http://www.nellismanagement.com/Pages/employement2.aspx
http://www.nellismanagement.com/Documents/NMC_Employment_Application.pdf