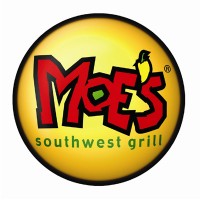 Moe's Southwest Grill is famous for both its made-to-order burritos and for its friendly staff who greet every single customer with a hearty, "Welcome to Moe's!".  It prides itself on delivering great food for everyone by providing a range of fillings for their burritos.  To find out how to apply for Moe's Southwest Grill online, click the Moe's Southwest Grill application link below.
The company was founded in Atlanta, Georgia in 2000 and since 2007 has been a member of FOCUS Brands which also includes Schlotzsky's, Carvel, Cinnabon and Auntie Anne's.  Its first location was in Garden City, which still proudly displays this fact above the door.  It now has over 550 locations across the USA.
Last year it opened an impressive 120 new franchises and it is still looking for new opportunities to open more restaurants.  The corporation has a target to have up to 850 locations by the next year.  With this kind of growth there are plenty of Moe's Southwest Grill jobs and more job opportunities being created all the time.
Working at Moe's you will be joining an industry that has a reputation for being friendly and casual.  On their menu you'll find out that they have many popular-culture inspired items such as "Who is Kaiser Salsa?" and the "Wrong Doug" stack.  You can make an online application for a corporate career or take a free application form down to your local Moe's.
Moe's Southwest Grill Careers
In the restaurants the main roles available are Cashiers, Team Members/Service Line Cooks, Prep Cooks, Delivery Drivers, Assistant Managers and General Managers.  These roles involve a lot of customer interaction and a need to adhere to food preparation standards.  Check the job description for roles before applying as some will require you to have previous experience.
Moe's Southwest Grill careers are currently taking applications for their corporate openings as well, spanning the fields of Operations, IT, R&D, Marketing, Development, Accounting/Finance and HR/Payroll.  Their vacancies are from assistant to vice president level.  They are looking for talented, dedicated and enthusiastic candidates with experience in their chosen area.
How old do you have to be to work at Moe's Southwest Grill?  You must be at least 16 to apply for jobs at Moe's Southwest Grill restaurants.  For other positions you will need to be 18 years or over.  Bear in mind that the restaurant hours may require you to work evenings as most restaurants are open from 11am-10pm Monday-Saturday and 12pm-8pm on Sundays.
Get Your Degree!
Find schools and get information on the program that's right for you.
Powered by Campus Explorer
There are a number of benefits of Moe's Southwest Grill jobs.  For some employees this will include medical, dental and vision insurance, a choice of life insurance plans and a 401(k) retirement plan.  Other perks include paid holidays as well as sick leave.  Certain employees may also qualify for leadership development classes and tuition reimbursement.
Job Descriptions & Salaries
Service Line Cook/Team Member – The main purpose of this role is to prepare and serve the food that customers have come to know and love.   Other responsibilities will include cashiering and handling transactions, serving customers and keeping the restaurant clean and tidy.  You will need to keep to strict hygiene standards.  This is a minimum wage position paid at $7-10/hour.
Catering Delivery Driver – This position will require you to deliver orders to customers and collect payments from them.  There will be various other duties including dish washing and other housekeeping tasks and food preparation.  You will obviously need a clean driving license to drive the delivery vehicle.  It pays typically $9/10/hour plus tips.
Assistant Manager – In this role you will help the manager to handle the day-to-day tasks of supervising and training staff.  You will need good leadership and communication skills and be able to maintain a positive atmosphere.  You will be responsible for running the restaurant when the General Manager isn't there.  Assistant Managers earn between $25-30k per year.
General Manager – As a General Manager you will be responsible for overseeing everything about the restaurant including training the staff to the highest standards to ensure customer satisfaction, maintaining health and safety standards in food preparation and carrying out back office administration.  The salary is usually around $39,000 a year.
Moe's Southwest Grill Interview Questions
After you make a Moe's Southwest Grill application make sure you prepare for your interview by practicing some typical questions.
Why do you want to work at Moe's Southwest Grill? This is a fairly common interview question wherever you're applying so make sure that you have read up on the company beforehand so you can tell the hiring manager what it is about the company that made you want to submit an application form in the first place. 
What would you do if you saw a coworker stealing? The policy for this will most likely be covered in your training after you're hired, but the interviewer will be looking for candidates who make sensible suggestions like reporting the incident to the manager and not confronting the coworker directly.
What is your biggest weakness? May sound like a tough question because you don't want to give a bad impression.  It's impossible to get around it though by highlighting something that you know is a weakness about yourself and then following up with how you have gone about improving it.
What are your hobbies? When you talk about your outside interests make sure you tell the interviewer about the skills that you have picked up.  You should use every opportunity you can to demonstrate why you are the right person for the job.  For example if you're a performer it shows confidence or you might have great teamwork skills from playing sports.
Tell me about an important decision you have made and what the impact was.  Make sure to go through the steps you took leading up to the decision that helped you think through the problem logically.  Remember to choose an example that had a positive impact and describe what the benefits were.
Advice For Application Process
You can search Moe's Southwest Grill jobs online and browse the various openings and submit an online application.  These are generally for their corporate positions.  If you wish to make a direct application to a restaurant you can download a printable application for Moe's Southwest Grill, fill it in and take it to one of their locations.
Whether you apply online or take in your resume and application to a restaurant make sure you check through everything before handing it in as mistakes look unprofessional and can hurt your chances of employment.  Moe's keeps applications on file so they can contact you when new positions open up.
If you apply in person they may choose to interview you on the spot if the manager has some free time, if you make a Moe's Southwest Grill job application online the application process can take up to a couple of weeks.  Make sure you are well presented when you talk to the manager and are friendly and polite.
During your interview the most important thing to remember is to be positive and upbeat.  Bear in mind the kind of atmosphere that Moe's wants to create and show that you will be able to fit right in.  Be sure to make eye contact and show gratitude for the interview opportunity.
Also See:
Jason's Deli: See our guide for careers at Jason's Deli.
Taco Cabana: Checkout the application page for work at Taco Cabana.
Charley's Grilled Subs: Charley's Grilled Subs offers opportunities for both, beginners and experienced roles.
Port of Subs: Checkout the application page for work at Port of Subs.
Sonic Drive-In: Use the Sonic Drive-In job application to apply here.
Company Links
http://www.moes.com/careers/
http://www.moes.com/about-moes/