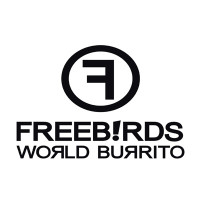 Freebirds World Burrito, or sometimes just simply known as "Freebirds", is a chain of fast food casual restaurants. This chain can be found the western and southwestern regions of the United States, with a few Midwest locations. This restaurant specializes in Tex-Mex cuisine, including their most famous item: burritos. For more information on your Freebirds Word Burrito Application, follow the link below.
Founded in 1987 in Santa Barbara, California by Mark Orfalea originally started the restaurant to create fresh roasted chicken and other food to deliver to the students at UC Santa Barbara. After having left over chicken, it was suggest to him to douse it in BBQ sauce and make burritos. It has been history ever since for this company, and their popularity rose and they quickly expanded.
There are currently over 60 locations across the western, Midwestern, and southwestern United States. This company was named after the Lynard Skynard song of the same name. In addition to providing great food, they have an emphasis on social responsibility. Their charity program "Freebirds World Works", they help give back to their local communities.
This is a company that cares about their community as must as they care about their customers and employees. This is a fun and laid-back environment that allows for job growth. They are looking for employees that can provide the customers with a positive experience while in their restaurant. If you are an enthusiastic person with incredible interpersonal skills, apply today.
Freebirds World Burrito Careers
There are many different positions at the corporate and restaurant level of this company. The restaurant level of this company has entry-level positions where you can grow with the company and turn your job into a Freebirds World Burrito career. Some restaurant positions include head of house, back of house, and manager.
The corporate office has a wide variety of positions where a job seeker can find the right fit for their skills and talents. While there are some entry-level positions, most positions here are higher level positions with more requirements to gain employment. Some positions at the corporate level are marketing, controller, and human resources.
The different positions at this company have a different set of requirements in order to gain employment. Entry-level positions may require a high school diploma and equivalent to gain employment. Higher level positions may require a college degree and several years of experience in order to gain employment. How old do you have to be to work at Freebirds World Burrito? The minimum age of employment is 18 years old.
Freebirds World Burrito offers similar benefits to others in this industry. Employee eligibility for benefits can depend on hours worked weekly and job title. Some benefits include health insurance, dental and vision plans. They may also have access to 401(k) plans, paid time off, and employee discounts. They also have many opportunities for career growth.
The hours of operation can vary depending on location and holidays. Some holidays may cause closures at the restaurant. For more information, check your local restaurant for details on hours. In general, hours of operation are Monday through Thursday from 11:00am to 10:00pm, Friday and Saturday from 11:00am to 10:30pm, and Sunday from 11:00am to 9:00pm.
Job Descriptions & Salaries
Front of House- The front of house crew includes line servers and rollers. The responsibility of the front of house crew is to help customer with the selections of items for their food, to really make a customized. They will do so in a quick and efficient manner. They are responsible for communicating when items get low on the line. Front of house staff may earn $8 per hour.
Back of House- The back of house refers to the staff that works in the kitchen side of the restaurant. They should be able to refill the line before needing to be asked to. They are responsible for ensuring the cleanliness and ensuring the kitchen is sanitary. They must ensure all food is fresh and not expired, and dispose of any bad food. A back of house staffer may earn around $8 hourly.
Shift Manager- A shift manager is responsible for assisting the managerial staff as needed. They will help train new employees. They will also perform all duties in the restaurant as needed, and ensure customer satisfaction. They will also take over for the manager if none are around. A shift manager may earn around $9 per hour.
Restaurant Manager- The restaurant manager is responsible for running the daily operations of the restaurant. They will hire and fire employees as needed. They will also conduct job interviews for potential candidates as well as perform employee reviews. They are responsible for their establishment's payroll, budget and inventory. They will also schedule staff. A restaurant manager may earn $35,000 a year.
Freebirds World Burrito Interview Questions
These are some questions that you may be asked during your job interview.
Why do you want to work at Freebirds World Burrito? The interviewer is looking to see what you know about this company and their values. This question may require some research prior to this interview. Answer honestly, describing which values you feel you share with this company and why this makes you a good fit to work here.
What is your 5 year plan? This company offers job growth for those who show hard work and dedication. They are looking for loyal employees to stay with them for the long-term. Answer with what your future career goals are and how this company fits into your plan.
Why should we choose you over the other applicants? The interviewer is giving you the chance to sell yourself to this company. Take this opportunity to discuss your strengths and how this company would benefit from them. Try to do so without sounding too boastful.
Do you have any relevant experience in this industry? The interviewer is looking for an employee who is capable to work in a fast-paced environment while keeping their cool with customers. They also want amazing customer service. Describe any previous experience you may have that is relevant to working in this industry.
Can you work as part of a team? In order for operations to run smoothly, everyone needs to come together and work as a team. The interviewer is looking to see if you are a team player. Describe any situation where you had to work as a team to accomplish a goal.
Advice for the Application Process
Wondering how to apply at Freebirds World Burrito? You can apply for a Freebirds World Burrito Job by applying at Freebirds World Burrito jobs online. You may also fill out an application form at your local restaurant. There are no downloadable applications online. There are no printable applications online. The easiest way to apply is to apply directly online.
The company website has the job descriptions and responsibilities clearly stated so that potential job seekers can find a good fit for them. You should only apply for a position that you are qualified for. You need to fill out the application completely and according to the provided instructions. You should submit an update resume with your application to give a clearer look at your skills and experience.
After applying at this company, you should hear back within a reasonable amount of time. If not, you are able to call up the location that you applied t to check the status of your application and to see if they are still hiring for that position. They may also inform you of when interviews are set to begin, if they have not already begun.
You may consider preparing for your interview beforehand. You are able to do this by asking yourself potential interview questions and answering them aloud. This will help you be less nervous, which can help you seem more confident and articulate during your interview. Remember to dress in a professional manner. This can help increase your chances of getting the job.
Also See:
Wienerschnitzel: Use the Wienerschnitzel job application to apply here.
Jack's Family Restaurant: For career opportunities, fill out the Jack's Family Restaurant online application.
Qdoba: Qdoba offers opportunities for both, beginners and experienced roles.
Potbelly Sandwich Works: See our resource page for more information on Potbelly Sandwich Works careers.
Carl's Jr: See this page for jobs at Carl's Jr.
Company Links