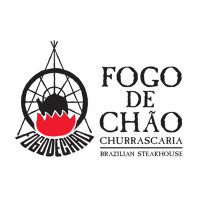 As you fill out a Fogo De Chao application, know that you are looking to work at a place that strives to serve all customers the great Brazilian food that they are known for.  Links to apply for jobs at Fogo De Chao are at the bottom of the page.
Two sets of brothers, the Cosers and the Ongarattos, grew up on a Southern Brazilian farm, where they learned all about the traditional Brazilian way to grill meat.  In 1975, the brothers left the farm and went to get formal training in the grilling style, called churrasqueiro.  By 1979 they opened the first Fogo De Chao in Porto Alegre, Brazil.  Several years later, the company opened their second store in Sao Paulo in 1987.
Ten years after their second store, Fogo De Chao opened their first store in the United States in Dallas, Texas.  Since 1997, the company has opened twenty-nine more restaurants across the country.  With the arrival of 2013, the company opened their flagship store in New York, New York with a sculpture of O Lacador, a historical monument in Brazil.
Known for their Brazilian-style meat, Fogo De Chao also runs an unlimited salad bar at a fixed cost that will also allow people to have meat-side service.  Recently, Fogo De Chao also added seafood cooked in the same style, as well as opening bars at certain restaurants, where customers can also get small plates and Brazilian wines and cocktails.
Fogo De Chao Careers
There isn't a head corporate office, so all positions are at the local level.  Within the local restaurants, there are several Fogo De Chao careers for people to hold.  Some of the most sought after are in the kitchen, as the company is known for their Brazilian-style cooked meat that people flock to the restaurants to get.
How old do you have to be to work at Fogo De Chao? Age requirements vary by job.  If you're working behind the bar, you'll need to be over twenty-one.  As you browse Fogo De Chao jobs online, make sure to read all job requirements closely as some positions need various certifications or experiences.
Benefits are offered to those with Fogo De Chao jobs, but they differ by location and position.  How long you work before you get the benefits also varies by store.  All stores offer medical and dental insurance, but at other locations, you are also offered vision insurance.
With stores scattered across the United States and Brazil, Fogo De Chao store hours vary with every location; but they all serve lunch and dinner, with a break between rushes where the restaurants close.  For lunch, all stores open between eleven and eleven thirty and are all closed by three on weekdays.  Dinner hours run from five or five thirty pm until nine thirty or ten.  Hours on the weekend are extremely varied by store.
Fogo De Chao Job Descriptions
Server – Having a positive attitude and friendly smile is a major part of this job as you will serve customers in a quick and timely manner.  You must be able to work in a fast-paced, high energy environment.  Compensation is around $20,000 a year.
Busser – You will work to rapidly clear tables and clean them before the next customers are seated.  Being able to work in a high energy and fast-paced environment is a must in order to move things from the dining room to the kitchen.  Compensation is around $15,000 a year.
Churrasqueiro – As a part of this job, you will learn how to butcher, trim, season and cook various cuts of meat to Brazilian traditional recipes.  Knowing about the food you'll make is necessary as you'll be expected to answer customer questions about it.  Compensation is around $20,000 a year.
Line & Prep Cook – Maintaining a clean and organized kitchen that meets state, federal, and company standards is a major part of this job.  You will prepare food at a rapid pace in a high energy, quick moving environment.  Compensation is around $15,000 a year.
Host/Hostess – You're the first face that customers see when they walk into the restaurant, so you need to have a positive and friendly demeanor.  You'll work to make sure that guests are evenly distributed around the restaurants and are getting the fantastic service the company is known for.  Compensation is around $20,000 a year.
Fogo De Chao Interview Questions
Here are some questions you may be asked during your interview:
Why do you want to work for Fogo De Chao? This is an extremely common interview question so you should be prepared for it.  Talk about what drew you to the company, whether it was company benefits or culture and why it's your first choice in places to work.
What experience do you have? If you have any experience, make sure to highlight it.  If you don't have any experience, as some positions don't require it, talk about what you can bring to the position instead.  Make sure to have plenty of examples to back up your claims.
Where do you see yourself in the next few years? Your interviewer wants to know if you see yourself with the company.  Be realistic in your career expectations and talk about how you're willing to take on extra challenges and responsibilities in order to move up in the company.
As this company relies heavily on customer service, you may be asked this question in the form of a hypothetical situation: How would you take care of an upset customer? Be realistic and practical as you explain how you would turn the customers' experience around. Make sure to explain the logic behind you actions.
Service and expected to be fast and accurate with this company, so you may be asked this question: How do you react and work in high pressure situations? Be honest and straightforward as you explain your reaction.  If there's something about your reaction you don't like talk about how you're working on changing it.
Advice for the Application Process
How to apply for Fogo De Chao online: start by deciding what position you want in the location that works for you.  After reading all job requirements, start filling out your Fogo De Chao application.  There is no printable application for Fogo De Chao on the website, but you can go to the store and fill one out.
Before attending your interview, do research on Fogo De Chao and the industry in order to have a list of prepared questions that you can bring with you to the interview.  This may seem excessive, especially for an entry level position, but it will place you ahead of other candidates as it will show that you think ahead.
Have a positive and friendly attitude when you attend your interview, it will show that you're already geared towards customer service and give your interviewer a good impression.  Your interview will be semi-formal to formal, so dress appropriately in business casual at the very least.  If you've applied for a managerial position, a suit would be more appropriate.
Make sure to show gratitude at the opportunity to interview with Fogo De Chao. Afterwards, inquire about the best way to check on your hiring status.  Few applicants will learn if they got the job during their interview as Fogo De Chao will want to see all candidates before making a final decision.
Also See:
Rainforest Cafe: For career opportunities, fill out the Rainforest Cafe online application.
Wing Stop: For employment at Wing Stop visit the application page.
Chevys Fresh Mex: Use the Chevys Fresh Mex job application to apply here.
Denny's: Use the Denny's job application to apply here.
Five Guys Burgers And Fries: For career opportunities, fill out the Five Guys Burgers And Fries online application.
Company Links
http://www.fogodechao.com/careers
http://www.indeed.com/q-Fogo-De-Chao-jobs.html