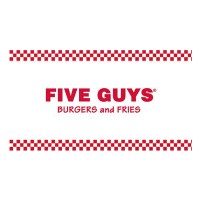 The company is a popular fast food chain. It primarily offers french fries, hot dogs, and hamburgers. Currently, it is open to franchising, which has helped the business to rapidly expand.
The business was founded in 1986 by couple Jerry and Janie Murrell. The name was derived from the five guys in the family: Jerry and his four sons Ben, Chad, Matt, and Jim. The kids, now all grown up, are helping their father operate the business.
Throughout its operations, it has been awarded and recognized for its popular hamburgers. Currently, it has more than 250 employees excluding its franchise and store employees, which can easily be more than 10,000. In addition, the company has over 1,500 locations worldwide.
The company does not offer a lot of benefits to entry-level employees. However, the staff can enjoy free lunch. Moreover, employees receive incentives and cash bonuses when their performance is observed and appraised.
The working environment is fast-paced, and on top of the decent pay, you get free lunch. If you need to save up, working for this company is an excellent decision. Aside from money, it is fun to work for a company like this.
How old do you have to be to work at Five Guys?
Once you are 16 years old, you can find employment in this company. Expect that you will be limited to an entry-level position. However, do note that you need to be at least 18 years old in some states.
Five Guys Careers
The available jobs in this company are plenty, but the different positions available are limited. The job positions here are crew member, shift lead, shift manager, assistant manager, and general manager. Note that these positions are all in-store.
Crew Member: As a crew member, your main role is to serve the customers and handle their orders. You are also there to make sure that you provide them with the freshest and healthiest meal that you can recommend. In addition, you will handle almost all of the transactions in the store.
Shift Lead: As a shift lead, it is your job to guide and help your team members. You must be capable of being the role model to other employees and customers. You will be there to perform all the jobs of regular crew members.
General Manager: Your job is to manage and direct all the departments and employees in the store you are assigned to. You need to be present in the store to ensure that operations are going smoothly. You are also there to resolve customer and employee disputes.
Assistant Manager: As the assistant manager, your role is to relieve and assist the general manager. You will oversee the performance of the shift lead and crew members. Most of the time, it will be your responsibility to communicate with customers, resolve their concerns, and answer their inquiries.
Shift Manager: You will be the main person who will be responsible for the schedule of the crew members in the store. Typically, your position is also considered as a shift or team lead. Do note that not all stores look for or hire shift managers.
Five Guys Application
You can either apply online or through a third-party recruiter. If you plan to do the former, you can start looking for jobs in its website's career page. Once you are there, you can just click on the apply button, and you will be redirected to Talent Reef. Talent Reef is an HR technology firm and partner that handles online applications of aspiring employees.
As mentioned, online application is available. You can ask to apply in-store, but you will just be recommended to apply online. Take note that an online application can take three days up to three weeks. The company does not automatically sort its online applications, which can be the main reason applicants experience delay.
When you get to Talent Reef, be sure to filter out the jobs according to location. Choosing a location far from you will only make them disregard your application. On the other hand, once you have chosen a job post, you will need to create an account on Talent Reef. To create an account, you need to provide your phone number and other contact details.
It is also during the account registration process that you will have to fill up all the necessary application information. Basically, you will fill in the application form as if you are writing your own resume. Do note that Talent Reef does not only work with Five Guys. It has also partnered with other companies. With that, you can use your account to find employment in other companies.
The interview process is simple and easy. You will be asked five to nine questions. The questions are pretty straightforward. However, the interviewers are serious about what they do and can be quite strict. So, don't be deceived by the simple questions — they want to receive or hear serious answers from you.
Things to Know About Five Guys
The company culture is light and easygoing. You can easily feel that in every burger joint that it operates — the employees are always cheerful. On the other hand, they are serious about providing quality customer service and food. They always want the customer to experience the best every time they eat there.
It has been deemed as one of the fastest growing companies in the United States for the past few years. And who can forget the time when President Barrack Obama visited a branch to dine there. On the other hand, it is no secret that the company is always being scrutinized and criticized for its unhealthy menu.
The company is known for its burgers, particularly its cheeseburgers. Aside from that, the success story of the family who owns the company is always a heartwarming and inspiring tale.
The company is not known to be involved with any charitable affiliation and actions. However, they do uphold high standards when it comes to transparency. Particularly, they are heavily invested in the welfare of their employees.
Application Links
Company: http://www.fiveguys.com/
Careers: https://recruiting.talentreef.com/five-guys-careers