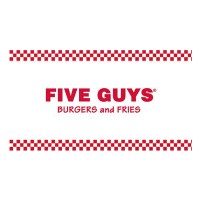 Five Guys Burger and Fries is one of the fastest growing fast food chains in the USA.  There are constant opportunities opening up for employees at new and existing locations.  To see how to apply for Five Guys online, use the link below to find a Five Guys application form.
The Five Guys who started the firm in 1986 are Jerry Murrell and his sons Matt, Jim, Chad and Ben, with help also from their mother Janie Murrell.  Jerry is still involved with the company but gave over the fifth place in the guys to his fifth son Tyler.  All of the sons have taken on a different part of the company.
The first restaurant opened in Arlington County, Virginia and had a slow start, only opening five locations up to 2001.  However, in 2003, the company opened up to franchising and suddenly business took off.  The company now has over 1,000 locations in the USA and Canada with over 1,500 in the works.
The chain has stuck to its roots of delivering burgers with fresh, reliable ingredients and a variety of different toppings.  In fact, they claim that there are over 250,000 different ways you can have your burger made for you at any one of their locations so you can never grow tired of the menu.
Five Guys Burgers and Fries Careers
There are always many Five Guys jobs available at their restaurants.  The usual positions are Kitchen Staff, Crew Member, Shift Leaders, Assistant and General Managers.  Experience is preferred for entry-level roles but applications will be accepted from candidates with the right attitude.  You will need at least 1-2 years working in the industry to apply for management roles.
There are also opportunities for employment in the corporate division of the company.  Careers include openings in the departments of Finance, IT, Sales and Marketing amongst many others.  There are around 200 corporate employees in different locations across America.  For a successful Five Guys application in this career area you will need experience in your chosen field as well as a college degree.
How old do you have to be to work at Five Guys? For some positions you can be 16 or over to apply but check the job specifications first.  Remember that you will be expected to work weekends and evenings, the restaurant opening hours are usually 11am to 10pm every day.
Get Your Degree!
Find schools and get information on the program that's right for you.
Powered by Campus Explorer
Five Guys careers come with a number of benefits.  All restaurant employees get a free meal on each of their shifts and are also able to have flexible schedules.  Some full-time employees will be entitled to a health insurance package as well as a 401(k) retirement plan and paid vacations.
Job Descriptions & Salaries
Crew Member – Crew Members will be expected to perform a range of different duties on a daily basis.  These will include interacting with and serving customers, keeping the restaurant clean and tidy, cashiering and helping to prepare the food by operating the grill and sandwich maker.  This is a minimum wage job paid at $8-9/hour.
Shift Leader – As a Shift Leader you will oversee Crew Members and ensure that they are carrying out their responsibilities efficiently.  You will be involved in staff training and scheduling and be expected to run the restaurant in the absence of either the Assistant or General Manager.  The pay is usually around $10 an hour.
Assistant Manager – The Assistant Manager works closely with the General Manager in supervising all of the operational tasks of the restaurant.  This will include staff management and maintaining restaurant hygiene and safety standards.  This job requires you to ensure that both staff and customers are happy.  The typical salary starts at $30k/year.
General Manager – The General Manager is ultimately responsible for the performance of the restaurant from staff recruitment, training and management to maximizing profitability.  You will implement sales strategies and targets and motivate staff to reach them all the while ensuring that customer satisfaction remains a top priority.  The salary ranges from $30,000 to $55,000 a year.
Five Guys Burgers and Fries Interview Questions
The best applicants for Five Guys jobs are the ones who are prepared so make sure you practice some typical interview questions.
What do you consider your greatest achievement?  This is an opportunity to show off a bit but it's important to describe why your greatest achievement is relevant to the job description.  Use it to demonstrate why it makes you suited to the role.
What would you do if a customer asked you to break company policy?  Happy customers are extremely important to the business but you need to show that you can uphold the reputation of the company.  You will need to show that you can handle potentially difficult customers.
What do you know about the company? It's never a good idea to go into an interview without knowing something about the company so do some research the day before to make sure you can say a bit about the services they offer and their history to show your enthusiasm for the place.
If you're applying for managerial positions they may ask you a bit more about your understanding of food service and management.  You might get questions such as, "What are the correct temperatures to store different foods at?" or "What do you think is the best leadership style?"  These are designed to test your knowledge of the industry and to get an idea of your experience level.
Advice For Application Process
If you search for Five Guys jobs online you will be directed to the careers page of their website.  They don't provide an online application form but you can download a printable application for Five Guys to take to one of their locations.  Alternatively you can request a free application from your local restaurant in person.
The company does allow you to apply online for their corporate job opportunities via the email provided on their webpage.  If you want to submit a Five Guys job application online then email your resume using the contact information provided.  You can also use this email to request information on their available positions if you want to make a direct application for a specific role.
Some locations will run frequent hiring events for multiple candidates.  If you are invited to one of these you will be shown some short films with information about the company and asked to fill in an application if you haven't already.  You will then have a brief interview with the hiring manager.  Other locations make ask you to come straight in for an interview.
It's important to look professional and well presented in your interview even if you're applying for an entry-level role as it is vital to give off a good first impression.  Make sure you know a bit about the company before you apply for jobs at Five Guys and take some time to prepare for the interview.
Also See:
Huddle House: Visit the Huddle House application.
Logan's Roadhouse: See our guide for careers at Logan's Roadhouse.
Luby's Cafeteria: Checkout the application page for work at Luby's Cafeteria.
Max And Erma's: See our resource page for more information on Max And Erma's careers.
Ponderosa Steakhouse: Checkout the application page for work at Ponderosa Steakhouse.
Company Links
http://www.fiveguys.com/contact-us/careers.aspx