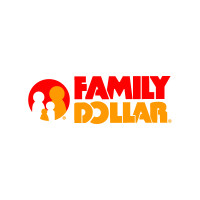 Family Dollar store offers a variety of merchandise ranging from name-brand and private-brand goods, clothing, toys, apparels, household cleaners, home appliances and furniture that will aid the needs of customers of all ages and backgrounds.
Leon Levine founded Family Dollar in November 1959. The first store opened in Charlotte, North Carolina and their second was opened in South Carolina in 1961. Other stores were opened and by 1969, they operated largely in Southern United States.
The company had already 7442 stores operating in 45 U.S. states and the District of Columbia in 2012. It is considered the second largest retailer of its type in the United States and employs over 50,000 workers.
It's committed to providing good benefits packages to its employees. They have 401(k) Plan, a competitive health and welfare benefits, and 24/7 assistance regarding associates' personal problems and life events that may affect their work schedule.
Associates love working for the company as it provides a fun and professional work environment with a decent compensation and benefits. It also awards commendable workers with excellent prizes and holds various contests to motivate their workers.
How old do you have to be to work at FAMILY DOLLAR?
The minimum age requirement for employment at Family Dollar is 18 years old. In some branches, the manager may lower the age requirement to 16 years old as needed.
FAMILY DOLLAR Careers
The company has career opportunities in three divisions: Store Operations, Distribution Center, and Store Support Center. The Store Operations job opportunities include stocking shelves, cashiering, customer service, etc. The Distribution Center job opportunities are in the supply and delivery chain. The Store Support Center job opportunities are tasked to monitor and support national network of stores and distribution centers.
Stock associate: It involves heavy lifting of packages and supplies. Duties include unloading of deliveries, lifting shipments and arranging the storage room areas, stocking the shelves with the products, and arranging the displays in the store. Additional duties and responsibilities may vary per branch.
Customer Service Representative: These are energetic individuals who have various duties and responsibilities from customer service up to occasional stock-shelving and unloading of trucks. They are friendly and shall meet and greet customers, cater to customer needs, and answer questions about products and services.
Management: Store managers and assistant managers' duties are primarily supervisory and administrative in nature. They are in charge of assigning duties to workers, concentrating on sales productivity, communication with corporate offices, hiring of new employees, and arranging the employees' schedules. They monitor the overall shopping experience of customers and answer to their complaints and issues.
Shipping Loader: They are in charge of monitoring the shipment of packages from the company's warehouse while maintaining production level and quality standards. They are tasked to ensure that no damages or inaccuracies will be caused while the merchandises are delivered. They shall monitor the orders and scan the packages as they are loaded into the trailers.
Forklift Operator: They are in charge of the manual operations and material handling in the company's warehouse to assist in the transport and storage of packages in the Distribution Center. They lift and transport labeled merchandises to store or ship to the assigned place.
Repack Order Filler/Repack Stocker: They are tasked to arrange properly the items ordered by stores and pack them in boxes or containers.  They aid in arranging and stocking merchandises on pick lines. They also maintain set production and quality standards.
General Warehouse: They are tasked to work general lifting and stocking of packages. Their duties may vary but are primarily on the loading/unloading of cargo, order filling, storing, box processing, and housekeeping. They mostly aid in any work in the warehouse and shipment stations.
Maintenance Tech III: They are tasked to monitor power transmission products and perform routine preventive maintenance. Their duty is mainly based on basic maintenance and repair of equipment. They perform emergency repairs and troubleshooting on equipment and are tasked to work on electrical installations.
Security Guard: They mainly monitor the security in the Store and Warehouse. They secure the grounds of the warehouse and regularly inspect Distribution Centers. They are also responsible for monitoring the trucks and cargo throughout all the procedures. In stores, security guards are tasked to maintain the security of the store, inspect the customers and guard the area.
Yard Switcher: They mostly work on truck maintenance and transport of cargos. They move cargos and trailers around the warehouse grounds to and from the shipping and receiving dock doors. They are generally responsible in managing the shipment vehicles in the warehouse yard.
FAMILY DOLLAR Application
Applicants may submit their resume or profile through application forms online and offline. They may directly go to hiring managers or through the company's website, and wait for their interview schedule.
The company offers online application, wherein applicants may access the application forms and available jobs posted. They may accomplish their profiles through the online platform as well.
It's good if applicants can provide as much relevant experiences and details as possible through the online and offline application forms. Applicants who can submit directly to hiring managers in person may have the advantage.
Applicants should include sufficient and honest information in their resume such as their experiences and skills that are relevant to the specific position they want to apply for.
It is important to practice speaking naturally and eloquently. During the interview process, applicant should show compassion and enthusiasm for the position, while still remaining real and professional. 
Things To Know About FAMILY DOLLAR
Family Dollar boasts of their team of 50,000 excellent men and women. It believes that open communication and interaction among its individuals is the foundation of the associates' commendable teamwork. It gathers committed individuals and fosters an achievement-focused culture.
With its goal to further improve the shopping experience of its customers, Family Dollar has recently partnered with television personality and chef, Pat Neely, to add more than 400 new food items to its stores.
The company is known for its affordable products which are mostly less than 10$. It offers people from all walks of life a compelling mix of products. It also gives its crew the opportunity to expand and grow their careers.
It is also committed to providing its customers quality services and products while complying with the highest legal and ethical standards of social responsibility. It ensures fairness and equality to its customers and employees.
Application Links
Company: https://www.familydollar.com
Careers: https://www.familydollar.com/corporate/careers
Application: https://www.familydollar.com/corporate/careers/storecareers/taleo-store