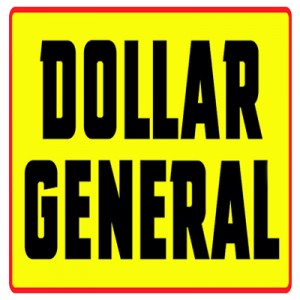 Dollar General is a chain of retail variety stores across the United States that aims to make shopping easy, convenient and affordable. In these stores, patrons are welcomed with a wide variety of food items, health and beauty products, cleaning supplies and apparel at everyday low prices.
The first Dollar General store was opened in 1955 in Scottsville, Kentucky. The store's story started out with its founder, James Luther (J.L.) Turner's journey from being a salesman to a wholesale business owner. Together with his son, Carl Turner Sr., they started the J.L. Turner and Son Wholesale which, after a few years, gave way to product retailing.
Starting out from a single store in Scottsville, Dollar General has grown to over 14,000 stores in 44 states nationwide. Their product partnerships have expanded to include most of the trusted American brands and products. It is also able to provide jobs to over 130,000 employees, ranging from store clerks to corporate managers.
As a member of the Dollar General family, employees are given a comprehensive benefits plan that includes health care coverage with medical and life insurance, disability protection, and a 401(k)-retirement plan to help employees prepare for retirement. The company also provides members with The Better Life Wellness program that provides support for health, lifestyle and even financial queries.
Dollar General provides an ideal foundation for career starters with their competitive wages and benefits. It also provides real career advancement opportunities with one of the most-renowned retailers in America for those already with experience.
How old do you have to be to work at The Dollar General?
One must be at least 18 years to be eligible for employment with The Dollar General retail operations. 
The Dollar General Careers
There are different career tracks available within the company – each one offering exciting opportunities suited for your set of skills:
Store positions – If you're looking for opportunities in retail and are ready for front-line customer service jobs, check out these openings in the store nearest you.
Store Clerk: A clerk deals directly with customer needs and inquiries, operates the cash register – from charging to bagging, monitors inventory and assist in keeping the store's cleanliness, and performs other duties necessary to maintain profitability and customer satisfaction.
Store Manager: Oversees the overall management of the store including product management, selling, staffing, and support. Recruit, train and develop qualified employees. Conduct regular quality control checks, equipment maintenance, and personnel assessments to ensure quality service in all departments. Ensure compliance with company rules, vision, and mission. 
Distribution positions – If you're looking for a fast-paced, exciting environment, Dollar General has 13 distribution centers around the country that has jobs for those who want to help keep the store's shelves well-stocked and its products in good condition.
Distribution Center (DC) Intern: The intern will partner with management to work on special projects to streamline day to day operations. They will supervise employees who operate equipment and conduct meetings to communicate volume goals and safety reminders. They're also responsible for maintaining quality measures, employee morale and records.
Checker: Responsible for fast and accurate merchandise handling into and/or out of the warehouse facility either by hand, hand truck or forklift. They also audit merchandise received, sort and label products, report damages or vendor compliance issues, and partners with supervisor to resolve issues or discrepancies.
Cycle-Counter: Responsible for maintaining inventory. Counts each pick line as well as storage location for the items that are displayed in the cycle count work queues. Verifies packing, description, and retail price of the items being cycled and adjusts inventory data when needed.
Maintenance Supervisor: Coordinates the daily activities of the maintenance department to ensure the quick response to warehouse repair or service needs. Conduct regular floor checks to ensure compliance with company, federal and OSHA standards.
Warehouse Supervisor: Oversees end to end order processing from receipt, stocking, and order filling to timely shipping of merchandise. Reviews daily department staffing levels, labor utilization and production performance. Conducts performance reviews and training sessions to address developmental needs.
Corporate Positions – There are numerous open corporate positions within the company. You'll find a variety of posts from accounting to field operations to match your skills. Some of the open corporate positions are:
Human Resource Representative – DC: Responsible for end-to-end recruitment process for hiring distribution center employees. They assist the management team in implementing and ensuring compliance with company policies and guidelines; resolve any employee concerns about pay rates, benefits and any other item within their purview.
IT Security Administration Analyst: Responsible for the administration and execution of identity and access management processes, security and compliance support and any other information security administrative functions.
Cash Auditor – Responsible for the timely and accurate reconciliation of store accounts and all corporate bank accounts including cash management, loss prevention and reviewing accounts payable.
There are a lot more in the areas of Marketing, Legal, Logistics, Real-Estate, Human Resources, Finance, and Administration. Check the website for more of these openings. 
The Dollar General Application 
There are two ways to apply for a job with Dollar General.
The first method is to go through Dollar General's Career site. In the page's Job Search Form, search for open positions by either entering keywords, category or location. Clicking the search button will list all available positions that meet your selected conditions.
Once you've selected the job title, you can start the application process by uploading your resume to My Computer, Google Drive or Dropbox. Doing this will automatically upload your information into the system. Review the captured data, complete the online questionnaire, and press submit. This is the end of the line for most positions, but there are some jobs that require an additional assessment in the process.
The second method is through their social media accounts like LinkedIn and Google+. Choosing this option allows the Dollar General website to pull your basic information from your social media account. Aside from the channel, the rest of the steps that follow are the same.
Tips for applicants:
Entry level applicant resumes should include previous retail or customer service experience.
Skilled workers should highlight their technical qualifications and showcase certifications if any.
Applicants for supervisory or managerial posts should highlight successfully led projects, ideas that contributed to process or quality improvement or any achievement of their own or of their team with their previous employers.
Once your application is received, the company will conduct background checks to verify shared information and a simple interview process with the hiring manager. Higher positions will require multiple levels of interviews prior to selection. 
Things to Know About Dollar General
Dollar General Cares is a project launched in line with the company's mission to "Serve Others." To live by this credo, the company ensures that all business is conducted responsibly and ethically, all products shown are safe and of high quality and all activities centered on community building and environment-friendly practices.
One such community-building activity is the Dollar General Literacy Foundation. It is the company's initiative to help improve lives through literacy and education. They provide individuals and non-profit organizations grants to provide access to quality books and other learning materials.
While literacy is Dollar General's primary charitable focus, they also support disaster relief efforts and partnerships with other response teams such as the American Red Cross. They also have an ongoing partnership with St. Jude Children's Research Hospital, Marine Toys for Tots and other drives that support communities across 44 states.
Dollar General's growth has been remarkable and is still expected to continue. Just recently, there's news of opening another distribution center in Texas which would lead to more job opportunities to citizens of that area.  
Application Links 
Company: https://www.dollargeneral.com/
Careers: http://www2.dollargeneral.com/DG-Careers/Pages/index.aspx