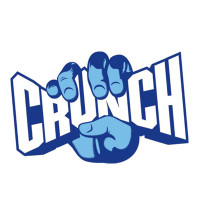 Crunch Fitness is a chain of gym locations, which encourages an environment that is free from judgement and allows everyone to work out comfortably whether they are in shape or trying to be. They provide equipment and personal trainers, as well as fitness classes. For information on the Crunch Fitness application, follow the link below.
Founded in 1989 by Doug Levine in New York City, Crunch began in a basement level aerobics studio. Fitness instructors started with offerings like Hip-Hop aerobics, Co-Ed Action Wrestling, and Cyked Yoga Cycling. Since then, they have grown into larger facilities that have cardio and strength equipment, as well as classes and personal trainers. Recently, they have also launched a subscription online service allowing for access of exercise videos.
They have over 100 gyms worldwide, including 72 franchise location across the United States and Australia. This company is still growing, seeking further expansion in these areas. With partnerships, they have excellent quality equipment and have a wide variety of fitness classes for people to find something that they enjoy.
Crunch Fitness believes that customers should be nurtured, not judged. They want people to feel encouraged to live a healthier life. They expect that their staff is pleasant, kind, and respectful to all people who enter the doors. They are expected to assist customers to give them a great experience so that they keep working towards their fitness goals.
Crunch Fitness Careers
There are plenty of positions at this company that requires people of all different types of skills and talents to help the company run smoothly. The gyms have plenty of entry-level positions where employees can grow their job into a Crunch Fitness career. Some positions at the gym include front desk associate, personal trainer, and child care.
At the corporate level, they also provide employment opportunities for people of all types of abilities to find something here. At the corporate level, positions are usually for higher level positions though there are some entry level positions one may find here. Such positions are in marketing, human resources, and the legal department.
Different positions often have a different set of requirements to gain employment. Most positions require a minimum of a high school diploma or equivalent to gain employment. Higher level positions will require more education, even a college degree, and require more experience. How old do you have to be to work at Crunch Fitness? The minimum age of employment is 18 years of age.
The employee benefits at this company are highly competitive for the industry. Eligibility for requirements can depend on the hours worked weekly with the company and your job title. Some benefits employees may receive are free gym memberships, health insurance, vision and dental insurance. They may also get paid time off, a 401(k) and other retirement benefits. These are only a few of the benefits eligible employees may receive.
The hours of operation may vary depending on the location and for holidays. Some locations will close for a half or an entire day for holidays. Generally, hours of operation are Monday through Thursday from 5:30am to 10:00pm, Friday from 5:30am to 9:00pm and Saturday through Sunday from 7:00am to 8:00pm.
Job Descriptions & Salaries
Personal Trainer- A personal trainer is responsible for providing clients with a customized fitness plan to help them meet their fitness goals. They will education their clients and help guide them by providing them information on proper nutrition, proper exercises to meet goals, and how to maintain a healthy lifestyle. A personal trainer can earn around $34 per hour.
Front Desk Associate- A front desk associate will greet and assist customers upon entering the gym. They will also answer questions to potential new members to provide information about the gym. They are also responsible for handling administrative duties and handling incoming phone calls. They will also help maintain the cleanliness of the gym. A front desk associate may earn around $9 per hour.
Group Fitness Trainer- A group fitness trainer will teach classes in a specific or a few different work outs. They should make themselves available before and after class in order to answer any questions that their clients may have. They must ensure all equipment that will be used during the class is maintained and properly functioning. They must maintain an appropriate attire including footwear. A group fitness trainer may earn around $35 hourly.
Operations Manager- An operation manager is responsible for running the daily operations of their gym. They will hire and fire employees as needed. They will help with the marketing of their gym. They will are responsible for their gym's budget and payroll. They will also perform employee reviews and train new employees and teach them about the company policies. An operations manager may earn around $44,000 a year.
Crunch Fitness Interview Questions
These are some questions that you may be asked during your job interview.
What about Crunch Fitness makes you want to work here? This question requires some previous research to answer. You should discuss any values and ideals that you and this company share and why you feel that makes you a great fit for this company.
Is fitness important to you and is it a passion of yours? As this is a fitness facility, they want people who appreciate fitness and a healthy life style like they do. Explain honestly how important fitness is in your life and if you would consider it a passion. This company wants people who are passionate for fitness in its ranks.
What are some ways that you can increase sales here? This company requires all staff to try and gain more customers into the gym. The interviewer is looking for you to give examples of how you can help the gym meet their sales goals for new memberships and services. Explain some sales tactics that you may use to help increase the clientele.
Why should we choose you over the other candidates? The interviewer is giving you the chance to sell yourself to them. Explain your strengths and how you feel the company could benefit from them. Be sure to sound confident without sounding too boastful.
Where do you see yourself in 5 years? Companies are generally looking for employees who are in this for the long haul. They want to know what your future goals are and if you can meet them with the company. You should be honest with what your future goals are and explain how you can achieve them here.
Advice for the Application Process
If you are wondering how to apply at Crunch Fitness, you can apply at Crunch jobs online. You may also fill out an application form for Crunch Fitness at your nearest location. There are no printable applications online. There are no downloadable applications online. The easiest way to apply for a position is by applying directly online.
The website has the job descriptions and responsibilities for positions clearly stated for their positions. Be sure you only apply for positions that you qualify for, or your application may not be considered. You should be sure to completely fill out the application form in accordance to the instructions provided. When you submit your application, you should submit an updated resume.
After applying, you should hear back from a hiring manager within a reasonable amount of time. If not, you can call to check the status of your application and if they are still hiring for that position. They may also be able to provide you with information on when the interviews will be starting, if they have not started already.
You should practice for your interview before you go. Do this by asking yourself potential interview questions and answering them out loud. This will help you seem less nervous which will make you look more confident and articulate during your interview. Remember to dress in a professional manner for your interview, which will improve your chances of success.
Also See:
BobbiBrown: See our guide for careers at BobbiBrown.
Fitness 19: Use the Fitness 19 job application to apply here.
Stride Rite: See our guide for careers at Stride Rite.
Planet Beach: Checkout the application page for work at Planet Beach.
New Balance: See this page for jobs at New Balance.
Company Links
https://www.crunch.com/about-us/jobs/