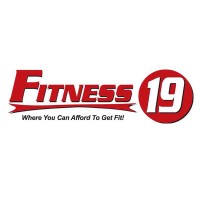 Fitness 19 is a young company, being formed only in 2003, but it developed quickly.  In just the 12 years since it began, it has expanded into 23 states with over 100 locations and is looking to grow further. To apply online, find the link to help you make a Fitness 19 application at the bottom of the page.
Fitness 19 was formed by people who had worked in similar clubs, and realized they could do it better.  The company aims to center on convenience for clients, convenient locations, opening hours, childcare facilities and flexible packages that don't require long contracts.  The ethos is to make getting in shape an enjoyable experience and not create extra stress for clients.
The clubs have excellent facilities allowing clients to tailor their workout to their own needs.  All clubs include a wide range of cardio equipment, free weights, a variety of group classes, Personal Trainers, childcare facilities and some locations also offer the SilverSneakers program for order clientele to remain active and healthy.
Fitness 19 are committed providing a comprehensive experience for their clients.  Their website features a blog containing articles on all aspects of fitness, nutrition and body image.  It has created a positive, fun atmosphere and community feel for both staff and clients to all work together to make happier, healthier people.
Fitness 19 Careers
Fitness 19 careers offer many job opportunities for those wanting to make a start in the health and fitness industry.  There are many part-time roles with flexible schedules such as Receptionist, Children's Room Attendant and Sales Associates.  There are also always openings for certified Personal Trainers and opportunities for management advancement.
How old do you have to be to work at Fitness 19?  You must be 18 years or over to make a Fitness 19 application.  The role of Personal Trainer will generally require extra certifications either from a college or other accredited body.
Working for Fitness 19 there are ample opportunities for advancement. Starting from an entry-level position, many centers will assist those who wish to gain personal training qualifications.  As a Personal Trainer you are also able to design your own schedule.  Further than that there are also opportunities to move up the management ladder.
Get Your Degree!
Find schools and get information on the program that's right for you.
Powered by Campus Explorer
With an eagerness for health living already, employees are able to have access to Fitness 19 facilities for free and enjoy the benefits of having knowledgeable colleagues to help you out with your own fitness and nutrition routines.  The clubs are generally open from 5am-10pm during the week and 8am-6pm on the weekends, allowing you to squeeze in workouts before or after your shift.
Job Descriptions & Salaries
Front Desk Receptionist – This is an entry-level role but an interest and enthusiasm for health and fitness is key as you will need to be able to assist clients in all aspects of the center.  You will also need a good telephone manner and basic computer skills.  The pay for this role generally starts at minimum wage of $8-9/hour. 
Childcare Worker – Most Fitness 19 centers have a Children's Room and require qualified people to supervise clients' children during their workout.  This role is focused on care and ensuring the safety of the children at all times.  Many responsibilities will also overlap with receptionist duties and the role is at the same rate of pay.
Sales Associate – Sometimes people need that extra push to join a gym and it is your job to show off the benefits of joining a Fitness 19 center.  The gift of persuasion is a must as well as a thorough knowledge of everything the center has to offer delivered through excellent communication skills.  Associates are paid hourly at a rate of $8-9.
Personal Trainer – Being a Personal Trainer is a hands-on job, designing fitness routines for clients that are effective, motivating and also provide an enjoyable experience.  Personal interaction is a crucial part of the role.  Trainers will also be expected to contribute to the daily upkeep of the gym.  The salary typically starts at $30k a year, clients are billed hourly at a rate of around $14-15.
Fitness Club Manager – A career in management includes being responsible for overseeing all aspects of the clubs.  There is a particular focus on sales as this is what drives the business and keeps clients enjoying the facilities.  There is opportunity for advancement from within.  Managers can also enjoy an annual salary of around $65,000.
Fitness 19 Interview Questions
When hiring for entry-level Fitness 19 jobs managers are looking for enthusiasm, Personal Trainers will have questions more tailored to the position.
What experience do you have with sales? Most positions will have an element of sales involved so if you do have experience, great.  Tell them about your successes and what techniques you found worked the best.  If not, tell them about the skills you have that would make you good at sales such as communication, drive and passion.
Why do you want to work in health and fitness? You will need to show that you can maintain an upbeat and motivational attitude around customers to ensure the right kind of atmosphere.  You can talk about your own workout experiences and goals and why you want to share that with other people.
How do you work in a team? Any team experience can be helpful, but be sure to always relate it back to the job description.  Interaction with clients and coworkers is an important part of working at a health club so be sure to emphasize your people skills when you give your answer.
More specific questions will be asked of those applying for Personal Trainer roles, such as, "How would you design a workout for an athlete recovering from an injury?" or "What motivational tools would you employ for a beginner?".  In answering these questions you will need to show your comprehensive knowledge and experience.
Advice For Application Process
To apply for jobs at Fitness 19 it is best to make a free application by taking your resume along to your local club.  You are not currently able to download a printable application for Fitness 19.  It is possible to apply for Fitness 19 jobs online by contacting one of the locations with a direct application but there is no online application form.
Make sure you follow these tips on how to apply for Fitness 19 online.  All vacancies will involve customer interaction and it is hard to prove this ability in writing.  Include a letter to go with your resume giving examples of your experience. Make your writing lively and memorable when making a Fitness 19 job application online to ensure your personality comes across.
For entry-level jobs the interview process may involve a brief telephone conversation followed by a 15-20 minute interview.  Some managers will ask you to sit down with more than one person in the interview to see how you interact with different people.  Even for entry-level employment show off any sales, customer service or fitness experience you have.
Personal Trainers will have a slightly different style interview.  They will be expected to run a simulated workout session or design a potential training routine based on a premise given to them at the interview.  Though applying as a trainer, dress in smart attire, as managers will want to see that you have an attitude of professionalism.
When making applications for Fitness 19 jobs bear in mind the environment and the type of person you would want to see if you came in for a workout.  They will be looking for people who can encourage clients and be well informed about various issues of healthy living as well as the different areas of the gym.
Also See:
Estee Lauder: Use the Estee Lauder job application to apply here.
Merle Norman Cosmetics: For employment at Merle Norman Cosmetics visit the application page.
Shoe Show: Shoe Show offers opportunities for both, beginners and experienced roles.
Powerhouse Gym: For career opportunities, fill out the Powerhouse Gym online application.
Vans: Visit the Vans application.
Company Links
http://www.fitness19.com/convenient-locations/
http://www.fitness19.com/about-fitness19/