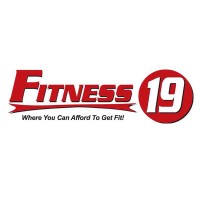 Fitness 19 is a chain of fitness centers that offers affordable services in a family-friendly facility. A typical location features basic cardiovascular equipment such as treadmills, stair climbers, stationary bikes, and free weights.
Founded in 2003 by veterans of the health and fitness industry, the chain continues to expand to provide a fitness club model that meets the needs and preferences of most people.
They currently have more than 100 locations in over 20 states and are looking to grow even further. The company is one of the best options for those who are searching for entry-level jobs in the health club industry.
Franchised locations may have varying compensation and benefits package but generally, employees are entitled to paid holidays, personal time-off, healthcare coverage, life insurance, 401(k) retirement plans, free gym membership, and employee discounts.
Aside from the competitive wage and benefits, a typical staff member also enjoys flexible schedules, paid training, free use of gym equipment after hours, and opportunities for career advancement – reasons why people like working at Fitness 19.
How old do you have to be to work at Fitness 19?
You must be at least 18 years old to apply at Fitness 19. The roles of personal trainers, instructors, and nutritionists generally require further additional certifications from a college or accredited organizations.
Fitness 19 Careers
There are many opportunities for growth and advancement at Fitness 19. Many locations provide assistance to entry-level employees who wish to expand their proficiencies and acquire training qualifications. For those who exhibit exceptional qualities, there are plenty of chances to move up and obtain significant roles in the management.
Receptionist: Receptionists need to have an interest and knowledge about health and fitness as they will need to be able to answer clients' inquiries and assist them in all aspects of the fitness center. Daily tasks include explaining the class schedules, equipment, services, selling club memberships, and ensuring customer satisfaction.
Personal Trainer: A Personal Trainer designs effective and enjoyable fitness routines for clients. Primary duties also include guiding gym patrons through the workouts and keeping them motivated throughout the course of their membership. Trainers must be in tip-top shape and have professional qualifications as regards to physical fitness.
Sales Associate: People sometimes aren't sure if they should join a fitness club or not. As a sales associate, it is your job to explain the package deals to potential clients and make them see the advantages of joining the club. A Sales Associate must have a persuasive personality and dedicated attitude.
Fitness Instructor: A Fitness Instructor develops modified diet plans and exercise routines that meet clients' individual needs, demonstrates the proper way of using fitness equipment, delivers exercise workshops and classes, and makes sure the gym is always clean and hazard-free. They give clients encouragement and vital health and fitness advice.
Group Cycle Instructor: A Group Cycle Instructor will be assigned to train participants in a dedicated cycling studio with Lifecycle exercise bikes and quality audio system. Instructors must be able to demonstrate correct form and techniques, observe groups, and explain essential corrective measures to enhance each participant's skills.
Kid's Room Attendant: Most Fitness 19 locations have a kid's room where clients' children stay during their workout. It is the responsibility of the Kid's Room Attendant to supervise the children and ensure their safety at all times. This attendant may also be asked to touch on some receptionist duties.
Gym Custodian: A Gym Custodian carries out general housekeeping duties such as cleaning and sanitizing fitness equipment, gym floor, locker room areas, restrooms, and all other areas of the center. A custodian takes care of the overall cleanliness of the facility to ensure positive customer experience.
Fitness Nutritionist: A Fitness Nutritionist evaluates their clients' lifestyle, training schedule, eating habits, and use of supplements or medications, in order to provide tailored nutrition plans for increasing endurance and stamina. A licensed nutritionist with a bachelor's degree in fitness nutrition programs is highly preferred.
Assistant Manager: In the absence of the Fitness Club Manager, the Assistant Manager takes over to ensure all operations of the center run smoothly and efficiently, and that all employees play their roles up to par. The Assistant Manager reports to the general managers in case of any inconsistencies with business operations.
Fitness Club Manager: The Club Manager is responsible for supervising all aspects of the business—from sales, profitability, efficiency of daily operations, marketing, and customer satisfaction. The manager oversees the functions of the team members and the overall safety and maintenance of fitness equipment and the entire facility.
Fitness 19 Application
To apply at Fitness 19, applicants must take their resume, along with a cover letter and other requirements, to their local club. They may inquire at the club first as requirements and application process may vary per location.
There is currently no online platform where job seekers can submit their application. However, they may visit the company's site to be familiar with the services and have a general idea of what the company looks for in an employee.
Most applicant report success by submitting application forms personally at the location, instead of electronically. Generally, applicants hear back from hiring managers within two weeks upon submission of pertinent documents.
The club requires their members to be reliable, self-motivated, and physically fit, with high energy and natural inclination towards fitness. Thus, applicants who can manifest these attributes through their resume, forms, and interviews will gain favor from the hiring team.
Job hopefuls must look their best during interviews and express their keen interest in and suitability for the position. Applicants who know the company's background and advocacies may have higher chances for employment.
Things to Know About Fitness 19
Staff members of Fitness 19 are personable and easy to work with. As the club focuses on health and wellbeing, not only the clients but also the employees feel encouraged to lead a healthy lifestyle.
The company maintains a blog through their website where they post helpful topics which can be anything related to health and fitness. They have posted about ab workouts and safety practices when using gym equipment, to mention a few.
The chain is known for its group classes that help gym-goers reach their fitness goals and ultimately improve their wellbeing. These include Pilates, Yoga, Boot Camp, Zumba, and Spinn & Insanity classes.
The success stories of their clients attest to the social efforts of Fitness 19. Most common praises relate to the gym's welcoming neighborhood atmosphere, their state-of-the-art equipment and facilities, and the professionalism and dedication of their staff members.
Application Links
Company: https://www.fitness19.com/
Careers: http://fitness19gym.com/career/
Application: N/A