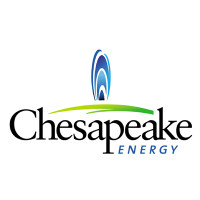 Chesapeake Energy Corporation produces natural gas, natural gas liquids, and oil in many locations in the United States. The company has two divisions: Exploration and Production and Marketing, Gathering, and Compression. The company has interest in about 45,000 productive oil and natural gas wells, which produce about 730,000 barrels of oil equivalent.
The company is based out of Oklahoma City, Oklahoma. It is the second largest natural gas producer in the United States. Its services focus on discovering and developing new, unconventional natural gas and oil fields onshore in the United States. It owns high-ranking positions in Eagle For, Utica, Granite Wash, Cleveland, Tonkawa, Mississippi Line, and Niobrara.
Now retired CEO Aubrey McClendon and former President and COO Tom Ward founded the company in 1989. Initially, the company had only ten employees and a $50,000 initial investment. By drilling horizontal natural gas wells in unconventional reservoirs, the company grew successful quickly. It was able to expand massively and develop significant wealth in a very short time.
For its success, the company has received a lot of recognition. In 2007, Forbes magazine recognized it as the "Best Managed Oil-and-Gas Company." It was also includes in Fortune Magazine's 100 Best Companies to Work for List from 2008 to 2014. The company was recognized as the 2009 Energy Producer at the Year by Platts Global Energy Awards.
Chesapeake Energy Careers
Chesapeake Energy careers are focused on innovation, creativity, and leadership in an effort to help the company grow and succeed. You can get local jobs or work at the Oklahoma City campus. As an industry leader, Chesapeake Energy jobs are unique job opportunities. Working here give you the opportunity to use your experience and learn about advanced equipment and programs.
Benefits of Chesapeake Energy careers are unparalleled. They include 100 percent 401(k) employer match, tuition reimbursement, paid time off, 10 company-paid holidays annually, health insurance, domestic partner and discounts on many services and programs. You will also have a collaborative work environment, advanced equipment and operation resources, and pay-for-performance opportunities.
How old do you have to be to work at Chesapeake Energy? You are eligible for Chesapeake Energy jobs if you are 18 years old. The company strives for a diverse work environment. This means they actively pursue hiring people from the National Society of Black Engineers, the Society of Women Engineers, Association of Women Geologists, Society of Hispanic Professional Engineers, and the National Association of Black Geologists & Geophysicists.
The company had field offices and a corporate headquarters. The corporate headquarters is 120-acre campus in Oklahoma City. The campus features an in-house core-analysis lab, a Support Center, 3-D modeling rooms, theatres for special events, four restaurants, a fitness center, a health clinic, on-site daycare, and flexible work schedules. There are 60 field locations, all of which have industry-leading tools, office spaces, fitness membership reimbursement, and a flexible work schedule.
Chesapeake Energy Job Description
Accountant – Accountants must prepare accurate and timely contracts, analyze and communicate trends, track and report spending and income, communicate with management, and abide by all company and federal policies. To complete a Chesapeake Energy application for this position, you need a Bachelor's Degree in Accounting or Finance, computer proficiency, and experience in the field. Salary depends on experience.
Engineer – Engineers work in a variety of parts of the company, as these are highly specialized careers. Carefully read each job description before apply. Duties can include creating plans, designing equipment, assisting project teams, and providing production support. To apply, you must have a Bachelor's Degree and several years of experience. There can also be requirements for experience on specific equipment. Salary depends on position and experience.
Mechanical Technician – Employment responsibilities including assembling, installing, and repairing equipment. You may be asked to create schedules, analyze building systems, and diagnose mechanical problems. When working, you have to ensure that your repairs are in keeping with company, local, state, and federal safety standards and regulations. Salary depends on experience.
Lease Operation – This is an entry-level position in which you will be directly supervised and assigned wells. You must check wells on a daily basis, which means you will have to travel. You will assist in measuring and recording production, as well as noting when and where repairs are needed. All work must be in compliance with Chesapeake's EHS Guidelines. Salary is not listed.
Chesapeake Energy Interview Questions
Here are interview questions that help you create a successful Chesapeake Energy application.
Why did you decide to apply here?  Answering this question well requires doing research beyond just filling out the application form and looking at the Chesapeake Energy jobs online. You must read through the company website, internalizing their values, work environment, and goals. Talking about why these specific things are important to you makes a strong answer.
What makes you the person we should hire? Focus on your strengths both professionally and personally. You can refer to things listed on your online application and resume. To make your answer memorable, it could be helpful to tell a story about a time when you solved a particular problem or overcame a challenge.
List your strengths. Like the previous question, the interviewer wants to get a sense of your career knowledge and the aspects of your personality that make you someone the company should invest in. You should like the job qualifications and requirements from the free application and explain how you fulfill them.
List your weaknesses. It can be difficult to answer questions that are not self-promoting. The best way to do this is think of a couple of things, explain how you struggle with them, and explain how you work to overcome them. Everyone has weaknesses, so the important thing is demonstrating that you can work with and learn from your weaknesses.
What was your favorite part of your last job? Here, as with all answers in applications and interview, it is essential to be honest. The best answer to this question would be to list things that existed at your old job that you can also find in this new position. This way you can show that you know about the new job and want it.
Advice for Application Process
A major part of the application process is, obviously, the application. How to apply for Chesapeake Energy online is straightforward because everything you need is found through the apply online link. From this place, you have access to a search engine where you can see all job openings. You can then fill out the direct application through the website.
Before submitting the application, you should make sure to read it over. This means it could be beneficial to download the application form or keep a printable application form for later review. If you have any questions or technical difficulties when you apply for jobs at Chesapeake Energy, you could go to the Oklahoma City headquarters or call the Support Center.
In addition to the Chesapeake Energy job application online, you will go through an interview process before being hired. This may be over the phone or at a company location. It is also possible that you will be asked to complete employment exams or background testing.  If they make you an employment offer, do research on the terms, conditions, and salary before accepting.
To have a successful interview, follow this advice. Do a lot of background reading. Check over the printable application for Chesapeake Energy in order to come up with potential interview questions. Conduct a mock interview. Get enough sleep before the big day. Try to arrive early and dress nicely. During the interview present yourself with confidence.
Also See:
Holland Board Of Public Works: Holland Board Of Public Works offers opportunities for both, beginners and experienced roles.
Cox Communications: See our resource page for more information on Cox Communications careers.
Mediacom: See this page for jobs at Mediacom.
Manpower: Checkout the application page for work at Manpower.
Landstar System: Visit the Landstar System application.
Company Links
http://www.chk.com/about