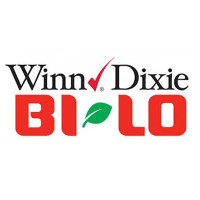 BI-LO is a supermarket chain that offers fresh produce, quality meat, baked goods, and frozen items. The supermarket chain offers a variety of services such as a bakery, a deli, a flower shop, a pharmacy, and a money transfer system.
In 1961, Frank Outlaw bought four grocery stores from the Wrenn and Syracuse chain to create the Wrenn & Outlaw chain. In 1963, the store's name was changed to BI-LO after he held a naming contest among the employees.
As of 2015, BI-LO, now owned by Southeastern Grocers, had over 150 store locations mostly in North Carolina, South Carolina, and Greenville with around 14,000 employees.
Employees are provided numerous benefits such as paid time-off, employee discount and rewards card, flexible spending accounts, tuition reimbursements, various healthcare options, life insurance, and retirement plans.
Employees of BI-LO are treated equally and fairly, paid competitive salaries, and are provided with healthcare coverage after two years of employment. Employees are also recognized for their hard work and are offered numerous career advancement opportunities.
How old do you have to be to work at BI-LO?
The minimum age requirement in BI-LO is 16 years old. This applies to part-time and full-time basic entry-level positions. For managerial jobs, the minimum age requirement is 18 years old.
BI-LO Careers
The supermarket chain offers a variety of in-store services, and thus requires a wide range of talent. Available positions are, but not limited to, sales associates, department associates, customer service associates, technicians, supervisors, and management positions.
Cashier Associate: A Cashier Associate is primarily responsible for offering front-end services and providing quality customer service. Duties include greeting customers, handling payment transactions, operating the cash register, assisting customers with their concerns and requests, proper recording of sales, stocking products in the display, and handling discarded or returned products.
Grocery Associate: A Grocery Associate assists in all departments of the store. Primary duties include greeting and assisting the customers, answering questions about product selection, stocking and arranging the display, rotating products, discarding damaged and expired items, processing and receiving deliveries, taking the inventory, and managing the stock room.
Bagger: A Bagger is responsible for working with the Cashier to provide an efficient and effective checkout. Primary duties include assisting customers in unloading their purchases onto the checkout lane, efficiently packaging the customer's purchases, assisting the customer in loading their groceries in their car, and collecting shopping carts and returning them to their designated areas.
Customer Service Associate: A Customer Service Associate is stationed at the service desk, and provides assistance and addresses the customer's concerns in accordance with the company's guidelines and policies. Duties include greeting customers, addressing concerns and complaints effectively and courteously, assisting with the front-end tasks whenever necessary, overseeing equipment malfunction, and answering telephone calls.
Deli Associate: A Deli Associate assists in the operations of the deli department and provides front-end service. Duties include processing and receiving deliveries, preparing, handling and storing food in accordance with the company's food handling protocol, managing the inventory, stocking the displays, discarding damaged and out-of-date products, and operating department tools and equipment.
Dairy-Frozen Food Associate: A Dairy and Frozen Food Associate assists in the dairy and frozen food department and provides front-end services. Duties include processing and receiving deliveries, handling and storing products, managing the inventory, checking the refrigeration equipment, stocking the displays, answering questions about product selection, performing proper waste disposal, and complying with standard safety and sanitation procedures.
Floral Associate: A Floral Associate assists the florist in managing the flower shop. Duties include greeting and assisting customers, assisting in the designing of floral arrangements, ensuring the freshness of the flowers and other products, organizing the display, stocking and discarding items, processing and receiving deliveries, handling payment transactions, and operating the cash register.
Bakery Associate: A Bakery Associate operates the front-end of the bakery and assists the Bakery Manager in overseeing the operations of the bakery. Duties include explaining the menu and offering product suggestions to the customers, stocking and rotating bakery products to ensure freshness, and complying with standard safety and sanitary procedures, particularly in handling and preparing baked goods.
Bakery Manager: A Bakery Manager is responsible for managing and supervising the bakery and its team members. Duties include training new workers, managing the inventory, overseeing the production of bakery items, scheduling and delegating tasks daily, ensuring high customer satisfaction, ensuring that production complies with standard safety and sanitary procedures, and processing the bakery team's payroll.
Certified Licensed Pharmacy Technician: A Pharmacy Technician assists the pharmacists in overseeing the operations of the pharmacy. Duties include filling or distributing prescriptions under the supervision of the pharmacist, performing clerical work, inputting prescription orders in the computer, assisting in checking and removing expired products, ordering, receiving and storing products, operating the cash register, and maintaining the work stations' safety and cleanliness.
BI-LO Application
To apply, you may visit any of their stores to submit your application form and resume. You may also apply online, through their Careers page.
Both in-store and online applications are accepted. To apply online, go to the BI-LO Careers page through their official website. Available positions in all locations are posted online and you may apply by first creating an account.
Always submit your complete requirements and ensure that your application form is complete and neatly filled out. For online applications, you can create your profile and use it whenever you wish to pursue your application.
For your resume, provide your basic information and include relevant training and certifications that you may have. Emphasize your skills, which are necessary for the position you are applying for.
Maintain a professional and positive attitude and show your eagerness and motivation to get the job. Prepare for questions about yourself, about the company, your availability, and your motivation and qualification for the job.
Facts About BI-LO
BI-LO promotes a dynamic and efficient culture. They are dedicated to providing customers with fresh and high-quality products. They put customer satisfaction at their core, and provide a variety of in-store services to make grocery shopping easier and more convenient.
In February 2018, the grocery chain announced that it would offer discounts on select heart medication to celebrate Healthy Heart month. This project aims to raise awareness about heart health and to aid in the medication expenses of their customers.
The grocery chain is known for their dynamic in-store services. Their pharmacy, in particular, offers convenient services such as vaccinations, wellness screenings, and medical counseling.
BI-LO has participated in numerous community involvements such as donating $2.3 million to Hope for the Warriors to support veterans, donating to Feeding America, and raising and contributing $560,000 to support Red Cross disaster relief operations.
Application Links
Company: https://www.bi-lo.com/
Careers: https://www.segrocers.com/careers
Application: N/A