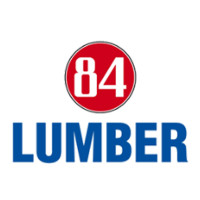 The founder of 84 Lumber managed to start with one location and build his way up to being the largest building materials supplier in the USA.  To find out how to apply for 84 Lumber online, follow the link at the bottom of the page to submit an 84 Lumber application.
The company was founded back in 1958 by Joe Hardy, who is still the CEO today, although he brought his daughter Maggie Hardy Magerko onboard as the President of the company in 1992.  The company now operates over 250 stores in 30 states with a total of over 5,000 employees.
84 Lumber sells materials for so many different types of building work for both commercial buyers and for people brave enough to give it a try themselves.  They can help with the construction of storage buildings, decks and other additions to your backyard, garages, home improvements, carports, kitchens and pole buildings.
The company also set up the GreenEdge Supply which is a part of the firm dedicated to providing sustainable resources for customers.  Based in Pennsylvania, this part of the firm offers consultations with customers to advise them the best way to approach their projects to ensure that their resources come from sustainable sources.
84 Lumber Careers
There are plenty of 84 Lumber jobs based in their retail locations.  Some of the positions available are General Laborer, Yard Person, Yard Associate, Sales Representatives, Manager Trainees and Managers.  Most of these are entry-level positions for which you will need a high school diploma and basic math, language and computer skills.
You'll also find there are a number of different 84 Lumber careers available at their corporate headquarters.  The departments that are currently hiring are Project Management and Production but there will also be openings from time to time in other areas including Administration, Finance and Accounting, Operations, Human Resources and Information Technology.
How old do you have to be to work at 84 Lumber?  You must be at least 18 years old or over to apply for jobs at 84 Lumber.
The hours of operation are from 7am until 6pm Monday to Friday, 8am to 12pm on Saturdays and closed on Sundays.
You'll find that there are many benefits available to employees with 84 Lumber jobs.  Most people working for the company are entitled to a healthcare package including medical, dental and vision insurance as well as life insurance and long-term disability.  There are also 401(k) retirement plans and a profit sharing plan.
Job Descriptions & Salaries
Yard Associate – Working in the lumber yard, the job description for this role requires you to prepare loads to be delivered to customers.  You will be responsible for maintaining the standards of the yard, keeping it tidy and safe for people to work in.  This job will also require you to operate and drive a forklift truck.  The pay is usually around $8/hour.
Contractor Sales Representative – There is a big focus on sales in this type of career, you will need to use your excellent people skills to sell lumber to the customers.  Each representative is set sales goals that they are expected to achieve. You will need to get to know your customers well so you can anticipate and cater to their needs.  The salary can be up to $35k/year.
Outside Sales Representative – Jobs in sales will require you to be able to build strong relationships with your clients so that you can continue to do business with them.  You'll visit their sites to get a better idea of their needs. The salary for this job is around $35k a year.
Manager Trainee – The management training program usually takes between 4 and 6 months to complete.  You will work with employees to help manage sales goals and ensure a high level of customer service.  Other responsibilities will include organizing orders and inventory.  The salary range is between $28-$35k/year and increases when you become a full-time manager.
84 Lumber Interview Questions
You should always do some preparation before your interview with questions like these after you've submitted your 84 Lumber application.
Why do you want to work here?  It's important that you have an answer prepared for this question at any interview, but always make it relevant to the company and industry you're applying for. 
Are you able to cope with the physical demands of the job?  The specific requirements will vary depending on your position but for many roles candidates will need to be able to carry out heavy lifting and work outside in different types of weather.  Make sure you're fully aware of the requirements before submitting any applications.
What is the most important part of customer service?  Think about the best customer service experience you've had and pick out why it was so good.  There isn't one right answer, just remember to answer confidently.
Do you have any sales experience?  Sales experience won't be necessary for all job opportunities but it always helps to talk about any experience you have that is relevant to sales.
How would you handle an angry customer?  If you have previous employment experience in customer service then give an example of when you have had to deal with a similar situation and how you resolved it successfully.
Advice For Application Process
The best way to apply is to submit an 84 Lumber job application online.  To start, search 84 Lumber jobs online or use the link below to be directed to the careers sections of their website.  Once you've selected the position you want you can fill in the online application form and upload your resume.
You can also make a direct application to a local store by going down there in person to talk to the manager if you don't want to apply online.  They will often ask you to fill out a free application on the computer.  You can't download a printable application for 84 Lumber.
The entire application and interview process will most likely only take a couple of weeks.  Many previous candidates have said that the interview process was fairly informal and focused mainly on behavioral questions.  Applicants will also need to undergo a background check and drug test before they're made an offer.
Before the interview you may also be asked to complete an assessment testing your math and aptitude.  Even if the interview is fairly informal, it's still best to be prepared.  Make sure you are well presented, although full business attire probably won't be necessary.  It's also important to give a good first impression to the manager by smiling and making eye contact.
Also See:
Sherwin Williams: Checkout the application page for work at Sherwin Williams.
Cartier: See our resource page for more information on Cartier careers.
Harbor Freight: Visit the Harbor Freight application.
Piercing Pagoda: Checkout the application page for work at Piercing Pagoda.
Kay Jewelers: For career opportunities, fill out the Kay Jewelers online application.
Company Links
http://www.84lumber.com/Careers/Careers.aspx
http://www.84lumber.com/About/About.aspx