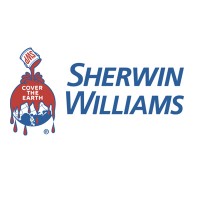 Sherwin Williams is a company that specializes in the sale of building materials and items to decorate your home including paint, stains and finishes.  To find out how to apply for Sherwin Williams online, follow the link at the bottom of the page to start off your Sherwin Williams application today.
The company has a very long history.  Its line of paints, known as Sherwin Williams Paints, was established all the way back in 1866 in Cleveland, Ohio, where the company's present headquarters are still located.  There are now over 4,330 different stores not just across North America, but also in South America and Europe.
Although mostly known for its different paints, coats and finishes for domestic purposes, it also sells a large number of other products, these include finishes for automotive vehicles, marine and aerospace finishes.  They have a large range of colors to suit every taste and to fit in with your home no matter what your personal style.
The products that the company sells are not just for domestic homes, but are also designed with other, professional customers in mind including contractors and architects.  They have various different sections on their website to cater to the different markets to ensure they meet everyone's needs, whatever they're decorating for.
Sherwin Williams Careers
There are a variety of different Sherwin Williams jobs available in the stores with positions including Warehouse Techs, Sales Associates, Decorators and Drivers as well as Assistant Store Managers and Store Managers.  Some of these are entry-level but others will require you to have previous experience in a similar role.
In the corporate side of the industry you can also find a number of different job opportunities.  The three main areas accepting applications are Information Technology, Research and Development and Finance and Accounting.  You will be expected to have the relevant qualifications and experience in these roles when you apply.
Get Your Degree!
Find schools and get information on the program that's right for you.
Powered by Campus Explorer
How old do you have to be to work at Sherwin Williams?  You will need to be at least 18 years old or over to apply for jobs at Sherwin Williams.
The benefits of Sherwin Williams careers are numerous.  Eligible employees are entitled to healthcare plans that will include medical, dental and vision insurance.  There are also savings and retirement plan options including 401(k) retirement plans and stock-purchasing options.   In addition to all of these there are other insurance packages available, an employee discount program and a health and wellness program.
The stores are open from 7am to 6pm Monday to Friday, 8am to 5pm on Saturdays and 10am until 2pm on Sundays.
Job Descriptions & Salaries
Sales Associate – A Sales Associate position will require the industry-standard skills of customer interaction, sales techniques and organizational skills.  In addition to this you will also need to know how to mix paint and advise customers on their purchases depending on their specific needs.  The pay rate is between $9-14/hour.
Warehouse Tech – Working in one of the warehouses you will need to be accustomed to physical work and be comfortable with lifting and standing for long periods of time.  You will need to sort through the stock and ensure it is directed to the correct destinations.  The hourly rate of pay is up to $16.
Customer Service Specialist – This position is also based in their retail locations and will be largely focused on helping customers.  You will assist them with their enquiries and also help to find products that are not readily available in the stores.  The average pay range is between $12-$14 an hour.
Store Delivery Driver – The main responsibilities of this job are to take deliveries from the stores and deliver them to the customers, adhering to all necessary regulations.  You will need to ensure that all the paperwork is properly filled out and that the customer is satisfied with product received.  The average salary is around $10/hour.
Sherwin Williams Interview Questions
After you've submitted your Sherwin Williams application, increase your chances of employment by practicing some common interview questions.
Why do you want to work here?  This is a very common first question in any interview so make sure you do some research on the company and the position beforehand so that you can tailor your answer towards the particular company.
Do you have any sales experience?  Experience is preferred but it won't always be necessary.  Describe your experience if you have it, if not, talk about the skills you have that would make you good at the role.
How would you handle an angry customer? You'll need to be able to demonstrate to the hiring manager that you can remain cooperative and diffuse potentially stressful situations.  Customer service is a very important part of many Sherwin Williams jobs.
What is your greatest strength? You can use this question as an opportunity to sell yourself.  Always try to link your strengths to the job description to show that you understand the role you're applying for.
Tell me about a time when you worked in a team.  Teamwork is always a very desirable skill to have in any career.  Try to choose a specific example from your previous employment experience when you worked successfully in a team.
Advice For Application Process
By searching for Sherwin Williams jobs online you can submit applications through the careers section of their website.  Once you have found the position that you want by navigating through the different sections, fill in the online application form.  Always double-check the information you include to make sure you haven't made any mistakes when you apply online.
If you don't want to submit your Sherwin Williams job application online you may also be able to apply in person for some roles.  You can make a direct application to your local store or by finding a graduate recruitment fair at your college where you can submit a free application.  You can't download a printable application for Sherwin Williams.
The interview process will only take a few weeks most of the time.  You may often be asked to have an initial interview over the phone first where you will be asked some basic questions about your experience and skills.  After that you will be asked to at least one face-to-face interview with a store or district manager.
You should always prepare yourself for any type of interview.  Do some research on the company and prepare your answers to typical questions before you go.  Appearance can be very important so make sure you are well presented.  Remember to remain polite but positive throughout your interview and maintain eye contact with your interviewer.
Also See:
Lowe's: Lowe's offers opportunities for both, beginners and experienced roles.
Ace Hardware: Visit the Ace Hardware application.
Shane Co.: For employment at Shane Co. visit the application page.
Scheels: For employment at Scheels visit the application page.
Pier 1 Imports: See our guide for careers at Pier 1 Imports.
Company Links
http://careers.sherwin-williams.com/careers/