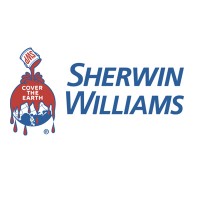 The Sherwin-Williams Company is an American manufacturer of paints, coatings and other related products. The company headquarters is in Cleveland, Ohio. They distribute and sell to both industrial/commercial and retail industries, primarily in the North and South America and Europe.
The company started in 1866 when Henry Sherwin joined a company of paint resellers. By 1870, Sherwin met Edward Williams and together, they pooled their investment to start the Sherwin, Williams and Company.
The company has four market segment operations catering to Retail Stores, Diversified Brands, Automotive Finishes and Chemical Coating. As of 2011, they have a total of 4,339 stores. Their employee base is at 42,550 according to a December 2017 report.
Employees enjoy several benefits like paid time off, employee discounts on store items, 401K benefits, a comprehensive health, dental and optical insurance, life insurance, retirement plan, stock options and dividend plan and pension plan, among others.
Employees pride themselves in being with a company that promotes equal opportunity and considers the overall welfare of their employees. The company is committed to providing a safe, healthy, friendly and nurturing environment to its family of employees.
How old do you have to be to work at Sherwin-Williams?
There is a minimum age for you to apply and be legally qualified to work as an employee at Sherwin-Williams. You must be at least eighteen years of age.
Sherwin-Williams Careers
Excited to be a part of the Sherwin-Williams' family of exceptional individuals? This is your portal to do so! They value diversity and growth. They offer a wide variety of career opportunities from entry-level roles to management key positions in different locations. Below are some of the vacancies they need to fill:
Management/Sales Trainee: As a Management/Sales Trainee, you will undergo on-the-job trainings, self-study modules and classroom type teaching sessions, which will equip you with knowledge in store management and marketing, customer service, credit and accounts human resources and merchandising management. It is expected that at the end of your training, you are to progress into Sales and Store Managers.
Sales Associate: The Sales Associate will be tasked to support the sales efforts of the store. You will be assisting customers in their needs, both in person or over the phone. This involves completing sales transactions accurately, maintaining delivery orders, and showcasing your knowledge of the products sold.
Customer Service Branch Associate: As Service Associate, your main responsibility will be to assist in the operations of the Automotive Branch Facility by assisting with inside customer service in accordance with the highest level of Trademark Customer Service. Other duties include preparation of paint orders by mixing and/or shading and loading equipment and merchandise.
Warehouser: The job's main responsibility is to ensure that the stockroom is well organized. You will also be tasked to load trucks, check the merchandise when delivering orders, pull products from the sales floor or stockroom, and assist in making deliveries, if needed.
Color Blender: His role is to conduct initial batch blending and making shade adjustments for customer orders as per specifications. You need to maintain records of the customers' work orders and formulas, prepare records of miss-tint expenses. Other support tasks include cleaning and repair of store equipment.
Pre Batch Operator: The role of the Pre Batch Operator is to create pre-batch blends and staging of blended orders to support the facility and customer's orders. He will match colors, create customer blend for all orders within specific guidelines, manage the batch size, and prepare spray-outs and draw-down test panels.
Delivery Driver: The Delivery Driver will ensure the timely delivery of products from the stores to the customers. This will entail loading the orders properly, ensuring all forms are complete and accurate, and merchandise is delivered safely by following designated routes and adhering to specific time schedules.
Buyer: The Buyer will perform product purchasing activities by identifying and selecting suppliers as per the set standards of price and quality. He will analyze information such as product forecasts, inventory and raw materials requirements to optimize and meet demand and working capital targets.
Customer Payment Processor: This role will assist in the accurate payment processing into the customers' accounts that the office receives via electronic payment deposits, PO Box and/or lockbox. Other administrative functions will include data entry and billing and other special projects to support the departmental needs.
R&D Interns: The R&D Interns will be involved in hands-on laboratory work. They will be expected to provide support to the R&D Group by using general instruments and lab equipment, collaborating with other team members to complete research documentation, calculations and data analysis and preparing basic samples for laboratory testing.
Sherwin-Williams Application
With the variety of jobs available at their website, it will only be as easy as a click of a button to send in your application. Click on the Apply button at the chosen job you are interested in.
The best way to get your application through is via online application. You need to browse through the several job openings at the Careers page of the company site. Create a profile for your application to be processed.
In filling out the online application form, be sure that your personal information is accurate and complete. This will ensure that the Talent Acquisition team will be able to reach you for the next stages of the recruitment process.
You also have the option to attach your own resume in the application. Ensure that your resume is concise, with a readable and professional font. Also, be consistent in the content of your resume and online application.
When you are invited for an interview, make you sure that you create a good first impression by arriving on time, knowing the tasks and duties of the role you are applying for, researching about the company, and dressing professionally.
Things To Know About Sherwin-Williams
At Sherwin-Williams, the working culture is embodied in the seven guiding values, foremost of which is Integrity. The core of the company is an ethical enterprise, committed to upholding the promises made to its stakeholders, employees and customers.
2017 has been a highly rewarding year for the company with a net revenue increase by $3.13 billion. The company has also declared dividends of $0.86 per common share last February 25 and April 14, 2018.
The company is known for several awards: America's Most Trusted Paint Brand in 2017 by Lifestory Research, Candidate's Choice Award in 2016 by job portal Glassdoor, and America's Best Large Employer in 2016 by Forbes, among others.
The Company is also dedicated to giving back to the community. Sherwin-Williams has partnered with several government and environmental agencies to support sustainable projects, some of which are: The Carbon Disclosure Project, CLEARCorps USA and PaintCare Program.
Application Links
Company: https://www.sherwin-williams.com/
Careers: http://careers.sherwin-williams.com/careers/
Application: https://sherwin.taleo.net/careersection/iam/accessmanagement/login.jsf