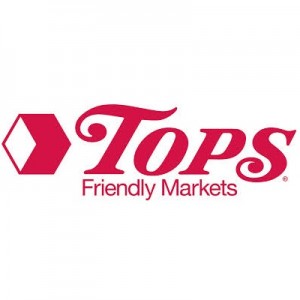 TOPS is a grocery store that aims to provide a one-stop shopping location for customers. It has full-service grocery departments in New York, Pennsylvania, and Vermont. In addition, it runs 56 gas stations that offer discounts for customers through the TOPS GasPoints program. There are 79 full-service pharmacies inside stores in New York and Pennsylvania, and these offer a $3.99+ Plan Generics Program that have nearly 400 cheaper prescriptions for customers and their pets.
The first store was opened in the early 1920s in Niagara Falls, New York by Ferrante Castellani. His two sons later took over the business and opened two more stores with the name Great Bear Market. They gained some partners, and the group opened their first modern supermarket in 1962. The name TOPS was then chosen because the team wanted to provide customers with the best possible shopping experience, making them the "tops." The chain grew in the 1970s in Western New York, the Rochester area, and Bradford, Pennsylvania. After a period of changing acquisition, TOPS returned to complete local ownership in 2013. Since 2007, it has grown from 76 to 161 stores across New York, Vermont, and Pennsylvania. There are currently more than 16,000 associates working for the company.
It is committed to helping local communities by eradicating hunger and improving children's quality of life. It has raised over $7 million for organizations including Children's Miracle Network Hospitals, Juvenile Diabetes Research Foundation, Salvation Army, and regional food banks. It also has its own programs called TOPS in Education and Cash for Causes. The Cooking School is present in certain store locations in New York to offer classes on cooking and health.
Tops Careers
Employees in TOPS careers like that they learn a lot about grocery store operations, teamwork, customer service, and organization. They also like that their co-workers are fun and interesting and that management is fair and helpful. It is a very convenient place to work for students who need flexible hours part-time around their school attendance.
Hours vary at the different locations. Many stores are open 24 hours every day. Other schedules are similar to Monday through Saturday 7 AM to 9 PM and Sunday 7 AM to 8 PM, or 6 AM to midnight every day.
How old do you have to be to work at TOPS? You must be at least 15, but you may need to furnish a work permit. For some positions, such as in Distribution and Transportation, you must be 18 to apply.
The company is looking for friendly, outgoing people to fill its positions. In addition, you should love working with people and be able to interact well with your co-workers and customers, as this is an extremely important aspect of this career. You should be able to work in a fast-paced environment and stay on top of all of your responsibilities.
Get Your Degree!
Find schools and get information on the program that's right for you.
Powered by Campus Explorer
For many positions, no experience is required. For leadership and management roles, specific experience in customer service, the grocery industry, retail, management, pharmacies, etc. may be required. The various requirements for experience and education are described in detail on each job listing.
The average annual salary for a Store Manager is $60,475 per year. The average hourly salary of some common positions includes:
Cart Associate – $7.64/hr, Cake Decorator – $8.17/hr, Bakery Clerk – $8.18/hr, Deli Clerk – $8.20/hr, Sales Associate – $8.79/hr, Cashier – $8.87/hr, Customer Service Associate – $8.90/hr, Produce Clerk – $8.96/hr, Grocery Clerk – $9.04/hr, Assistant Office Manager – $11.95/hr
Eligible employees in TOPS careers receive the following benefits:
401(k) Plan, Flexible Schedules, Medical, Dental, and Vision Plans, Competitive Wages, Holiday Pay, Paid Vacation and Personal Time, Training Programs
Tops Job Descriptions
Positions exist in store teams, distribution and transportation, store management, corporate office, and the pharmacy. There are also student internships available. You can read the job description for each position on the careers page.
TOPS Pharmacies, located in New York State and Western Pennsylvania, hire Pharmacists onto their teams. It is a service-based position that is geared towards helping people stay healthy by encouraging them to make good choices about their health and making sure that they take their medications correctly.
Student internship opportunities exist in the Corporate Office departments. The positions are unpaid but can be completed for college credit.
Store Team
There are both part-time and full-time positions available in stores. These include jobs in the following departments:
Cashier/Front End, Produce, Meat/Seafood, Floral, Dairy/Frozen, Grocery, Bakery, General Merchandise/Health and Beauty Care, Deli/Carry-Out Cafe
Distribution and Transportation
Positions in this area include:
Driver, Selector, Warehouse Supervisor, Clerk
Store Management
Some careers in the management team include:
Customer Service Manager, Grocery Manager, Customer Operations Manager, Non-Perishable Operations Manager, Assistant Store Manager, Store Manager
Corporate Office
Departments where you could work include:
Accounting and Finance, Community Relations, Human Resources, Consumer Affairs, Category Management/Merchandising, Marketing and Sales Development, Operations Field Support, Supply Chain and Distribution Support, Information Technology, Public Relations and Corporate Communications, Corporate Development, Construction and Legal
Future Career Growth
The company has a Store Management Training Program in order to teach employees the skills and knowledge that they need to be successful. There is a customized training program for each level of management so that employees will continually improve and be well-suited to the developments in their careers as they move into higher-up job opportunities.
Tops Interview Questions
After applying to TOPS jobs online, you may receive interviews that follow up on your applications. These could be over the phone, in person, or both. Make sure you read up on the company before your interview; become familiar with what it stands for. In order to present yourself in the best possible light, dress nice and don't be shy. Answer questions honestly and concisely after giving them some thought.
Some of the questions you might be asked during interviews for employment in TOPS jobs include:
What is your availability?
Are you looking for a long-term or short-term job?
If you are offered the job, how long do you plan to stay with the company?
Have you ever dealt with company policy you weren't in agreement with?
What are your strengths?
What is good customer service?
Are you good at working in a team?
What do you find are the most difficult decisions to make?
What have you done to improve your verbal communication skills?
What is the main reason you want to work here instead of other companies?
Are you currently in school and needing hours that work around that?
What position do you want?
After your interview, you will be notified if the company will be hiring you for the job or not.
Advice For Application Process
There is a printable application form for TOPS jobs, and you can download the application form from the careers website. After you print and fill out the application form, you can fax it to (716) 635-5930 or mail it to:
Human Resources
Tops Markets, LLC
P.O. Box 1027
Buffalo, New York 14240-1027
If you would rather not fill out the printable application for TOPS, you can apply online with a free application. The processing will be faster with the online application, so it is the recommended route to take.
How to Apply for TOPS Online
When you want to apply for jobs at TOPS, you first go to the careers page where the different job areas are listed and described. Depending on the area, you either click "Apply Using JobsExpress" or "Click Here to Apply" in order to access the TOPS application.
Using JobsExpress, you first select the type of location you want to apply to, and then you choose your state and city. Next, you choose one of the stores located in that city. You will then be able to start filling out your TOPS job application online. Start with the page asking for your name, zip code, phone number, and social security number, and click "Next" to continue to the rest of the TOPS application.
For the job areas that say "Click Here to Apply," you will be taken to the direct application where you can input all of your information. This includes your basic information, work history, desired position or areas of interest, availability, desired employment type, education information, references, etc. If you are applying to be a Pharmacist, you will be asked additional questions about your qualifications. This fillable online application is the same as the one that can be printed.
If you are a student who wants to apply for an internship in a Corporate Office department, there is a different application process. Instead of filling out one of the online forms, you must send your cover letter and resume to csmith@topsmarkets.com.
SUPERVALU and Safeway are similar national grocery stores where you could apply to work. SUPERVALU has over 3,400 stores across the country, and sales are around $17 billion every year. Stores have a full range of grocery formats and merchandising programs, and they include pharmacies as well as grocery items. Safeway is another grocery retailer with pharmacies in its stores. It has over 1,300 stores across the United States. In addition to serving customers within its stores, it also delivers groceries to people in many major cities and suburbs as an added convenience.
Also See:
Stater Bros.: See this page for jobs at Stater Bros..
Fresh & Easy: See our resource page for more information on Fresh & Easy careers.
Pick 'n Save Grocery: For employment at Pick 'n Save Grocery visit the application page.
Super H Mart: Super H Mart offers opportunities for both, beginners and experienced roles.
Food City: See our resource page for more information on Food City careers.
Company Links