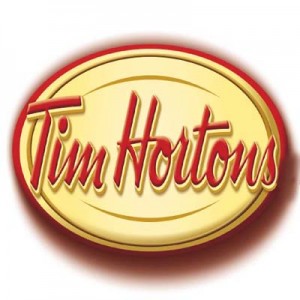 The mission statement is to deliver superior quality to guests and communities through leadership, innovation and partnerships.  The corporation has a licensing company called TDL Group Corp.  Franchises operate in Canada and the United States primarily with a few locations in the Persian Gulf region.
In Ontario, Canada, Ron Joyce was franchisee of the first restaurant in 1964.  He and Tim Horton became partners in 1967.  Mr. Horton died in a car crash in 1974. In 1975 the Tim Horton Children's Foundation camp opened in Canada. The first U.S. Restaurant opened in 1984 in Tonawanda, New York. Wendy's International Inc. purchased the organization in 1995.
Becoming autonomous in 2006, the business went public and now trades on the New York Stock Exchange (NYSE) and the Toronto Stock Exchange (TSX) under the symbol THI. Also that year, the 3000th location opened.  Reorganizing in 2009, the corporation became a Canadian public company. Expansion in 2011 included an agreement with Apparel Group based in Dubai and the opening of the 4,000th restaurant in the organization.
The corporate office is located in an original warehouse for the chain and has over 700 employees working.  The offices also house the corporation's university and its innovation center. There are five warehouse distribution centers for the corporation located in Guelph, Ontario, Calgary, Alberta, Debert, Nova Scotia, Kingston, Ontario, and Alergrove, British Columbia. They serve all the stores located within the United States and Canada.
TDL Group Corp. has 1,800 employees in offices, regional offices, distribution centers, and manufacturing facilities.  In the restaurant locations, there are more than 96,000 people employed. A leader in the industry, the business focuses on top quality, always-fresh product, value, and great service and community leadership.  This has fueled growth its locations. Notable among its sale is the coffee.  The special blend is available in cans and served in the restaurant. Operating stand-alone stores and locations in shopping malls, highway outlets, universities and hospitals, the business continues to grow. There are a few combo restaurants that offer Tim Hortons and Wendy's under one roof. No longer owned by Wendy's, the organization has head offices in Oakville, Ontario, Canada.
A steward of the environment, the organization has policies in place to treat the environment with respect. There is an anti-litter message on all packaging. Local clean up events are sponsored. Waste reduction strategies are employed to combat litter. Tim Mugs are reusable containers for beverages sold by the restaurant that have an incentive of the first coffee free and refills get a $.10 discount.
Tim Hortons Careers
There are several corporate divisions for the chain. Development/real estate, construction/design, legal, franchising, information technologies, training, human resources, purchasing, operations, research and development, purchasing distribution, finance, marketing and corporate communications, and information technology. These divisions support franchise owners. Regional offices in North America offer many career opportunities with similar teams as those located at headquarters. These offices are found in Calgary, AB, Langley, BC, Debert, NS, Kingston, ON, Lachine, PQ, Dublin, OH and Brighton, MI.
Get Your Degree!
Find schools and get information on the program that's right for you.
Powered by Campus Explorer
Distribution centers are very important to the chain's success. Many job opportunities exist in distribution and transportation areas. The organization's safety record, focus on teamwork, and customer service are outstanding in the industry.
New restaurant owners and managers spend seven weeks at the corporate university. There are learning classrooms, labs, and a restaurant. Facilitators and trainers at the university are experts in their fields, and emphasize excellence in operations. Food handling and hygiene procedures, hospitality and guest services, financial controls, team member engagement and employee relations, leadership, equipment maintenance and security are subjects covered at the university. As with any corporate entity, positions are also available in human resources, law, legal, property management, purchasing, guest services, communications, marketing, and more.
The online application for careers is the same process initially as for any team member. Navigate the website and provide any and all requested information.
How old do you have to be to work at Tim Hortons?  The minimum age to apply is 16 years old. Job opportunities at the entry level require little or no experience. You must be legally able to work in the United States or Canada to gain employment with the chain.
Many full and part-time positions for employment are available offering competitive salary and wages for team members in all jobs. Hourly pay begins at an average of $10.00 per hour and increases up to an average of $14.00 per hour with experience. Managers earn an average salary range of $36,513.00 annually to $46,667.00 annually.
Featuring competitive pay, flexible scheduling, and health benefits, employment with the chain offers above industry average benefits. Also offered to eligible employees are free uniforms, advancement opportunities, incentive and recognition programs, dental, scholarship program, and community involvement.
Tim-Points and service awards are programs to ensure team members are rewarded for excellent guest service, operational standards, and teamwork. The scholarship program helps employees achieve their individual academic goals. Funding is awarded to eligible team members for post-secondary education. This unusual benefit makes the corporation stand out in the industry. Health benefits include health and dental insurance, vision care, and wellness programs. Employees who qualify can participate in a pension plan and discount programs.
Tim Hortons Job Descriptions
The construction and design team builds new stores and renovates existing locations. Working closely with operations and purchasing, project managers, interior designers, planners, and engineers to ensure stores are built to the highest standard, design team members find rewarding and challenging careers. A national distribution team is committed to accurate and on time delivery to all locations. Truck drivers, material handlers, order selectors, and other warehouse staff are working at distribution centers.
Financial professionals at the corporation have responsibilities that include assessing business growth. Accounting, financial analysis, reporting, domestic, U.S., and international taxation are managed in this division.
At all levels they utilize cutting edge technology. The information technology division provides IT systems for point-of-sale, financial and inventory management, and other infrastructures. The TimmyMe app developed has a restaurant locator, Tim Card Reload, TimmyRun, and nutritional information about the menu items sold at the chain. Challenging and rewarding careers for system designers, developers, administrative, project management, and technical support and maintenance and continually available.
The legal team supports the chain and provides counsel for all departments. They are the experts in real estate, franchising, complex corporate/commercial transactions, securities, employment, privacy, litigation, risk management, and more. Marketing promotes the business and upholds the brand through media relations, social media, environment affairs, government affairs, internal communications, sustainability, advertising campaigns, national and local sponsorships, and merchandising.
Operations team members partner with restaurant owners to achieve business success. Opportunities in real estate involve searching for new restaurant locations. Jobs in research and development play a pivotal role in launching products. Creating new products and improving existing products promotes the brand and ensures popularity with guests.
Employment at the company includes many rewarding opportunities.  Everyone through incentive programs shares the success of the company. Getting involved with the corporation includes company-wide communications meetings, sponsored evens such as annual staff celebrations, family picnics, golf tournaments, and barbecues.
Jobs including designated trainer, team supervisor, assistant restaurant manger, restaurant manager, and those positions you would typically find at a restaurant are opportunities offered.
Tim Hortons Interview Questions
A basic interview is typical for applicants seeking positions such as cashier, team member, and baker. When you receive an interview appointment, arrive on time. Bring with you any requested documentation and your resume.
Suggested dress is clean, smart,  business-casual, or casual attire. Knowing the company history and something of store operations will make a favorable impression.
The interview is your chance to relate your experience and qualifications for the job you seek. Ask questions such as how many hours you can expect to work, what are the physical requirements for the job, what are the opportunities for advancement, and anything else that may affect your job performance.
When seeking a managerial position, the interview process is more extensive. You may be required to have several levels of review, assessment tests, panel reviews and drug screenings.
Advice For Application Process
To apply online is easy. From the company's website, select the "apply now" tab. You will be asked to provide your name and birthday, and create a four-digit code. Then select whether you are applying for a team member or management position.  Other selections determine the location or locations where you would like to apply.  This online application is a free application.
If you would like to make a direct application you can visit your local store and ask for an application form. Download application form is also available from the company's website.  This is a printable application form. Fill out and take to your local restaurant to apply.
Hiring for entry-level employees happens on a regular basis. For these positions you can apply online or visit a local restaurant. The organization operates in a field with many large competitors. Starbucks chain famous for its coffee is a community participant that offer incentives to its employees. Panera Bread is an expanding chain offering community service and a multitude of job opportunities.
Competitive wages and salaries, above average benefits, and a casual, fast paced, fun working environment are some of the reasons people enjoy their experience with the company.
The opportunity to give back to your community through work is appealing to the conscientious employee. Paid training and support from management at every level is what you can find here. Your opportunity to advance within the company is not limited.
Also See:
Bruster's Ice Cream: Visit the job application for Bruster's Ice Cream to apply today.
Pinkberry: See this page for jobs at Pinkberry.
Swensen's: Visit the job application for Swensen's to apply today.
Yum Yum Donuts: Visit the job application for Yum Yum Donuts to apply today.
Robeks: For employment at Robeks visit the application page.
Company Links
http://www.timhortons.com/us/en/team/restaurant-opportunities.php