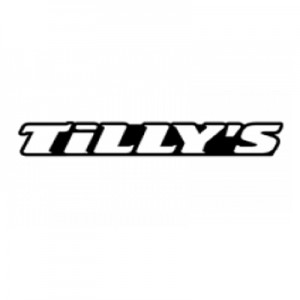 Tilly's is a retail chain geared towards a younger generation of people with active lifestyles. Action sports,  such as skateboarding, surfing, and snowboarding, are the inspirations behind Tilly's. They even sell action sports equipment like skateboards and long-boards at store locations and online.
Some of the brands they carry include Volcom, neff, Billabong, Adidas, Nike, Converse, RVCA, Hurley, Vans and much more. Customers can even buy GoPro Cameras at Tilly's to shoot their next skating or surfing video.
The company got its start in 1982 with a shop in Southern California.  Presently they have locations in Arizona, California, Colorado, Delaware, Florida, Maryland, Nevada, New Jersey, New York, Pennsylvania, Utah, Virginia, Washington and Wisconsin for a total of nearly 200 stores.
With plans to expand to 500 stores in the near future, Tilly's is a fast-growing company in need of creative and committed individuals. These people should be style-conscious members of an action-sport culture. They want to ride their board and look good while they are doing it. Jobseekers who fit this description should apply for jobs at Tilly's by filling out their printable application form.
Tilly's Careers
Applicants looking for Tilly's careers at the corporate or distribution center levels should live in the local area of Irvine, California (southern Orange County). These positions require a full-time commitment.  Distribution drivers need a valid driver's license in addition to being able to commit to traveling long distances for deliveries. Corporate positions require those seeking employment to submit a resume. Many of the open corporate positions are posted on Tilly's LinkedIn page.  The amount of experience required varies from position to position.
Distribution jobs require certain traits in all their employees. Organization, attention to details, and computer skills are all necessary to perform the daily duties of an inventory control clerk, supervisor and transportation coordinator. Clerks should have at least one year in a related work environment (warehouse, shipping/receiving), while supervisors and transportation coordinators should have deeper backgrounds in their related fields.
Sales associates at Tilly's retail stores have no hiring requirements. Although previous experience in retail or sales is preferred, it is not a necessity. Sales associates should have an interest in action sports and the brands that Tilly's carries. Visual merchandisers need to have a knack for being able to find creative solutions. The appearance of the store is a crucial component to the Tilly's brand persona; the visual merchandisers need to creatively fill the space in a way that is eye-catching and puts the best, newest and most popular items front and center. This position requires a background as a sales or stock associate and the ability to follow a planogram.
Get Your Degree!
Find schools and get information on the program that's right for you.
Powered by Campus Explorer
Managerial positions require at least two years experience in retail store management. Strong leadership and observation skills are  prerequisites to effectively leading a sales team and running  a Tilly's store. All members of the Tilly's retail staff should have advanced product knowledge. Employees should be able to make informed suggestions to customers. For example, if a customer is looking for a new skateboard, Tilly's employees should be able to share their opinion on the best equipment to fit that guest's particular needs and style.
How old do you have to be to work at Tilly's? For all corporate and distribution center jobs, the minimum age is 18-years-old. However, Tilly's retail locations have a minimum age requirement of 16 years or older.
Corporate salaries are very dependent on the position. Applicants should expect to make a salary that is competitive with the industry standard for that career.
The following are the median salaries for the distribution industry.  Starting salaries for these position may be slightly below this number. Inventory control clerks earn around $31,000 a year. Their supervisors make substantially more at approximately $48,000 a year. Transportation coordinators make around $40,000 a year, while drivers have an industry standard of around $44,000 annually.
Compensation for retail associates varies by experience. Entry-level employees with no prior experience will likely make minimum wage. This starting wage may be slightly higher if the associate has retail experience. The average Tilly's sales associate makes about $8.31/hr. Visual merchandisers pay-rate is around $10.75/hr. Some assistant managers are part-time and paid an hourly wage of $12.35 on average. Full-time assistant managers make around $32,000 annually. Store managers are never paid as an hourly wage and receive a yearly salary estimated at $45,000.
Eligible Tilly's employees may receive such benefits as medical, dental and vision coverage, long-term disability insurance, 401(k) retirement planning, paid vacation days, paid sick leave and paid holidays. They also receive a store discount. This discount only covers apparel and is not applicable towards action sports equipment.
Tilly's Job Descriptions
Tilly's company is divided into three different divisions: corporate, distribution and retail. They are always hiring to fill open positions at all levels. It is important to note that both the distribution center and the corporate offices are in Irvine, California. Only people local to the area can work at these levels.
Corporate job opportunities include all of the upper-level positions that make Tilly's possible. Some examples of jobs at this level are director of customer analytics, senior staff accountant, allocation analyst, vice president of digital commerce or associate buyer. There are many corporate level jobs in all different areas.
The distribution sector has four main jobs: driver, inventory control clerk, inventory control supervisor,  and transportation coordinator.
The inventory control clerks  are responsible for maintaining detailed records of products in the distribution center's inventory. They process purchasing orders from some online orders and ensure that retail locations get restocked with the products they need. Much of this job is paying meticulous attention to inventory numbers and making sure every bit of material is accounted for. When discrepancies arise, these clerks turn towards the inventory control supervisor.
The supervisor is a true problem solver. He or she must  not only help lead the team of clerks, but also be able to remedy inventory problems and make sure everything is being processed and sent out on time. Supervisors will sometimes personally handle orders that have been sent back by the customer. This is to make absolutely sure that the order is right the second time.
The transportation coordinator and drivers work together, just like the inventory control clerks and supervisors do. The coordinator schedules all the routes, stops, and deliveries for the drivers. The drivers leave the distribution center with their schedule of deliveries and arrive at Tilly's retail stores to replenish inventory by the truck load.
Positions at Tilly's retail locations are sales associate, assistant manager, manager and visual merchandiser.
The sales associate is the entry-level position at Tilly's. These employees sell products in and provide excellent customer service to all guests that walk into the store. They share their own knowledge of action sports to help customers walk out with the best products for their adventures.
Assistant managers and managers work in tandem to lead their sales team in providing a great sales experience for customers. The store manager has to be in communication with the distribution center and corporate offices to ensure their store is always stocked with the appropriate inventory and that they are complying to all company standards. When the store manager is not available, the assistant manager assumes these responsibilities.
The visual merchandiser is in charge of the overall store appearance starting with the products on the shelves. Every display that must showcase a new product is created by the visual merchandiser. They must pay attention to what are popular items and what aren't and arrange the store accordingly.
Tily's Interview
Tilly's is looking for people that fit the California style and have prior knowledge of action sports. Arriving at the interview with skateboard in hand may prove to be a good strategy for acing this interview. It shows the interviewer that this is someone who fits the Tilly's mold. Talking about the skateboard is a good jumping off point for the interview and demonstrates the product knowledge they are looking for.
Interviewers are looking for applicants to show them the skills and traits required for a sales position. Showcase an ability to perform these skills with answers to the interview questions.
Advice For Application Process
Corporate
Applying to corporate positions requires applicants to send in a resume and fill out the Tilly's job application online. Due to the amount of resumes they receive, jobseekers may not receive a phone call unless their resume has been chosen for an interview.
A resume stays on file for thirty days. If an applicant was specifically interested in working at Tilly's and heard no good news in thirty days, it would be good to polish their resume and resubmit it for Tilly's jobs online. Interviewees should dress as they would for any business interview. At this level, wearing skate shoes and jeans would not be acceptable.
Tilly's uses LinkedIn to post a lot of their open positions. Since they have a strong presence on LinkedIn, it is safe to assume that they will be looking for potential employees to have a professional LinkedIn profile that is up to date and corresponds with their resume.
Distribution Center
Fill out the application on the Tilly's website and email it to the human resources department. A resume can be attached to the Tilly's application form. Chosen applicants will interview with a senior member of the distribution center staff.
Retail
Applying to a Tilly's store requires finding the free application online, printing it  and filling it out and then bringing it to a Tilly's store. Although it is an online application, job hunters cannot apply online and must bring their applications to the store. Some locations may be able to give a direct application at the store, but it is a safer strategy to get the printable application for Tilly's at home.
The Tilly's application takes only a few minutes to complete. Make sure to read the job description for each of the Tilly's careers to find the best fit. With so few locations, it is very likely that there is no local Tilly's for many applicants interested in this type of retail store experience. Luckily for them, PacSun and Zumiez have locations all over the US and offer a similar experience to Tilly's jobs.
PacSun sells apparel that is inspire by the lifestyles of younger Californians making it especially similar to the atmosphere and products offered by Tilly's. They do not carry the same action sports equipment that Tilly's offers, making it ideal for someone who fits the California look but doesn't have the background or interest in action sports.
Zumiez offers gear and apparel for the same sports as Tilly's, but without the California flare. This is perfect for someone who wants to work in this type of specialty store, enjoys action sports but has a style that is not aligned with the California culture.
For more information on how to apply for Tilly's online, see their website.
Also See:
Lane Bryant: See this page for jobs at Lane Bryant.
Giorgio Armani: Giorgio Armani offers opportunities for both, beginners and experienced roles.
Lucky Brand Jeans: Lucky Brand Jeans offers opportunities for both, beginners and experienced roles.
Hollister: Use the Hollister job application to apply here.
American Eagle Outfitters: For employment at American Eagle Outfitters visit the application page.
Company Links
http://www.tillys.com/tillys/static/jobs-faq
http://www.tillys.com/tillys/images/application.pdf