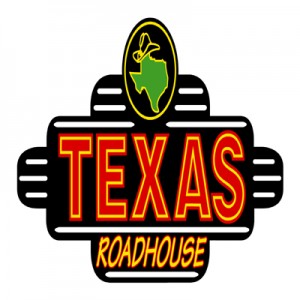 Founded in 1993, Texas Roadhouse is an American South-Western themed, family steak-house chain with over 420 locations in 46 states and internationally.  Their stated goal is to provide legendary food, legendary service, and legendary fun. Their menu offers, in addition to their selection of hand-cut steaks and popular fresh-baked bread, a variety of starters and side-dishes, chicken specials, ribs, pork dishes, burgers and sandwiches, seafood, kids meals, salads, and a few dessert choices and each table is treated with a complimentary bucket of peanuts.
These meals are served in large portions which brings the cost of a meal down and, whenever possible, the kitchen prepares food by hand, from scratch, in store. This includes dressings and sauces and only a few items are not made from scratch. Among these items are the applesauce, macaroni & cheese, and hot-dogs on their kids menu. The T-bone steak is the only notable item that is cut off-site.
From the "legendary fun" angle, most locations have a jukebox and the wait-staff will regularly preform choreographed dances to popular country tunes. There are also many inter-company competitions for employees to participate in, one of them being a line-dancing competition.
Texas Roadhouse Careers
With all this in mind, Texas Roadhouse jobs will require candidates who are team-oriented and have fun personalities.
If it's your intention to apply for jobs at the entry-level, you should be aware that most business occurs on weekends and it will be unlikely to be free those days.
For Texas Roadhouse careers in management, an applicant must have at least 2 years of management experience at a full service restaurant, the ability to problem-solve, communicate, and organize effectively in a store which deals with high volume orders, and to be able to handle the stress such an environment can cause.
How old do you have to be to work at Texas Roadhouse? Since alcohol is served here, you must be of drinking age for a few positions including bartender, of course, and server. Drinking age varies from state-to-state, but is at least 18 and at most 21. You will have to check what applies in your area. Under-aged job-seekers wanting to be servers are trained as hosts until they are old enough.
Get Your Degree!
Find schools and get information on the program that's right for you.
Powered by Campus Explorer
Texas Roadhouse Job Descriptions
There are job opportunities at multiple levels in the company. Entry-level or hourly positions include cooks (line-cooks, fry cooks, broil cooks, prep cooks), bakers, meat cutters, hosts, servers, server assistants, dishwashers, bussers and janitors.
For management positions there is the general manager or officially the "Managing Partner" who is responsible for all restaurant operations. There is a kitchen manager who oversees the back of the store and who's primary responsibilities include maintaining food quality and making sure the kitchen staff is on the same page with regards to recipes. And finally there is the Service Manager whose primary job is to see that the customers are satisfied and that everything runs smoothly at the front of the restaurant.
There are also jobs in field support which will involve travel. These range from "Product Coaches" whose job description involves traveling across a designated region of stores, setting up and maintaining product standards of quality, to human resources specialists, auditors, trainers, and marketing positions. =
Advice For Application Process
The more reliable way to apply is to grab and fill out an application form at your local store. Many times applicants are interview and hired on the spot. A large majority (60%) were successfully hired from a direct application from a walk-in.
If applying for a management position, you may e-mail your resume to ilovemyjob@texasroadhouse.com
It is probably easiest to apply in person for most positions. The process to apply online requires more navigation that should be necessary and also requires registration to a 3rd-party website. Take note that there does not appear to be a printable application form available or a way to download application forms. This guide on how to apply for Texas Roadhouse online will thus be very helpful if this route must be taken.
First, navigate to the company's website. From there, click on the "careers" link at the top of the screen. Here you will find a search form where you enter a keyword and your location. The keyword bar has a handy auto-fill feature and in the location bar you can start to type your city or town name or, better yet, simply your zipcode. There is an auto-fill feature here as well and when you see your location appear there, click on that then click search. You will then be taken to another page to see the results. You may click on one of the results to proceed with the process.
Another way to find Texas Roadhouse jobs online is to, instead of using the search feature, scroll down to click on the relevant links for the different tiers of employment. Say, for instance you want to apply for an entry-level job. You would then select the "Hourly Roadies" link from the careers page.
The next page will brief you on the benefits and positions available. At the bottom of this list, in large font you will see a link to apply at "apply.texasroadhouse.com".
When you open this, you will then be taken to SnagAJob.com. In order to proceed further in either method of getting here, you must set up an account with this site. This is still a free application form. Registration is free and it automatically set for a Texas Roadhouse application.
What to Expect at the Interview
Whether applying in person or online, the processes is usually concluded within a week, sometimes within a day or two and some people have been hired the same day after a short interview. Sometimes an interview is split into a second interview or even third interview each taking up about 20 minutes.
The questions are not difficult and the main reason for having multiple interviews with different managers is to eliminate the less dedicated candidates from the hiring pool.
Some common questions are meant to probe if you would be a good fit for the culture of the company. They want to know how much of a team-player you are, they will ask you questions about your personality and your goals and if you are a student they will ask about your extra-curricular activities to see how goal-oriented you are.
Above all, they are looking for candidates who have fun personalities. A good tip for showing that you are fun is to be receptive to the interviewers and their energies. The atmosphere at these stores is casual and relaxed and the lights are comfortably dim. Use this to your advantage and allow yourself to be relaxed. Your interviewer will likely be a fun, friendly individual. Work with that and try to have a fun time.
Some questions specific about the company will be asked such as why you would want to work with their company, if you are prepared to line-dance, and at many locations you will be asked if you can handle line-dancing on an hourly basis.
Hours of Operation
During the week, most locations will not open until afternoon – between 3:00 and 4:00pm – and close at night around 10:00pm. Fridays usually have longer hours and on weekends they can open as early as 11:00am.
Competitors
If this is the atmosphere you are looking for it might be worth your time to see if there is a Logan's Roadhouse near you. It has a laid-back environment, easy path to advancement and management is easy to get along with in most cases. Also, It's online application process is much more straightforward. If you want to keep busy in a faster-paced experience there is Outback Steakhouse. They keep longer hours and should you want to take the management career path, the managing partner pays off more there than it does with similar businesses in the industry.
Also See:
Ryan's: Visit the Ryan's application.
Nathan's Famous: Visit the job application for Nathan's Famous to apply today.
Red Lobster: Checkout the application page for work at Red Lobster.
Romano's Macaroni Grill: Use the Romano's Macaroni Grill job application to apply here.
Souplantation: Checkout the application page for work at Souplantation.
Company Links
http://www.texasroadhouse.com/