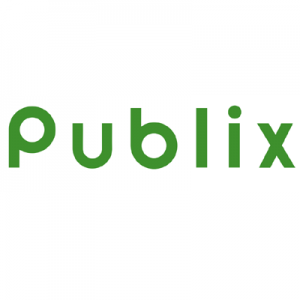 In 1930, George W. Jenkins opened the first Publix in Winter Haven, Florida. His mission was to establish clean, beautiful stores with strong employee bonds.  In that vein, Mr. George (as he is affectionately dubbed), set up the company as employee owned.  He traveled the country, struggling to keep the shelves stocked throughout the Great Depression.
Things that set them apart from other grocery stores were not only the stocked shelves, but also some never before seen innovations in a supermarket, like air conditioning, music, donut and flower shops in store and wide aisles. And Mr. George kept pushing forward even as the company found itself in the middle of World War II. Eventually, the war was over and Publix was profiting over one million dollars per year.
Today, they are the largest chain of employee-owned grocery stores within the United States.  There are 1,082 store locations across Florida, Georgia, Alabama, South Carolina, Tennessee and North Carolina.  Additionally, there are also 8 distribution centers and another 10 manufacturing facilities throughout Florida and Georgia.
But being the largest isn't enough to be considered the best.  That's why they also have a set of values that they strictly adhere to.  They are passionate about quality and value, committed to waste prevention involved in their communities, viewing community service as both a privilege and a responsibility.
Publix Careers
For those interested in working in the pharmacy department, depending on the opportunity you may have to apply in person or apply online.  Please read each job description carefully, taking note of all listed responsibilities and required experience. For example, a pharmacist may be required to have a B.S. in Pharmacy and a state pharmacist license (state-unrestricted). In comparison, a pharmacy technician need only have a pharmacy technician registration (state-specific).
In-store opportunities have a different set of hiring requirements. Some in-store entry level jobs require the applicant to be at least 18 years of age, while for others the minimum age is only 16 or even 14 years of age. In addition, Publix is known for promoting from within.  To this end, management opportunities are only offered to those who have been with the company full time for at least six months.
For those applicants interested in working in a corporate position, only apply for jobs where you meet the requirements and experience listed within the job description.  The online application center ranks applicants based on how well they match up to the qualifications listed.  This is done automatically.
Get Your Degree!
Find schools and get information on the program that's right for you.
Powered by Campus Explorer
Administrative roles are bracketed out into three sections, with different requirements for each.  Hourly support 1 positions may require basic computer skills and data entry skills.  Hourly support 2 and secretary 1 positions may require basic research skills and advanced computer skills.  Hourly support 3 and secretary 2 positions require the most advanced skills of all the brackets.
Requirements to work in industrial maintenance, distribution or manufacturing may include a minimum age of 18 years of age, literacy, a driver's license and physical fitness.
So how old do you have to be to work at Publix? That depends entirely on the position you're applying for.  In many cases you must be at least 18 years of age, but there are plenty of opportunities for those who are only 14 or 16 years of age.
Publix Job Descriptions
Publix careers are available in many different areas, including in stores, in pharmacies, information technology, corporate, industrial maintenance, manufacturing and distribution.  In addition, many Publix jobs are available seasonally, when demand can be at its highest. Be sure to check the website, as there happen to be many Publix jobs online and no matter how you apply, it's a free application.
For pharmacy department jobs, common job titles include pharmacy technician, pharmacist and pharmacy operations.
Employment opportunities at corporate are offered in many different areas, each with their own set of common position titles.  In information technology, over 1,000 employees are already happily at work designing, building and maintaining applications for the rest of the company.  Job names include systems analyst, engineer and solutions architect.
Publix careers in corporate are also available to those local Lakeland, Florida, where the corporate headquarters are located. In fact, over 3,000 employees are already hard at work supporting customers, buying new properties, overseeing the entire supply chain, designing and managing.  Common position titles include benefits analyst, customer care agent and copywriter.
For any applicants interested in in-store job opportunities, the stores are often hiring in non-management and management positions.  Common non-management entry level positions include bagging, cashier and stocking.  The opportunities for non-management positions with previous relevant skills are meat cutter, cake decorator and baker.  Management titles include assistant manager and manager.
For those interested in working in one of the 10 manufacturing facilities, consider joining the 600 employees already hard at work in industrial maintenance.  They troubleshoot, repair and maintain all equipment.  Common roles include grease person, maintenance technician and electrician.
Over 1,800 employees already work in manufacturing, in either one of their three dairy plants, two bakeries, or the fresh foods operations center, the printing services plant or in corporate.  Common job titles include bakery packer, ice cream freezer operator and purchasing analyst.
Administrative roles are available for those proficient at clerical duties.  Over 800 of the 900 existing employees work at the corporate office.  Job names include systems clerk, property representative clerk and ad layout artist.
In distribution, the nearly 6,000 existing employees ensure the shelves stayed stocked.  They also oversee shipping and receiving, load trucks, driver trucks and even work in the cafeteria provided hot lunches to other employees. Common job titles include inventory checker, forklift operator, truck driver and warehouse selector.
There are also internship opportunities and programs available.  The summer internship program is open to general internships, culinary internships and pharmacy internships.  Available areas of study for general interns include corporate accounting, public affair and loss prevention.
Eligibility for benefits and salary are specific to each position; you should thoroughly read the job description for more specific information.  However, in general Publix jobs offer excellent benefits to all eligible employees including group health/dental/vision plans, free flu vaccines and prescription benefits.  In addition to health benefits, there are also financial benefits including weekly pay for hourly employees, 401(k) plans, stock options and membership at a credit union.
In addition to standard fare, there are some benefits to Publix jobs that are unique.  For example, there is an excellent tuition reimbursement plan, and it isn't limited to full time employees.  All employees with a six month history averaging ten hours per week may participate.  Technical or occupational programs and individual courses are covered, provided the education is relevant to their current job or career path.  In addition, many undergraduate programs are covered, including business administration, marketing and computer science.  Graduate programs are also covered, though requirements are more restrictive.
Another example is the training opportunities that are provided. Store associates receive on-site training and access to a reference library for continued education and support.  Recently hired managers also have access to mentorship programs, continuing education and leadership development programs. In addition, all employees have access to a personal growth library, which includes information of building better relationships, making better decisions and strategic planning.
Advice For Application Process
Depending on the position you are interested in, you may be allowed to submit your Publix job application online.  However, you may instead be required to submit your Publix application in person.  If this is the case, keep in mind that there is no printable application for Publix.  Your Publix application will always be digital.  If you find a link online for a printable application form or download application form, please disregard it, as it may be fraudulent.
If you are interested in applying as a pharmacist, you can apply online.  Those interested in a pharmacy operations job may also use the online application. However, pharmacy technician positions require the applicant to visit the Job Application Center at any of the 900 store locations with a pharmacy nationwide.
When applying at the Job Application Center, there are several things to remember.  You will be required to fill out a questionnaire in addition to your direct application. Each application will staying active for a full thirty days (the end of your application form will give you an exact date).  If you would like to reapply at the end of 30 days, you may, however, your questionnaire information can only be updated after six months.
Another bonus with applying in person is the flexible nature of the Job Application Center.  For example, you are allowed to submit applications for positions that are not open at that location.  This way, hiring managers from other nearby locations can review your information, without you needing to visit multiple store locations in your area.
After submittal, your Publix application and resume will be reviewed by a hiring manager.  They take your decision to apply for jobs at Publix seriously, so you should take their time seriously as well. Careers here are highly covetable, so always be respectful and courteous.  Before your interview, be sure to prepare a few questions of your own – about the company, the industry, careers in your preferred field – anything.  This shows interest in the company and a desire to learn.
Competitors
Of course, this company isn't the only one in the grocery and food service industry.  Food 4 Less, as a member of the Kroger family of stores, is a large and formidable opponent.  Smart and Final is a popular competitor on the west coast.
Also See:
Martin's Food Markets: For career opportunities, fill out the Martin's Food Markets online application.
H-E-B: For employment at H-E-B visit the application page.
Amigos United: Amigos United offers opportunities for both, beginners and experienced roles.
Schnucks: Use the Schnucks job application to apply here.
Piggly Wiggly: For employment at Piggly Wiggly visit the application page.
Company Links
http://corporate.publix.com/about-publix