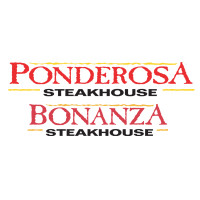 Ponderosa Steakhouse is part of a chain of buffet and steakhouse restaurants. They are part of the Homestyle Dining LLC. and may also go under the name of Bonanza Steakhouse. These are named after the television show Bonanza, which took place on Ponderosa Ranch. If you would like more information on the Ponderosa Steakhouse application process, read on for details.
Dan Blocker created the Bonanza Steakhouse chain in 1963, opening the first location in Westport, Connecticut. In 1965, three men joined together to found Ponderosa Steakhouse. In 1997, Metromedia Restaurant Group joined both chains into one company, allowing both chains to remain marketing under their own name. After declaring bankruptcy they emerged under the name of Homestyle Dining LLC.
This company is currently headquartered in Kokomo, Indiana. There are around 225 locations found in the United States and Canada, and other locations globally. Their brand is known with quality food, and combining that with the love that people have for buffets. In addition to buffets and regular dining, they also cater larger groups within the restaurant.
This is a company that is looking to employ people that take quality food seriously, and provide a high level of customer service. They want talented people who want to make a positive difference in the world. If this sounds like the type of company that you want to be a part of, you should apply to this great company today.
Ponderosa Steakhouse Career
Ponderosa Steakhouse offers so many types of career paths and advancement opportunities. One can become their own boss as a franchise owner, work at the corporate office, or start from the ground up at the restaurant, growing their job into a Ponderosa Steakhouse Career. Some positions at the restaurant level include servers, cooks, and managers.
The corporate office has numerous positions in order to keep the operations running smoothly, and require a variety of people in order to utilize their various skills. The corporate office positions can sometimes even offer more benefits than restaurant level ones. Some corporate positions include human resources, management training, and restaurant operations.
How old do you have to be to work at Ponderosa Steakhouse? A person must be at least 16 years of age to work here as a busser, server or dishwasher. Other positions require a person to be older and have more experience in the restaurant industry. Some positions may also have requirements for education as well.
Ponderosa Steakhouse has similar benefits as others in their industry. Eligibility for benefits can vary depending on the hours worked weekly and time at the company. Some benefits include training, paid time off, and pay raises. Other benefits can include 401(k) plans, as well as medical, vision, and dental plans.
The hours of operations are generally Monday through Saturday from 11:00am to 9:00pm and Sunday from 8:00am to 9:00pm. These hours can vary depending on the location of the establishment and holiday hours. Some holidays will cause closures for either part of the day or the entire day. For information, call your location.
Job Descriptions & Salaries
Busser- The busser is responsible for going around and clearing tables. They will do so whenever people leave their tables to get more food at the buffet and when they leave after eating. They will bring the dishes to the dishwasher. They will also be responsible for mopping and cleaning the floor as needed and before opening and after closing. A busser may earn minimum wage hourly.
Server- The server is responsible for taking customer orders. The server must take care to note any allergies or special requests. They will deliver food and drinks to the table as needed. The server is responsible for being the main point of customer service and ensuring that the customer leaves happy. A server may earn around $2.70 per hour, not including tips.
Dishwasher- A dishwasher is responsible for ensuring that all the dishes, glasses, pans, and silverware is cleaned properly. They are also responsible for putting the clean dishes away in their right spots. A dishwasher will also ensure the kitchen is mopped up and will help the cooks clean. A dishwasher will earn minimum wage hourly.
Manager- The manager is responsible for ensuring operations run smoothly daily. They will ensure that customers have a great experience within the store. They will also be in charge of recruitment and hiring within their location. The manager must also ensure that the inventory is properly stocked at all times. A manager may earn around $32,000 a year.
Ponderosa Steakhouse Interview Questions
These could be some questions that you may be asked at your Ponderosa Steakhouse job interview.
What made you want to apply at Ponderosa Steakhouse? The interviewer is curious to see your motivations behind applying here. They want to see if you have the same values as the company and want to grow with them, or if you are just simply looking for a job. Answer honestly about why you applied here.
When are you available to work? The interviewer is likely looking for someone who has flexible availability. You can mention when you are available to work, but be honest. If you are unable to work at a certain time on a certain day, let them know.
Do you have any previous experience? The interviewer is not often looking to see someone has a lot of exact experience in this particular industry. They are more interested in seeing if you have any experience in something that requires the same set of skills.
Why should we choose you? The interviewer wants to see what makes you stand out from their multiple other applicants that are vying for the same position. Take this as your opportunity to highlight your strengths and their benefits to the company.
What is your favorite item on our menu? What the interviewer is really hinting at is if you know anything about their menu items or buffet offerings. They want someone who knows something about the menu or has prepared for their interview by looking over the menu. Discuss which items you think are their better options, based on your actual experience eating here or anything you have read on the menu that looks good.
Advice for the Application Process
For those who are trying to see how to apply at Ponderosa Steakhouse, you will need to fill out an application form at your local establishment. You can go to Ponderosa Steakhouse jobs online to find an email address to submit your resume to if you are looking for a corporate position. You will not be able to find downloadable applications or printable applications online.
There are no job descriptions or their responsibilities on the website. When you go into the establishment to fill out your application, you can inquire about what qualifications they are looking for to work there. Even if you are not applying for a corporate position, it is a good idea to submit an updated resume along with your application.
The process usually takes anywhere from a few days to a month or two. If more time than this has passed since applying here, you can contact the location that you applied at to speak to a hiring manager. They will be able to let you know the status of your application and if they are still hiring for that position.
You will be able to prepare for your interview beforehand by asking yourself potential interview questions out loud. This will help you shake any nerves that you may have about your interview, allowing you to walk in with better posture and more confidence. You will want to dress in a professional manner, as this will increase your chances of getting the job.
Also See:
Coco's Bakery Restaurant: For employment at Coco's Bakery Restaurant visit the application page.
Souplantation: Use the Souplantation job application to apply here.
Fazoli's: See our resource page for more information on Fazoli's careers.
Fogo De Chao: See our resource page for more information on Fogo De Chao careers.
P.F. Chang's: For career opportunities, fill out the P.F. Chang's online application.
Company Links
http://ponderosasteakhouses.com/more-stuff/careers/