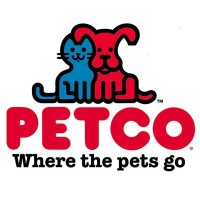 Petco is committed to pet owners and the animals they love, offering a full range of pet care supplies and services at over 950 locations nationwide. With over 35 years of pet care knowledge and experience, the entire team knows what it takes to keep your four-legged friend happy and healthy for years to come.
Store locations offer over ten-thousand top-quality pet care items from leading manufacturers along with a selection of pets ranging from dogs and cats, to aquatic animals, reptiles, rodents and birds.
The company was founded in 1965 as UPCO (United Pharmaceutical Co.), a veterinary supply company offering mail order products from their original base of operations in La Mesa, California. The name was changed to its current moniker in 1979, and the company began buying up competing store chains.
Since the beginning, passionate employees have been at the heart of the company's success.
All company employees share a deep love of animals, and they enjoy working with pet owners to ensure the best pet care possible. From grooming services and training courses, to nutritional needs and recreation, Petco has your pet care needs covered.
If you enjoy working with animals, and you're looking for a career with advancement potential, competitive salary and benefits, and an exciting, supportive atmosphere in a growing industry, apply at Petco, where making a positive difference in the lives of all pets and their owners is top priority.
Petco Careers
Hiring requirements vary according to department and job description. Most entry level positions require the following:
Get Your Degree!
Find schools and get information on the program that's right for you.
Powered by Campus Explorer
High school diploma or equivalent (GED) preferred
Effective written and verbal communications skills
Passionate about animal welfare
Professional demeanor
Able to lift up to 50 pounds
Basic math skills
Skilled management positions in both store and Distribution Center locations are only open to qualified candidates possessing past management experience. Some other management level requirements include:
High school diploma or equivalent (GED)
College credits or college degree preferred
Previous management level experience
Supervisory, sales, and training experience
Excellent written, verbal, and interpersonal skills
Professional demeanor and appearance
Knowledge of Microsoft Office programs
Entry level and skilled Distribution Center requirements differ according to department. All candidates must possess a high school diploma or equivalent (GED), the ability to repeatedly lift items weighing up to 50 pounds, and basic math skills. Some other requirements may include:
Drug screening for machinery and equipment related positions
Forklift certification or the ability to be certified
Knowledge of supply chain tools and software
Excellent written, verbal, and interpersonal skills
Previous warehouse experience
All corporate positions require a 4-year degree or an equivalent combination of work/educational experience. Also, these positions generally require a working knowledge of field related software and impeccable communications skills. Company headquarters are located in San Diego, California.
How old do you have to be to work at Petco? Applicants must be at least 18 years old, with the exception of Alaska and other select areas of the United States where the hiring of minors as young as 16 is permitted.
It should be noted that if you attempt to fill out a Petco job application online, and you're under 18, you'll be logged out of the application process upon entering your age.
Petco Job Descriptions
Petco jobs cover everything from store operations and supply chain positions, to management responsibilities and corporate careers. Following is a review of some common company careers and their associated responsibilities.
Store positions and their related departments include Store Associate, Pet Salon, Dog Trainer, and Store Manager.
Store Associates are responsible for daily store operations such as checking out customers, stocking shelves, product presentation, customer service, and basic maintenance and custodial duties.
Pet Salon employees interact regularly with pet owners and their pets, providing animal grooming services and general pet wellness advice.
Dog Trainers offer obedience training targeting a wide range of behavioral issues, as well as providing information and support to pet owners.
Store Managers handle the hiring and training of new employees, oversee all store related operations, and act as the official mediating body between store employees and the corporate branch. Management positions in each store are as follows:
General Managers
Assistant Store Managers
Department Managers (Dog & Cat, Inventory & Pricing, Salon, and Companion Animal)
Distribution Center jobs include Warehouse Worker and Distribution Center Supervisor. Warehouse Workers load and unload freight vehicles, operate folk-lifts, manage supply chain equipment and software, and make product deliveries to company locations.
Distribution Center Supervisors oversee all aspects of daily Distribution Center activities, train and manage employees, and ensure the proper execution of supply chain related operations.
Corporate employees are the administrative branch of the company, offering positions in many business related departments. Corporate careers include:
Accounting
Administrative
Advertising / Marketing
Animal Care and Education
Communications
Finance
Information Systems
Inventory Management
Human Resources
Merchandising
Operations
Pet Services
Product Development
Training
Visual Presentation
Salaries & Benefits:Employee wellness and ongoing job satisfaction is guaranteed through a wide range of health benefits and employee perks. All working team members are offered medical, dental, and vision coverage, along with company matched 401(k) options, company financed life insurance, and an Employee Assistance Program (EAP) offering counseling and support referrals to eligible employees. Some other company benefits include:
Disability Coverage
Paid Time Off (must work 20+ hours per week)
Discounted Home, Auto, and Pet Insurance
Cell Phone Discounts
Associate Discount (up to 25% off in-store)
Salary for most entry level jobs such as Sales Associate and Grooming Assistant range between $14,000 and $25,000 annually. Assistant Managers can expect to earn anywhere from $28,000 to $56,000 annually, while Managers earn from $37,000 up to $68,000 annually.
Entry level Warehouse Workers receive between $17,000 and $24,000 annually, and Warehouse Supervisors between $42,000 to $76,000 annually.
Corporate salaries vary greatly by department, but generally fall between $50,000 to upwards of $100,000 annually. Below are some other common job title and their average annual earnings.
Dog Trainer – $17,000 – $27,000
Team Leader – $20,000 – $27,000
Department Manager – $20,000 – $28,000
Regional Distribution Manager – $67,000 – $90,000
Director of Operations – $61,000 – $91,000
Advice For Application Process
The easiest way to apply is to visit the Careers section of the company's website and apply for Petco jobs online. From there you can set up a profile, research Petco careers, learn how to apply for Petco online, fill out a free application, and even review videos of actual employees discussing their careers and job responsibilities.
If you choose to apply online via a direct application, have all of your current and past professional and educational information together. Their online applications are rather extensive. Having all your pertinent information together and updated will save you time and help you to identify which job opportunities are right for you.
A printable application for Petco is not available from the company website, nor is there an area where you can download an application form. However, you can always visit a local store location and pick up a Petco application in lieu of a printable application form or online application.
Whichever way you choose to apply, be sure to highlight on your application form or resume:
Pets you've owned
Any animal related knowledge you posses
Animal related charities to which you've donated
If your application is chosen, you'll be called in for a simple question and answer type of interview. Remember, loving animals is a crucial qualification no matter which position you choose. Therefore, there are a few company involvements you should be aware of to help make your interview a success.
All Petco careers demand a passionate commitment to animal rights and welfare. So be sure to express an interest in the company's Think Adoption First philosophy, and ask questions about the Petco Foundation, which helps find homes for unwanted pets, funds spaying and neutering initiatives, and organizes animal assisted therapy sessions.
You can learn more about these and other charitable involvements from the Careers section of their website. Just click the "What Do We Stand For" link at the top of the Careers homepage.
Competitors
If you're interested in working with companion animals and their owners, but can't find a convenient Petco job location, you may want to look into PetSmart, which operates 1300 retail locations nationwide and offers similar products and services.
Another option is Pet Valu, a smaller, Canadian based organization with 500 locations in Canada and the Northeastern United States.
Also See:
Caterpillar: For employment at Caterpillar visit the application page.
MasterCuts: See our resource page for more information on MasterCuts careers.
Hair Cuttery: Checkout the application page for work at Hair Cuttery.
Desert Sun Tanning: Desert Sun Tanning offers opportunities for both, beginners and experienced roles.
FedEx: Visit the FedEx application.
https://www.youtube.com/watch?v=3URFLehtmKg
Company Links