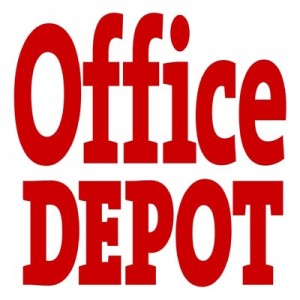 If you want to be a member of a driven company that has deep values and a passion for success   then, a career at Office Depot might just be what you're looking for. Sustaining annual sales of $11.5 billion Office Depot has 39,000 employees across the world. Owning 1,678 retail store locations internationally the company is always hiring and looking for quality help to provide services to its thousands of customers.
Partnering with local neighborhood startups, public and international organizations working at Office Depot can be one of the most exciting jobs you could have in the retail industry. There are many job opportunities and room for career growth with Office Depot jobs.
Office Depot is a strong advocate in the community especially to our youth and disaster relief. Starting out in 1994 as The Office Depot Disaster Relief Foundation initially the basis was formulated to assist families and those affected by natural disasters in the wake of Hurricane Andrew. In 2006, the foundation evolved itself into helping others including employees offering them interest-free loans to rebuild their lives after such a traumatic event.
Additionally Office Depot has programs in place to give children in need a free school bag packed with all the essentials to succeed in the classroom. The company also has   a program that assists middle school students finding a job that  will make them successful.  If you want to be a team player for a company that genuinely cares about the diverse community both locally and internationally then you might want to download the application form and get your future career started right away.
Office Depot Careers
The hiring process with Office Depot is a pretty simple one. Most applications are an online application, and if you meet the skill set and criteria you could be called in for an interview. Most times you will have two interviews. The First one would be with the manager for the store where you applied.  If you are a good fit then your second interview will be with that store's  hiring manager. Some questions that you could be asked could range from why you would want to work for the company to what do others like most about you. Some interviews even involve a little role playing to play out various scenarios that could play out on the job. In most cases, the salary is not a negotiable factor during the interview process. The hiring manager will inform you what the hourly rate or pay is for the job you are applying for if offered a position.
Minimum Employment Age
Many potential young men and women often wonder how old do you have to be to work at Office Depot. Well, there is good news for those youngsters looking for their first afterschool job. The Office Depot Corporation minimum employment age is 16 years old.
Get Your Degree!
Find schools and get information on the program that's right for you.
Powered by Campus Explorer
Office Depot Job Descriptions
With stores both locally and internationally Office Depot Careers offer career growth for those who are ambitious, driven and have the zest to succeed. The company offers both entry-level and managerial positions.
Entry-Level Jobs
Office Depot has entry-level jobs that they are currently seeking dedicated individuals to fill. The list below is a sample of the current positions available. For a complete list along with the job, descriptions check out the company's career page.
Customer Service Specialist
Transportation
Distribution Centers/Crossdocks
Management Jobs
If you have the skill set and expertise in retail management then, a career in the company's managerial team might be something you might want to look into as well. Below is a list of some of the current positions the company is looking to fill. For a complete list along with any relevant job, descriptions check out the company's career page.
Department Manager
Assistant Store Manager
Store Manager
Income and Benefits
Working at Office Depot offers many benefits. In addition to working for one of the top competitors in the Office Supply industry, they offer their employees some decent benefits including dental, medical, and supplemental life insurance coverage. Go to the company careers page to  view  a complete list of job  benefits.
 Advice For Application Process
Apply Online How to Apply For Office Depot Online:Printable Application Form
Filing an Office Depot job application online is relatively easy and only takes a matter of minutes and can often be cut in half if you have a current resume that you would like to upload. You go to the Office Depot careers page and see the current Office Depot jobs online. There are several categories at the top of the page that you may want to pursue depending upon your relevant job experience and criteria. If you find one that you feel is a good match with your current skill set and experience then, you may want to apply using the Office Depot application.
Once you find a job description that interests you best practice would be to consider the responsibilities of the position you are interested in first. From here you would click the link that says apply now. The system will prompt you to create a free login using your email address. You would then scroll to the bottom of the page agree to the terms and conditions and click the register button. You may either apply with or without a resume. Fill out the respective fields and information that you believe may be relevant to the position.
Best practice would be to keep in mind any volunteer work or work related in the fields that are current business interests. For example, if you worked helping out in a reading program at your local elementary school you might want to add this to your list of experience. This can only help you shine amongst the hundreds of other submitted applications.
Hours of Operation
For the most part Office Depot keeps the following business hours. Monday through Friday from 8:00 AM until 8:00 PM. Saturday 10:00 AM until 7:00 Pm and Sunday 10:00 AM until 6:00 PM. Best practice would be when you find a job you are interested in  at your local  store give them  a call and inquire about their current hours. Another suggestion would be to ask these questions during your interview along with any other scheduling matters such as holiday times.
Competitors
If working in the office supply industry interests, you might also want find employment at some of these companies as well. Walmart Stores Inc. has something for everyone here ranging from computer equipment to clothing at rock bottom prices. They also offer their employees a comprehensive benefits package and are always on the lookout for qualified help. If you want to work with a store that has a location just about everywhere in the country, you might want to consider a career with Walmart. Staples the world's number one office supply store has just about everything from household items to furniture. The top office supply competitor offers its employees medical and dental plans, 401 K and  Stock Options.
Also See:
Lifeway: Use the Lifeway job application to apply here.
La -Z- Boy: Visit the job application for La -Z- Boy to apply today.
GEICO: See our guide for careers at GEICO.
MetLife: For career opportunities, fill out the MetLife online application.
Trugreen: For career opportunities, fill out the Trugreen online application.
Company Links