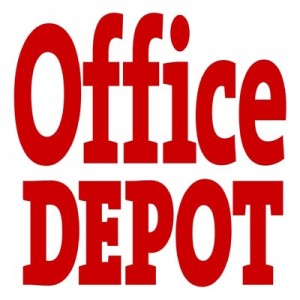 Office Depot is an American office supply retailing company based in Boca Raton, Florida. These stores are geared towards finding and providing new and exciting ways to help customers take care of their business at the lowest possible cost.
The store's founder, F. Patrick Sher, opened the first Office Depot at Lakes Mall in Ft. Lauderdale, Florida in 1986. He started the chain in collaboration with his previous colleagues at Mr. HOW Warehouse, Stephen Dougherty and Jack Kopkin.
Since then, the store has grown to over 1,400 retail stores and over 38,000 associates throughout North America. The brand continues to grow and remain to be the world leader in providing office supplies solutions.
Office Depot employees have a comprehensive work benefits package that includes healthcare coverage, life insurance and disability, paid time off, vacation time, stock options, 401(k) retirement plans and even store discounts. Career growth is also available for those who want to pursue lasting careers with the brand.
In the retail business, Office Depot is an employer that's committed to innovation and growth. The diversity of the workforce, the real career advancement potential, and the pride in working for a renowned brand are a few of the reasons employees stay with Office Depot. It is committed to innovation and continues to be active participants in the community.
How old do you have to be to work at Office Depot?
To start a career with Office Depot, applicants should be 16 years old and above. It is preferred that applicants have a GED or high school diploma.
Office Depot Careers
Office Depot is an equal opportunity employer with diverse hiring practices and offers a wide selection of career opportunities at their stores, distribution centers and corporate offices.
Retail Careers – If you're interested in pursuing a career in retail and have a knack for customer service, a job with one of Office Depot stores is for you.
Print and Technology Consultants: A print consultant manages printing services. Consultants assess customer needs, responsible for the accurate and timely processing of all customer printing orders and drive the sale of solutions offered in Office Depot's Print Services.
Sales Consultants: A sales consultant engages with customers and ensures that their needs are attended to. Consultants are expected to have basic knowledge of all products and services offered, use of POS register for merchandising and practice cross-selling or up-selling of products.
Merchandising Stock Associates: A stock associate ensures efficient handling, sorting and stocking of merchandise. They process inventory, monitors product compliance to quality standards and corrects any issues or discrepancies.
Supply Chain Career – If you seek a career linked with transportation or distribution, choose from one of the supply chain center's open positions below:
Logistics Analyst: The logistics analyst collects supply chain data, performs analyses on various aspects of the supply chain and utilize continuous improvement tools to design solutions for current and future operations. Applicants should have related work experience for this post.
Transportation – Delivery Driver: Drivers are responsible for the safe and timely delivery of customer orders. They ensure that merchandise is handled securely and handles all paperwork required for their daily routes. Applicants are required to have commercial driving experience.
Transportation – Lead Delivery Specialist: A delivery specialist is responsible for leading and directing delivery specialists. They are responsible to provide basic skills and technical training for all delivery associates. Specialists assist in ensuring the efficient product deliveries through real-time route management.
Distribution – Equipment Operation: An operator primarily performs loading, unloading and/or picking of products using powered lifting equipment to move product throughout the distribution center. Applicants are required to have warehouse experience and OSHA certification license.
Distribution – Warehouse Associate: Warehouse associates perform distribution related activities such as receiving and sorting, order processing, packing, shipping. They assist maintains cleanliness, order and security of the work place. On occasion may be called to operate a pallet jack while organizing products.
Distribution – Maintenance Mechanic: A mechanic performs basic maintenance and minor repairs within the warehouse and office areas. Mechanics ensure that all equipment, light fixtures and plumbing are working optimally. Good working knowledge of common electrical and plumbing tools and systems are preferred.
Sales Careers – If you have a knack for communication and dealing with people a sales position with Office Depot is for you.
Inside Sales or Outside Sales:  All inbound and outbound sales operators are focused on customer retention and revenue generation through outbound call campaigns that include account or product penetration, marketing of new products or service offerings. Sales operators are responsible for building and maintaining customer relations.
Office Depot Application
Individuals interested in applying for a job with Office Depot have the option to either submit their application online or in person. In-person applicants should approach the store manager, politely ask about open positions and apply. Applicants should have a blue or black pen ready and ensure that all forms are filled out with neat handwriting.
Applicants can also visit the Careers page on Office Depot's website and apply online. There, you will find all open positions with a detailed job description, basic responsibilities and qualifications requirements. Once you've selected a position, click the Apply button and the page will direct you to the application form. Fill in the required details, upload your updated resumes and submit.
When applying, applicants also have the option to do basic job searches or create a Careers page account which would help them manage resumes and any other attachments submitted through the website. They can also receive notifications of newly opened positions and other company updates through this account.
As applicants, make sure that the resume you submit has accurate basic personal information, educational background and updated employment history. All entry-level applicants are recommended to include previous retail and customer service experience in their forms.
As part of the hiring process, applicants take a written assessment and an interview to determine whether a candidate is a good fit for the company. Interviews include a series of scenario-based questions to gauge how the applicant will handle standard customer concerns, deal with possible peer issues and relate with their superiors.
Office Depot Facts
"You take care of business, we take care of you." – Office Depot lives up to its brand of being the leading provider of office supplies at low prices. Employees emulate this vision by ensuring quality customer service, introducing sustainable, innovative solutions and being part of the community.
Office Depot continues to hold the title as the best place to work for the LGBTQ community. Just recently it received a perfect 100 percent score on the Human Rights Campaign Foundation's 2018 Corporate Equality Index (CEI).
Office Depot also has a structured environmental strategy around the concepts of Buying Green, Being Green and Selling Green. Initiatives supporting this strategy are launched as a response to the call for better environmental consciousness, reduction of harmful practices and introduction of more sustainable options for the company.
Aside from the environment, Office Depot also has a very strong Give Back to School program. By simply purchasing qualified school supplies and providing your school IDs, the store will give 5% back in credits to your school. Accumulated credits will be offered to the school in the form of Office Depot Merchandise Certificate for the school's use to purchase any products or services from any Office Depot.
Application Links
Company: https://www.officedepot.com/
Careers: https://jobs.officedepot.com/
Last Updated on