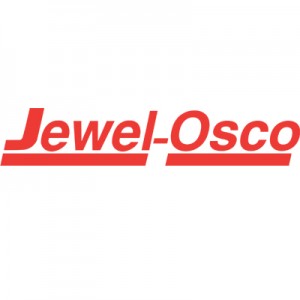 Jewel-Osco is a supermarket that has a combination of food, pharmacies, and general merchandise. It currently has 185 stores in Illinois, Iowa, and Indiana. Its departments include Bakery & Deli, Produce, Floral, Butcher Block, Grocery, and Private Brands. Jewel grocery stores were once built adjacent to Osco drug, but now both components exist in a single building so that customers can easily access all of their needs when they go to the consolidated store.
Jewel started in 1899 as a group of salesmen using horse-drawn wagons to sell tea and coffee door-to-door. Over time, salesmen began to have hundreds of routes and call on customers directly to their homes every other week. Starting in the 1940s, customers were able to order items from a catalog and then receive them via mail. Jewel acquired other chains and grocery stores throughout the mid-20th century, expanding from Chicago to downstate Illinois and west central Indiana. It acquired Osco Drug in the 1960s; from that point on, Jewel-Osco combination stores were built. Jewel-Osco is now part of New Albertsons, Inc. The company aims to reduce, reuse, and recycle at least 90% of store waste. Jewel-Osco supports local communities, such as by donating food to those in need and by hosting back-to-school wellness fairs.
Jewel Osco Careers
The company is looking for people with talent, a passion for customer service, and a desire to succeed. You should also be friendly, energetic, and willing to help people. For many positions, no experience or licensing in the food and drug business is required. For leadership or specialist roles, specific experience related to the grocery industry, customer service, management, pharmacies, etc. may be required. The various requirements are described in detail on each job listing.
Typical starting pay for entry-level jobs is around $8 to $10 per hour, with averages including $9.19/hour for cashiers, $9.88/hour for grocery clerks, $9.96/hour for produce clerks, and $8.24/hour for baggers. The average annual salary for an Assistant Store Director is $49,220 and $46,279 for an Assistant Manager.
The company offers a comprehensive benefits package including dental, vision, life, and medical insurance. Employees also receive 401(k) retirement plans, paid time off, associate discounts, tuition reimbursement, and stock options. Managers are nice and positive, and the company is good to its employees and treats them equally. People who work here get a chance to learn new skills and interact with a wide variety of customers. In addition, co-workers are friendly and helpful.
Hours vary at the different locations. A common range of hours is 6 AM to midnight, 7 days a week. Some locations are open 24 hours each day.
How old do you have to be to work at Jewel-Osco? You must be at least 16 years old to fill out the application form. For some roles, you must be at least 18.The company observes all local and state laws about a smoke- and tobacco-free workplace.
Get Your Degree!
Find schools and get information on the program that's right for you.
Powered by Campus Explorer
Jewel Osco Job Descriptions
Jewel-Osco careers currently exist for the following areas: Retail Positions, Corporate/Division Office, Pharmacy, and Supply Chain Services. Openings are available both within Jewel-Osco stores in Indiana, Illinois, and Iowa, as well as in parent company stores such as Albertsons.
Retail Positions
There are hourly store associate positions and retail management positions available. Retail management positions include those in Accounting/Finance, Human Resources, Business Merchandising, Business Sales and Marketing, Information Technology, Legal, Logistics, Marketing, Merchandising, Pharmacy, Procurement, Real Estate Market Development, Retail Operations, and Store Management.
Corporate/Division Office
There are Jewel-Osco careers in Merchandising, Marketing, Retail Store Design, Human Resources, Retail Management, Information Technology, Finance/Accounting, Real Estate, and more.
Pharmacy
In this department, you can apply to be a Pharmacist, Pharmacy Student, or Pharmacy Technician.
Supply Chain Services
Positions can be either hourly or salaried, and depending on the facility, they can be either union or non-union. Roles in this department include Clerk, Manager, Inventory Control Coordinator, Human Resource Specialist, Computer Operator, Department Specialist, Superintendent, Accuracy Control Monitor, Buyer, Quality Control Inspector, and Supervisor. Warehouse opportunities include Drivers, Engineers, Warehouse Assemblers, Janitors, and Dispatchers.
Future Career Growth
Jewel-Osco tries to promote in-house for its leadership positions whenever possible. It is common for people to start as a part-time or full-time entry-level employee and then move up the ranks into leadership and management positions.
Jewel Osco Interview Questions
After applying to Jewel-Osco jobs online, you may receive interviews based on your applications.
Some of the questions you might be asked during interviews for Jewel-Osco jobs include:
What are your greatest strengths and weaknesses?
Why are you interested in this company and position?
Explain how you've dealt with someone on your team who wasn't pulling their weight.
Why should we hire you?
What would you do if you noticed there was expired bread on the shelf?
Where do you see yourself in five years?
What is good customer service?
Would you be willing to stay late if asked?
How would you rate your service on a 1-10 scale and why?
After your interview, you will be notified if you got the job or not.
Advice For Application Process
There is not a printable application form, and you cannot download the application form. Since there is no printable application for Jewel-Osco, you must apply online with a free application. You can only seek employment in positions for which the company is currently hiring. If there are no available positions that interest you, you are encouraged to check the careers page often because it is updated regularly with new openings.
How to Apply for Jewel-Osco Jobs Online
When you want to apply for jobs at Jewel-Osco, you first go to the careers page for the type of position in which you are interested, and then you can access the specific Jewel-Osco job application online.
Apply for Hourly Retail, Pharmacy, or Supply Chain Positions
When you click on your job category from the careers page, you will be taken to an application page. It is automatically in English, but you can choose to access it in Spanish instead. The first thing you do is search openings by location – either by city and state/territory or by zip code and distance. You then click on the store location that interests you and click "Apply Now" to fill out a direct application. Depending on the position for which you're applying, the process could take 10-50 minutes. You can create a restart code and password to allow you to exit and later continue your application if it is not possible for you to finish it in one session. All of the required questions will be in bold. Most of the application pages will have a Back and a Next button at the bottom, but the Back button won't allow you to change all of your answers because some answers can't be changed.
Applying for Retail Management or Corporate/ Division Positions
Clicking on the link for these job categories takes you to a different application interface than described in the previous section. Under the "Basic Job Search" tab, you can search for openings by different criteria, including job number, keywords, job field, and location. By searching with the "Advanced Search" tab, you have more search options in addition to the basic criteria. These options include if you want urgent jobs only or all of them, what type of shift you want, your job level, your job type, your education level, and what your desired maximum percentage of travel is.
You then can browse through openings and read the job description detailing the requirements and responsibilities for each posting. When you find a position that matches your interest and experience, click "Apply Online" (or "Add to My Job Cart" if you want to save it for later). If this is your first time applying to jobs on this system, you will need to choose "New User" under the login fields in order to create an account.
Once you have an account, you will create your basic profile, upload your resume, complete the Jewel-Osco application, and answer any job-specific questions. When you have answered all of the questions and submitted your application, you will receive a message indicating that your online application was successfully submitted. If you do not receive that acknowledgement message, it means that there was an issue with your submission, and you will need to try again until you receive confirmation in order to make sure you are considered for the job. If you want to hear about similar job openings in the future, you can create job alerts under the "Jobs Management" tab in the online system to tell you when job opportunities that meet your criteria are posted.
Piggly Wiggly and Kroger are similar companies in the grocery store industry. Kroger operates 2,109 pharmacies in combination food and drug stores similar to Jewel-Osco, but it also operates grocery retail stores, convenience stores, fine jewelry stores, food processing and manufacturing facilities, and supermarket fuel centers. If you are interested in working at a regional chain, Piggly Wiggly is primarily located in Southeast states, and there are over 600 stores in 17 states as far north as Wisconsin. It was America's first self-service grocery store, revolutionizing the grocery industry that had previously required customers to give their orders to clerks who would retrieve the listed items from the shelves.
Also See:
Pro's Ranch Market: See our guide for careers at Pro's Ranch Market.
Dillons: Visit the job application for Dillons to apply today.
Food City: Checkout the application page for work at Food City.
United Supermarkets: Visit the job application for United Supermarkets to apply today.
Ingles: For career opportunities, fill out the Ingles online application.
Company Links