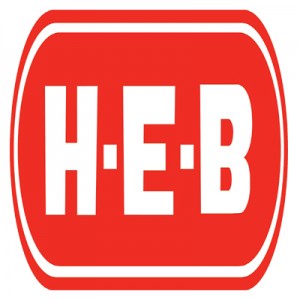 HEB Grocery Stores operates over 350 locations across Texas and Mexico. The company was founded in 1905 when Florence Butt opened the doors of a small, home-based grocery store called C.C. Butt in Kerrville, Texas. Florence's youngest son, Howard Edward Butt, took over the family business and began opening other locations across Texas, using his own initials for the official company name.
The company is still owned by the same family, with Charles Butt, Howard's youngest son, acting as the chairman and head CEO. Charles was the main benefactor of the company, elevating their sales from $250 million to $13 billion between 1971 and 2006.
Currently, over 150 Texas communities are served by the grocery chain, making up roughly 55% of the states consumer grocery market and employing over 76,000 people.
The chain offers a wide array of goods in several categories. Although groceries are their main arena, locations offer many other products and services that go above and beyond what many other grocers offer. Here is a list of some of some products and services they offer:
Beauty & Personal Care Products
Baby & Toddler Products
Full Service Bakery
Full Service Deli
Floral Arrangements
Full Service Meat Market
Gift & Fruit Baskets
Produce
Seafood
Wine & Beer
Many products are offered under the company's own brand, like bread, snacks, frozen meals, milk, and ice cream. Pharmacy services are also offered at all locations.
Locations also offer some third party services and products from industry leading providers of banking, cellular phone, and rental car services to name just a few. Following is a complete list of third-party offerings:
Gold & Silver Buyers
Enterprise Rent-A-Car
Auntie Anne's Pretzel
Maui Wowi
Panda Express
Flexi-Compras
Chase Bank
Wells Fargo
IBC Bank
Sprint-Nextel
AT&T
From sales associates (Partners) and store managers (Department Managers), to Retail Support Operations and Corporate titles, HEB offers numerous entry level and skilled employment positions. With so many item options to choose from, and so many services and specialty offerings, you're sure to find a job opportunity that fits your experience and meets your financial needs. Apply today, and become a member of the HEB family!
Get Your Degree!
Find schools and get information on the program that's right for you.
Powered by Campus Explorer
HEB Careers
Entry level Partner positions require that all the following in store training programs or orientation programs be completed:
Company Orientation
Basic Safety Orientation
Produce Certification
Alcohol Seller's Training
Cashier Training
Produce Identification
Entry level Partner applicants must also display the following proficiencies:
Basic math ability
Strong communication skills
Problem solving skills
Physically able to lift heavy objects
Physically able to bend, kneel, reach, push, and pull
Physically able to stand for a maximum of 3 hours
Maintain a high level of productivity / efficiency
Department Manager jobs require all of the above, along with a high school diploma or equivalent (GED), and 3 to 5 years worth of past management level experience. An equivalent combination of education and work experience is also acceptable.
Furthermore, Department Managers must have all certifications necessary and required of a given field. For instance, since the company is located in Texas, certain management positions require state licensing, such as SORM (State Office of Risk Management)  certification, and Food Safety certification. Different departments may require different certifications.
Corporate jobs are only open to those possessing at least a Bachelor's degree in an applied field (Master's degree preferred), and  anywhere from 4 to 6+ years of industry experience as dictated by the individual departments' needs.
How old do you have to be to work at HEB? All applicants must be at least 18 years of age to apply for any HEB careers.
HEB Job Descriptions
There is a long list of job opportunities listed on the company website. The main job categories are as follows:
Hourly Store
Management
Corporate
Pharmacy
Manufacturing, Warehouse, and Transportation
This is a basic grouping of job categories. Each category contains several departments covering a wide range of positions. For instance, there are Hourly Store jobs available in nearly 45 different departments, Management positions in over 20 departments, and Corporate jobs in over 25 departments.
All entry level store associates are called "Partners." Partners are the heart and soul of the corporation, providing all store based services and seeing to all daily operations. The company has incorporated a career development program designed to elevate Partners to the ranks of Management, and many current managers started out at the level of Partner.
Management is divided into separate tiers consisting of Department Managers and Store Directors. Department Managers oversee specific areas of operations and ensure all guidelines set by the corporate body are being strictly adhered to, while Store Directors are responsible for the financial and operational success of an entire store.
There are also several Pharmacy departments each offering employment opportunities ranging from Pharmacy Department Manager and Head Pharmacist, to Pharmacy Technician and Pharmacy Care Representative.
Aside from store operations, there are a host of supply chain careers available in the organization's Manufacturing, Warehouse, and Transportation divisions.
Manufacturing handles the production of all branded products. There are over a dozen manufacturing locations offering employment positions in the following divisions:
Sweet Goods/Frozen Dough Bakery
Meat Processing Plant
Houston Culinary Center
Meat & Dairy Warehousing Centers
Tortilla Plant
Snack Foods Plant
Dairy Plants: Milk and Culture
Ice Cream Plant
Bread Bakeries
Floral Processing Plant
Print Plant and Mail Services
Each Manufacturing category listed above offers different career options with a different job description for each. Career opportunities in Manufacturing include:
Research & Development
Materials Management
Process Improvement
Technical Support
Quality Assurance
Production
Maintenance
Sanitation
Safety
The Warehouse division is responsible for supplying all store locations with over 7.1 million cases of product per week. There are currently 19 warehouses offering careers in the following fields:
Inventory Control
Order Selection
Shipping
Receiving
Sanitation
Forklift
The Transportation division manages shipments from the warehouses to local stores, delivering 12,000 shipments per week across Texas and Mexico. Transportation careers exist in 17 different divisions:
Yard Services
Yard Operations
Inbound Logistics
Import Logistics
Scheduling
Diesel Mechanics
Reefer Mechanics
Tire Mechanics
Trailer Mechanics
Dockworkers
Load Planning
Delivery Operations
Customer Service
Dispatch
Safety
Corporate careers covers a wide range of upper-level management and logistics job titles. There are currently 19 corporate divisions offering employment opportunities in the following fields:
Corporate Pharmacy Marketing
Advertising and Marketing
Environmental Affairs
Finance & Accounting
Public Affairs & Diversity
Information Solutions
Space Management
Human Resources
Quality Assurance
HEB Own Brand
Loss Prevention
Facility Alliance
Global Sourcing
Merchandising
Risk Solutions
Real Estate
Petroleum
Pricing
Legal
The corporate body handles all manner of legal, financial, and market planning, along with setting budgetary and operational guidelines, generating company media, and all top-tier logistics duties.
Salaries & Benefits:Benefits offered to company members are some of the best in the industry. In fact, their benefits program was highlighted in a study by the Boston College Center for Work & Family entitled, "Increasing the Visibility of the Invisible Workforce: Model Programs and Policies for Hourly and Lower Wage Employees."
The study found that companies that contributed financially to the health and wellness of their employees saw positive financial gains, better employee retention, and generally happier, more well-adjusted workers.
Out of 15 companies studied, HEB ranked as a model employer in terms of company paid benefits and other perks, including 40 hours of paid sick leave per year to cover any unforeseeable personal, family, or medical emergencies.
Benefits also include Blue Cross and Blue Shield medical insurance, a dental plan, and prescription drug and vision coverage.
Salary projections vary greatly by department and job title. Most entry level Partner positions pay about $9.70 per hour on average. Department Managers average around $55,000 per year, and Store Directors earn around $70,000 annually.
Earnings for supply chain workers depends greatly on the job title and responsibilities. Forklift Operators earn on average around $52,000 yearly, while Driver Management earns about $85,000 per year. Following are some other common entry level and management job titles and their associated average earnings (presented annually):
Pharmacy Technician – $28,000
Grocery Manager – $42,000
Maintenance Technician – $39,000
Associate Buyer – $59,000
Beauty Advisor – $21,000
Food Service Manager – $50,000
Chef – $39,000
Corporate titles receive the greatest share in terms of payroll, yet they also have the greatest degree of variance. These are all above-average salaries falling across a vast selection of fields. For instance, a Facilities Manager averages about $125,000 per year, a Senior Supply Chain Leader about $150,000, and a Regional Director Of Sales about $300,000 yearly. Nonetheless, most corporate positions pay between $75,000 to around $150,000 per year on average.
Advice For Application Process
There are numerous ways to apply for jobs at HEB. First we'll look at how to apply for jobs at HEB online. Follow the link at the bottom of their site's homepage to the Careers section of their website to get started. The careers area offers a fast and easy way to apply for HEB jobs online.
In order to fill out a free application, you need to fill out a short profile form, with a user name and password. Once your account is confirmed via email, you can search HEB jobs by location and position, review hiring requirements, download application form requirements, and fill out an HEB job application online.
If you apply online with a direct application, you'll be given access to Evaluation pages, where you can show your knowledge regarding their organization in particular, and grocery retail in general, further increasing your chances of being called in for an interview. Once you're a registered user, you can check back whenever you like to view the progress of your current application, or fill out additional applications.
Their online portal offers a one-stop-shop for your job search needs, listing all available HEB careers in their respective locations, accompanied by an extensive job description for each position. Each listing includes all job requirements, pay scales, and job responsibilities. Searches are broken down under the following categories:
Hourly Store
Store Management
Corporate
Pharmacist
Manufacturing, Warehouse, and Transportation
Unfortunately, there is no printable application form for HEB jobs on the company website. If you would rather fill out a paper HEB application form to apply for jobs at HEB, visit a local store and ask a for an application form in person. This may not be as fast as filling out an HEB application online, but you may get to speak one-on-one with a hiring manager and make a personal introduction.
A personal introduction is your chance to make an impression before anyone in management ever looks over your application. Also, you can attach a resume to your paper application, allowing you to better present your professional background in exactly the way you want, unencumbered by the confines of an online application or printable form. Finally, showing up in person will allow you to ask questions about available jobs that are specific to the store's location.
Competitors
If you're interested in a career working in the grocery and supermarket industry, but live outside the Texas / Northern Mexico region, two other organizations worth considering are Food Lion and Weis Markets.
Both of these above named businesses operate under a similar corporate model and employment structure as HEB, with nationwide locations, online employment portals, and entry level and skilled positions at the store, managerial, distribution, and corporate levels.
Also See:
Price Chopper: See our resource page for more information on Price Chopper careers.
Food Lion: See our guide for careers at Food Lion.
Schnucks: Schnucks offers opportunities for both, beginners and experienced roles.
Save Mart Supermarkets: For employment at Save Mart Supermarkets visit the application page.
Stater Bros.: Visit the Stater Bros. application.
Company Links