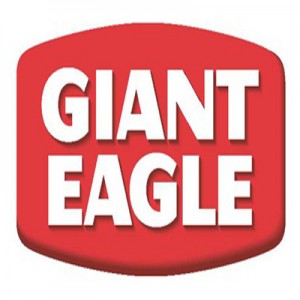 There were three families involved in starting a small grocery company. Goldstein, Porter and Chait families grew the successful business into a chain of grocery stores.  They sold the thriving business in 1928 to Kroger Company.
In 1931, the original three families and an additional two, Moravitz and Weizenbaum, form Giant Eagle.  The first store opened under this new partnership in 1936.
Many innovations occurred within the business through out the 1950s including a trading stamp program, profit sharing stamps, glass-front freezer cases, and increasing store size.  The 1960s saw the chain lower prices instead of offering some stamp programs, computerize the buying system, increase its warehouse area, and continue to add stores and locations.
The business continues its commitment to customer convenience and value. Operating more than 400 locations and nearly 200 convenience stores and fuel stations, it offers employment to more than 36,000 team members.
As one of the largest, privately owned and family operated organizations in the United States, it was ranked number 27 in Forbes magazine with annual sales around $9.9 billion.
Headquartered in O'Hara Township, Pennsylvania, the chain continues its steady growth in the supermarket industry and the fuel station and convenience store industries.  With hundreds of stores in Pennsylvania, Ohio, Maryland, West Virginia and Indiana, the business continues to offer potential for growth.
Treating customers and team members with care and respect, and working together as a family, the business offers an attractive place to work and is a valued member within the communities they serve.
Get Your Degree!
Find schools and get information on the program that's right for you.
Powered by Campus Explorer
Giant Eagle Careers
There are a multitude of jobs and careers available at stores, warehouses, and corporate offices. Many leaders for the organization began as hourly team members. Training, mentoring and apprenticeship programs can aid your career growth. Experience gained and ability rewarded with promotion is a way to advance.
A development program for team leaders is offered and consists of working with different departments in the store. Master Trainers work closely with the participants and guide their path through the program. Team leaders can be trained to become assistant store leaders for the retail leader development program.  This program can last 18 to 36 months and prepares qualified employees for a future career in management.
In warehouse and transportation, the setting is comprised of cutting edge facilities and environmentally conscious attitudes.  Safety is stressed and training is provided to ensure the safety of every employee. CDL drivers, mechanics, order selectors, facilities and maintenance, support representatives and jobs you will find here.  Management positions such as distribution supervisor and transportation supervisor are also available.
Committed to an inclusive culture, the store routinely hires people of all abilities. Partners who champion hiring disabled persons include but are not limited to; Easter Seals, Mercy Behavioral Health, UCP, Invision, and Blind and Vision Rehabilitation Services of Pittsburg. Reasonable accommodation to qualified individuals with disabilities is gladly provided. Qualified members who are attending college can participate in an intern development program. Lasting around ten weeks, individuals can work on existing and new projects with management and senior executives.
Also available are those positions you would find in any large corporate entity. Accounting, marketing, human resources, real estate and store planning, risk management, distribution and logistics, information technologies, and security are just a few of the areas where you may be employees.
How old do you have to be to work at Giant Eagle? The minimum age to apply and work is 16 years old. You must be legally able to work at the location you are seeking employment.
Background and reference checks are done and there is also drug testing. The organization offers competitive pay in the industry. Entry-level positions offer an average $8.62 per hour for grocery clerks to $9.07 for cashiers. In the pharmacy, a pharmacy technician earns an average of $11.00 per hour. A pharmacist enjoys an average wage of $60.49 per hour. Managers and other leaders average a salary range of $54,602.00 to $69,982.00 annually.  These are averages and lower and higher wages and salaries are earned at the company.
Eligible team members enjoy above industry average benefits packages. Included is medical, dental and vision plans, prescription drug coverage, retirement plans with company match, pension plans, life insurance, supplemental life insurance, short and long term disability, an assistance program, and domestic partner benefits. Also offered is flex scheduling, tuition assistance, adoption benefits, paternity leave, vacation buy program, and discounts on gym memberships.
Health and wellness is a focus within the organization. These are available and voluntary and include wellness profiles, biometric screenings, tobacco cessation courses, nutrition classes, weight management classes, personal dietary counseling, and a corporate gym with personal trainers. A children's activity center is available to allow parents and guardians to shop while their children play.  Children aged three to nine stay with a team member for up to two hours. To work here you must love kids. Experience as a teacher or other educational background is sought. Extensive background checks are required.
GetGo is the brand for the chain's fuel and convenience stores. Speedy, convenient, and friendly service is the goal. The atmosphere is fast-paced and multi-tasking is a skill that is needed. Health, beauty, and wellness are growing areas within the business. High-end products for skin, hair, and beauty are available. Entry-level and experienced team members provide extra services that can include facials, sampling new products, and providing advice on healthy nutrition and beauty products.
Employees who are trained to handle all items with safety in mind manage butcher shop quality meat and fresh seafood items at the store. Experience is in high demand and there is an apprentice program offered for meat cutting.
Full service pharmacies are located inside the stores. Fast and accurate service is necessary for working in this division. Pharmacists, pharmacy technicians, interns, and delivery drivers are jobs you will find here. Training is provided for technicians and team members can work at different locations as a float employee. Quality control is the mainstay of the produce department. The physical requirements to work in produce are high. You have to be able to stack fruit and vegetables, work in cold areas, and relocate heavy crates and carts.
Above industry average wages and salaries, unlimited career growth potential, and outstanding benefits are all reasons this is a desirable place to work. Advanced training and apprentice programs allow candidates to gain necessary experience for a successful career.
Giant Eagle Job Descriptions
In the bakery, employees are experts offering breads and deserts that are fresh and of exceptional quality. Individuals with experience are in demand, and an apprenticeship program is in place for training new bakers and cake decorators.
Cashiers, clerks, and stockers are the face of the store and are expected to give excellent customer service. These entry-level positions offer a rewarding experience in a fast-paced, fun atmosphere. Responsibilities are many to ensure the best possible customer satisfaction during their visit.  Cross-training and leadership development is available to team members who want to advance in their career.
The chain offers event planning, catering, and floral services. Working in this department will design personalized menus and manage details for events. Floral carries pre-made arrangements, single stems, and bouquets. Special orders and custom arrangements and gift baskets are offered. Hospitality experience is valuable in this department and creativity is a definite plus.
The deli and cheese division offers quality, safety and service in a busy and fun environment. Teamwork is essential to keep products stocked and give the best customer service.  Competition in sales with other stores is an incentive to promote special items and share new products with customers.
Giant Eagle Interview
Interviews are conducted by phone and or in person. There may be more than one interview, depending on the position you have applied for.
Job fairs are often held and interviews are conducted there.  An assessment of your skills and abilities might be a part of the interview process. The interview and hiring process can take a few days or a few weeks.
When you receive an interview appointment, arrive on time and dress appropriately. Bring any requested documentation. Be friendly, confident, and enthusiastic and know something of the organization's history and work processes.
Advice For Application Process
How to apply for Giant Eagle Online
At the company's website, navigate to the jobs tab. Here you will see featured jobs and events. You can submit your information to receive updates about opportunities for working. Choosing your career area will help in your search and provide basic a basic job description of different positions. Your resume can be uploaded to the site.
All job applications must be submitted through the website. When you find a job that matches your interest and qualifications, select the red "Apply" tab to open the application and assessment page. There is no printable application for Giant Eagle.  You must use the Giant Eagle job application online. You cannot download application form. There is no printable application form.
You may apply in person at a job fair held by the organization.
Another grocery chain with a long history is ACME Markets Inc. Many entry-level positions are available with advancement promoted from within. Kroger Co. is one of the world's largest grocery store retailers. They offer over 2,640 supermarkets and stores.
Also See:
Food 4 Less: See this page for jobs at Food 4 Less.
Trader Joe's: See our resource page for more information on Trader Joe's careers.
Cub Foods: Visit the job application for Cub Foods to apply today.
Pick 'n Save Grocery: See our resource page for more information on Pick 'n Save Grocery careers.
Fairway Market: Visit the job application for Fairway Market to apply today.
Company Links