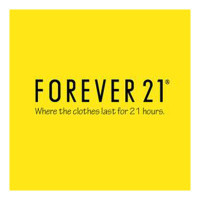 Forever 21 is a private, family-owned company that sells clothing, accessories, and beauty products. Many of these are geared towards a younger (teenage/young-adult) audience, although there are products for people of all ages.
The company got its start under the name "Fashion 21" in 1984. The first store was opened in Los Angeles by Don and Jin Chang. It originally targeted the Los Angeles Korean American community and only dealt in women's clothes.
Since then, Forever 21 has expanded rapidly, and now operates over 700 stores in the Americas, Asia, the Middle East, and the United Kingdom. It employs over 30000 people and is the fifth largest specialty retailer in the United States.
Health-insurance benefits at Forever 21 are generally limited to full-time workers, who also benefit from a 401K. All employees also get a ten percent discount on the company's products.
Many employees report working at Forever 21 as a valuable introduction to working in retail. Many like the co-workers, the fast pace of the job, and the frequent opportunities for advancement.
How Old Do You Have to Be to Work at Forever 21?
The majority of store jobs require you to be at least eighteen, and to have a high-school diploma or an equivalent. If you are interested in a managerial position, these typical require a bachelor's degree and imply that you should be in your early twenties.
Get Your Degree!
Find schools and get information on the program that's right for you.
Powered by Campus Explorer
Forever 21 Careers
Most job openings at Forever 21 are for the various store positions. The basic level is that of an associate, then the assistant manager, and then the manager. The stores also break down their employees according to responsibility – e.g., the stock, the appearance of the store, working in sales.
Store Associate. This is a basic starting job. It requires you to interact with and assist customers with whatever questions they may have with regard to the products. Helping out with setting up displays, stocking, cashiering, and opening/closing the store is also required.
Stock Associate. A basic starting job for those who want to help oversee the stock room. Here, you are responsible for receiving and processing all new merchandise, ensuring that it meets company standards, and stocking it onto the shelves.
Visual Associate. Basic starting job for helping with the aesthetics of the store. Your role as a visual associate is to ensure that all products on sale are visually pleasing and that everything is set according to store guidelines.
Lead of Service. As a lead of service, your job is to help educate associates in making sales. You should also participate in store walkthroughs, and help with the development and training of the store's pricing team.
Visual Merchandiser. The visual merchandiser acts a supervisor for the visual associate. In this role, you help oversee the placement and arrangement of products so as to ensure that they are visually pleasing. You should also create long-term plans and take the lead in company initiatives.
Visual Manager. As a visual manager, you get to develop the plan for the floor set. Other duties include overseeing all window execution and the styling of mannequins. You should train and coach associates, verify stockroom safety, and assist the store manager with hiring.
Assistant Manager. The assistant manager educates newly hired associates and trains the leaders on duty. Other responsibilities include a bit of everything, including taking part in store walkthroughs with the manager and district leaders.
Stock Manager. This position requires managing shipment processing, replenishment, signage, and markdown procedures. You should also perform audits of the merchandise and to transfer any that is damaged or defective. Training and managing of the stock team are also required.
Store Manager. As expected, the store manager is charged with leading and directing the store team. Here, you must act as an important professional presence and be able to keep the workers excited. Annual performance reviews are also part of the job.
Legal Clerk. As a big company, Forever 21 has its share of legal cases. As a legal clerk at the Forever 21 headquarters, your job is to perform legal research on these cases. You must also be able to prepare different kinds of legal documents (contracts, briefs, wills, pleadings, appeals).
Forever 21 Application
There are many ways to apply to work at Forever 21. One way is to walk into a store and fill out a paper form. Another is to go to the Careers section of the Forever 21 company website and to browse the available offers. A more interactive way involves going to a Forever 21 job fair.
If you live next to a Forever 21 store, then coming in and filling out a paper application may be convenient. The online application as done through the website requires a more detailed résumé.
The paper application is short and simple – one page – and should not give you trouble. Fill out your basic information, how much you want to work, and your schooling history. Make sure to have a basic résumé prepared if applying online, though.
If applying for a starting retail job with Forever 21, do keep in mind that the credentials are not very demanding. You should not try to impress them with your résumé. It is best to keep it standard and simple, and to save your energy for the interview.
In the interview, make sure that you are energetic and positive. If applying for an entry-level position like that of an associate, make sure to convey that you are ready to learn and that you are excited to work in a fast-paced environment. Having some fashion knowledge is, of course, a plus.
Things to Know About Forever 21
Forever 21 is about being fast and staying up to date with the latest fashion. This is also reflected in the fast-paced culture of its stores. Customer satisfaction is a fundamental principle.
The company has made the news for its fast growth, and is expected to double in size in the coming few years. In the spring of 2017, it also released its own beauty boutique, titled "Riley Rose".
Traditionally, Forever 21 has been known for not only having the latest fashion, but having it at a cheap price. It has an international presence in shopping malls across the world. The stores are known for being very big, with the average store size of 38000 square feet.
Forever 21 is also associated with numerous charitable organizations, and does charitable acts and giveaways of its own. In 2016 alone, over 11.5 million dollars of merchandise was donated. The company also makes an effort to be environmentally friendly – all bags are 100% reusable and recyclable.
COMPANY LINKS