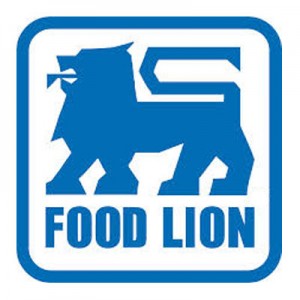 In 1957, the first Food Lion store was opened Salisbury, North Carolina as a Food Town.  The name may have changed, but the headquarters are still located in Salisbury, even today.  And that's not the only thing unchanged through the years.  Their belief in neighborly behavior, cleanliness, quality and affordability still remains as a guiding light for the over 73,000 employees.
In fact, these beliefs are outlined in their company's charter, which you can find a link to on the about page of the website.  The charter contains a list of several guiding principles, including taking ownership for problems and spreading trust.  Another guiding principle is focusing on the real root of a problem, instead of the symptoms and effects of the problem.  There are more principles, including teamwork, communication and innovation, which you can read about yourself.
Today, they are now owned by the Belgian company Delhaize Group, located in Brussels.  Throughout the United States there are over 1,300 store locations, and though some may go by the name Bottom Dollar, Harvey's, Bloom, or Reid's, the commitment to quality remains the same.  All these locations are spread out across 11 states in the Mid-Atlantic and Southeast.
The company is able to maintain control of quality and prices by smart use of technology and space, including energy-efficient buildings, a standardized store layout, unique warehouse set-up and integrating data with their suppliers.  By staying sharp in all areas of the company's operations, they are able to keep prices low without sacrificing high quality products and services.
But the company is not only focused on customer and operations.  They also care deeply about their employees.  They support their employees with training programs, career advancement opportunities, fair wages and one of the better profit-sharing benefit packages in the entire retail industry.
Going above and beyond, the company also focuses its energy and time into the local communities.  They participate as active contributors in local schools and several charities, including America's Second Harvest Food Banks, the American Red Cross, Easter Seals, the Children's Miracle Network and the United Way.
Facts about the company:Did you know that they are one of only a handful of supermarket groups that prioritizes animal welfare?  They ensure their suppliers follow the guidelines and regulations set forth by academic and nonprofit research groups like the America Meat Institute Foundation and The United Egg Producers Certification Program.
Get Your Degree!
Find schools and get information on the program that's right for you.
Powered by Campus Explorer
Did you know they are committed to the planet? Here are some of their award-winning efforts:
They are responsible for the first LEED-accredited grocery store in South Carolina
Some stores have compost heaps in addition to paper and plastic bag recycling
They have 1000 stores that are Energy Star rated
They have global warming reducing refrigeration techniques
Their Guiding Stars program helps make healthy choices easy for shoppers to find.
In 2009, they donated over 28 million pounds of product to charities and hunger relief organizations.  They also donated over three million dollars and raised another six million dollars, all for charity.
Did you know that Food Lion jobs support veterans? In 2010, there were awarded the Employer Support Freedom Award by the Secretary for Defense.  They were the only store in their industry to receive this award.
Food Lion Careers
In their distribution centers, applicant responsibilities may include maintenance and equipment repairs.  Requirements for Food Lion jobs in their distribution centers may include ability to lift 100 pounds, ability to use a time clock, ability to work in varying temperatures, and ability to speak English.  In addition, some jobs, like Truck Drivers, must be at least 21 years of age.
In retail stores, applicants may be required to be literate, have the ability to work in the cold, be able to lift heavy amounts and be able to use a pallet jack. Minimum age requirement is typically not listed, but will always adhere to national and state age restrictions.
In their corporate offices, hiring requirements may include a Bachelor's Degree, mastery of the Microsoft Office suite of products, ability to work in a cold environment, experience in leadership and a high school diploma.  In most instances, the applicant will need to be 18 years of age or older.
A very commonly asked question is "How old do you have to be to work at Food Lion?".  Unfortunately, the answer really does depend on the position.  For example, truck drivers must be at least 21 years of age.  However, produce associates may be as young as the state allows.
Food Lion Job Descriptions
Food Lion careers present themselves in three different arenas: in retail stores, in seven distribution centers, and in the corporate office in North Carolina.  Job opportunities are different for each department.
For example, the seven distribution centers are located in North Carolina, South Carolina, Virginia, Tennessee and Pennsylvania. Typical job titles include Receiver, Transportation Supervisor, Truck Driver and Forklift Mechanic.
In retail stores, typical job titles include Grocery Associate, Deli/Bakery Associate, Sales Associate and Produce Associate.  Most of the positions are available as either part-time or full-time employment.  For those with the relevant experience, Manager and Assistant Manager job opportunities may also be available.
In their corporate offices, Food Lion careers may manifest in a diverse set of roles.  For example, some common job titles include Regional Shelf Merchandizer, Perishable Associate and Strategy Manager.  Most corporate job opportunities are full time and may require several years of relevant experience.
Average wages/salaries & Benefits:This company prides itself on its comprehensive and competitive benefits package.
While each employee's salary may vary from position to position, there is every effort to make sure all wages are market-competitive.  There are also several reward programs, like performance-based merit, that allow for excellence to be recognized and fairly rewarded.
In addition, this company ensures that the work required is meaningful and that the work environment fosters growth and new challenges.
Food Lion careers offer Medical, Dental and Vision healthcare, in addition to flexible work schedules, retirement benefits and life insurance.  Other benefits include disability insurance, vacation time, a 401(k) savings plan, scholarship opportunities, company discounts and much more.
More details about benefits specific to each position may be listed in the Food Lion application, the job description or during an interview.
Advice For Application Process
The Food Lion application process can be very straightforward and minimally stressful, as the online application is a free application.  This means that when you apply online, your direct application will be at no cost to you.  If you would prefer, many retail stores will also accept an in-person application form.  However, there is no download application form available online, so you will need to request the printable application form from the hiring manager.  They will most likely have the printable application for Food Lion already printed out and ready to be filled in.
When searching for Food Lion jobs online, there are many different keywords and search parameters at your disposal.  Be sure to check the careers page frequently, as new positions may be posted daily.  If you've decided to apply for jobs at Food Lion online, the first thing you should do is ensure that your resume is updated and free of errors.  Applications with spelling or grammatical mistakes are less likely to be considered, so when filling out your Food Lion job application online, be sure to proofread everything.
After you have submitted your application, if a hiring manager is interested in speaking with you further, they will contact you using the phone number or email address you provided.  It is critical to be responsive and honest when speaking with anyone representing the company.  Courteousness and kindness also go a long way when combined with professionalism.
When interviewing, keep the company values of honesty, inclusion, innovation, education and hard work in mind when answering any questions.  Have anecdotes or relevant work experience stories ready that show you in your best light.  In addition, you should also prepare a few questions of your own.  Not only is it natural to have questions, it also shows the hiring manager or recruiter that you have a genuine interest in their company.  Employers are more likely to hire applicants who are passionate about the specific opportunity being offered, rather than those who appear to just need a job and do not care about the details.
Competitors
But they are not the only grocery store chain to have roots in the South.
Another supermarket chain to get its start in the South is Piggly Wiggly. Founded in 1916, their stores were the first to offer a self-service model.  Today, their 600 locations focus on independence and franchising.
In contrast, Whole Foods started in 1980 – much later than other competitors.  This late start did have its benefits, as they fins themselves right on trend with their focus on sustainability, natural foods and organic products.
Also See:
Dillons: Visit the Dillons application.
ACME Markets: Checkout the application page for work at ACME Markets.
Smart & Final: For career opportunities, fill out the Smart & Final online application.
Fresh & Easy: Use the Fresh & Easy job application to apply here.
Weis Markets: For career opportunities, fill out the Weis Markets online application.
https://www.youtube.com/watch?v=DrlTQhTssso
Company Links
Link to the company page: http://www.foodlion.com/
Link to about page of the company: http://www.foodlion.com/Corporate
Link to careers website of the company: http://www.foodlion.com/Careers