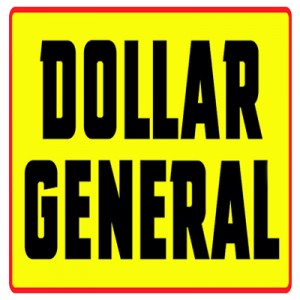 With now more than 11,500 stores spread across America, the Dollar General Corporation is a retailer dedicated towards simplicity and convenience. Their calling card is a natural, trouble-free shopping experience for their customers. Offering a wide variety of merchandise, stores offer both name brands and generic brands alike.
Originally, Dollar General was founded by a father and son duo. Their stores operated under the initial name J.L. Turner & Son. Prior forays into retail had failed for the father, J.L. Turner, but together with his son Cal Turner Sr. he decided for one more attempt. The first Dollar General was built in Springfield, Kentucky in 1955 with a basic idea that nothing sold would cost customers more than one dollar. It was an instant success. Their mission of offering quality goods at affordable prices has continued throughout.
Today, Dollar General operates as more than just a dollar store. Prices often fluctuate; they are not always set at the $1.00 mark. However, the store utilizes price points and maintains the aspect of affordability that brought it such success.
Now with a tally of over 60 years of experience in retail service Dollar General careers provide a chance for employment in a burgeoning variety store chain. Often, you will find their stores in locations where other variety retailers are absent, meaning a chance at participating more directly in your local community.
If you are interested in the realm of variety retail, Dollar General jobs may be a right fit for you. A Dollar General application can be found online at the links provided towards the bottom of this article. Simply follow the link and search for local jobs near you. Alternatively, a link to a download application form is also provided. Fill out and print the application form then head toward the nearest store to submit a direct application.
Store hours will differ at various locations, so contact a store nearest your location. Typical hours one might find may look like:Monday – Sunday: 8 a.m. – 10 p.m.
Dollar General Careers
How old do you have to be to work at Dollar General? All applicants must be a minimum age of 18 before consideration is taken towards hiring. Those looking for a job in retail who are also 18 years or older should submit a Dollar General application today.
Get Your Degree!
Find schools and get information on the program that's right for you.
Powered by Campus Explorer
Requirements for prospective employees vary depending on what position is being discussed. Generally, jobs available will be entry-level jobs, and thus previous experience is not always required. However, if you have previous retail experience be sure to mention it in your resume. In some cases, a high school diploma or equivalent diploma is required. Those fresh from school should list any relevant, applicable skills learned on their resume.
For more advanced positions, a college degree or prior experience is preferred. These jobs typically entail management positions, but others are available at the Dollar General website. To be immediately considered for Dollar General jobs, fill out a free application.
Dollar General Job Descriptions
Dollar General careers offer employees valuable experience along with a chance to grow strong work skills. There are plenty of Dollar General jobs online; a wide variety may be available at your local store at any given time. They include, but are not limited to:
Warehouse Associate-A warehouse associate will face daily tasks ranging from loading and unloading merchandise, labelling and relocating, scanning, checking proper labels, forklift operation, filling out orders and a variety of housekeeping duties.
This is a job for someone who prefers manual labor rather than customer interaction. Applicants should be considered physically fit enough to perform heavy lifting, and responsible while in presence of heavy machinery. If this job description sounds like a good fit for you apply online through provided links below.
Store Manager-Store Managers are people who keep things running smoothly. Skills desired include exquisite cash handling, ability to dole out tasks and manage others, a desire to train and recruit an in-store team, on spot problem solving, and a strong sense of organization. In most cases, previous experience managing a store environment will set a resume apart from other applicants.
Managers are looked at as the leaders of a store. Before applying as a manager, be sure that you are a people person who knows giving clear, concise directions and ensure others follow it. If you are qualified for a management position at Dollar General, follow the links below. Fill out an online application at any currently listed job opening.
Cashier/Sales Associate-Responsibilities required for this position mirror that of any typical entry-level retail job. Hiring managers will look for an ability to conduct assigned tasks at an efficient level, a willingness to stock items, friendliness when assisting customers, and excellent money handling.
This position entails a large amount of customer interaction, so working with a constant positive attitude will be a major plus for employers. Sound like a perfect fit? Highlight your communication skills when checking out provided links below. There you'll find a printable application form prime and ready.
Overall, a variety of skills and attributes can lead to a successful career in retail. If you're someone looking at landing your first job, or simply someone looking for a consistent way to log some hours, you should apply for jobs at Dollar General. A career in retail will enhance your resume in the future, or lock down a solid career for years on end.
Naturally, wages differ based on what position is held. Those applying or hired at an entry-level position should expect a competitive salary, though it will be one that hovers around minimum wage. Usually this means an hourly salary of around $8. Minimum wage requirements vary by state, check your state requirements for your state's minimum wage.
Managing positions offer larger salaries, with an average annual salary amounting to $38,000. Employees who meet eligibility requirements can obtain a 401(k) Savings and Retirement plan, health and welfare benefits, access to wellness programs and clinical professionals, as well as paid vacation time. All employees can expect a competitive and fair base pay, along with a chance at earning bonuses annually. Of course, managerial employees and any other employees throughout a store can set themselves up for an increase in pay through exceptional work ethic and production.
Advice For Application Process
Find a Dollar General job application online at the links provided following this section. Applying for Dollar General online is simple. Applications are designed to help you stand out. They aid in landing that all-important interview, so highlight your skills along with relevant past experience. Also list any schooling you have completed. Go an extra mile; create a coherent, persuasive cover letter attached with your printable application for Dollar General.
For a successful interview, be prepared to field a variety of questions. Answer directly, with a confident, assertive tone. Always make a concerted effort maintaining eye contact while also avoiding nervous quirks such as fiddling with your hair or clothes. Typical questions one may encounter include:
How long do you plan on working here?
What qualifications do you bring that make you unique? Set yourself apart from others.
Why is Dollar General a right fit for you?
How would you handle unruly customers?
What is your biggest weakness? How about your biggest strength?
Tell me about a time you overcame a particularly difficult challenge.
What is your availability when it comes to weekends or holidays?
Do you have any previous experience in this field?
Practice answering these questions in front of a mirror, along with any others you think might be asked. Repetition will breed comfort, but make sure your answers flow naturally and that conversation does not sound stiff or forced.
Also, when approaching an interview always dress appropriately. This usually means wearing collared dress shirts with dress pants. If a manager has made it known an interview atmosphere will be especially casual, something laid back but still nice looking, like a polo, will work nicely.
When your interview has concluded, stick around with any questions left unanswered. Be sure your potential employers realize your level of interest. Questions about management style, store atmosphere, or potential hours you may work are appropriate, but asking how much money you'll make may not be unless that information has already been offered.
A savvy move in any interview is mentioning interesting aspects about a company that pique your interest. Perhaps something behind a company's founder or history inspire you to work there? Is there anything you particularly admire whenever you go into a store as a customer? Mentioning these things helps you stand out; it only further emphasizes your attention for detail and level of interest in a company
Competitors
Being involved with low-end retail stores poses an added benefit of feeling closer with a local community. Often, these stores are located where there are no larger, overbearing stores with swelling crowds such as Walmart. Small convenience stores offer an opportunity for a wider, stronger idea of community. An appealing sense of convenience and simplicity is one of the major draws behind Dollar General. It's what keeps people coming back.
Of course, Dollar General is not the only variety discount store out there hiring. If you are interested in applications to other stores of this type, be sure to research Family Dollar or Dollar Tree, two chains with comparable styles with stores spread throughout America.
Also See:
Sam Ash Music: See our guide for careers at Sam Ash Music.
EB Games: Visit the job application for EB Games to apply today.
GameStop: Visit the GameStop application.
99 Cents Only Stores: See our resource page for more information on 99 Cents Only Stores careers.
Five Below: For career opportunities, fill out the Five Below online application.
Company Links