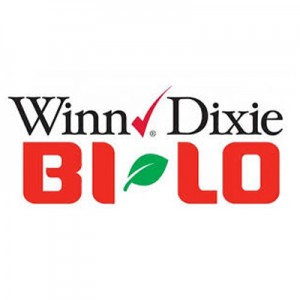 In 1961, Frank Outlaw, a former executive of Winn-Dixie, started BI-LO when he bought a small chain of southern grocery stores. His vision was a supermarket that didn't bother customers with gimmicky contests, coupons or giveaways. He wanted to create a grocery store that offered all the big brands for low prices, no hassle.
Today, BI-LO has stayed true to its southern heritage. Their stores have a local feel, with the savings and size of the big grocery store chains. With over 15,500 employees across over two hundred store locations, BI-LO is a staple of the south.
BI-LO continues to serve Frank Outlaw's mission: savings without the sacrifice. In fact, they stand by their mission so firmly that they offer a double money back guarantee. If a guest is unsatisfied with a product from any BI-LO store, they will give them back twice what they paid for it. BI-LO boasts having a job environment that is never boring. They aim to recognize and reward employees who make standout efforts at their job. Those looking for a new career are encouraged to apply for jobs at BI-LO by filling out the BI-LO job application online.
Bi Lo Careers
How old  do you have to be to work at BI-LO? All part-time BI-LO employees must be at least 16-years-old. Management and specialty positions usually require 18 years of age. All potential employees must successfully complete a pre-employment drug screening and background check to be offered a job.
All part-time positions are considered entry-level. No prior experience is needed. However, the less experienced employees usually start at a bagger position and move up, while applicants with prior job experience may land themselves a position as a stock clerk or cashier right from the get-go. Management looks for certain traits in future BI-LO employees. The main characteristic they desire in part-time employees is a dedication to providing quality customer service.
Specialty positions have greatly varied requirements for each department because many of these positions require special licensing or degrees. Florists  require a Florist Certification. Prepared food chefs are required to have culinary training or two years of experience in a food preparation position. They must also have at least one certification in food safety management.
Most positions at the deli or meat departments require a Meat Cutter Certification. Seafood department workers must have a Food Safety Certification. These are simply a few examples. The required certifications for each position are listed under the individual job postings at the BI-LO careers website.
Get Your Degree!
Find schools and get information on the program that's right for you.
Powered by Campus Explorer
Management positions in each department also require the same certifications. Management roles require at least a years experience in a leadership role at BI-LO or three years experience in supermarket management elsewhere. Applicants must demonstrate a basic understanding of finance, inventory management, sales and the ability to train and lead new and current employees. Bagger is the lowest rung on the pay scale ladder for BI-LO jobs. They usually make minimum wage to start. Stock clerks and cashiers wages typically hover just above minimum wage. Cashiers make, on average, $9/hr while stockers make closer to $10/hr.
Employees in different specializations still make around the same wages. Associate specialists (Deli associate, bakery associate, etc.) make a starting salary of around $10/hr, and an average closer to $12/hr. A lead baker would make closer to $13-$14 an hour. The only specialist area where this is a large difference in earnings is the pharmacy. Most members working in the pharmacy are paid a salary due to the amount of education required to work in this industry.
Management-level at BI-LO can make anywhere from $39,000 a year to over $60,000 a year. The average rests right around $42,000. Again, different specializations have a tendency to make more money than others. Experience is also a huge factor when it comes to determining manager's salaries.
BI-LO has many benefits for employees that qualify. The following are all of the benefits offered: medical, dental and vision insurance, prescription coverage, flex spending accounts, life insurance and AD&D, short and long-term disability, auto and homeowners coverage, paid holidays and vacations, recognition and appreciation awards and critical, accident and legal insurance.
Bi Lo Job Descriptions
The career opportunities at BI-LO are best broken down into three categories: part-time, specialty and management. Each are essential ingredients to having a successful BI-LO store. It all starts with the part-time employees. These employees make up the majority of any BI-LO store's staff. Without the part-timers, the store can't survive. This category includes stock clerks, cashiers and baggers. In essence, these employees are responsible for keeping the shelves stocked with customers' favorite foods, ringing them up, bagging their groceries and getting them out the door and on with their day.
The specialty category encompasses all BI-LO employees who work in a specific department. These specialized BI-LO employees are experts at their craft and showcase their abilities on a daily basis. Some examples of specialized positions are florist, meat specialist, pharmacy tech, prepared food chef, cheese steward and more.
The last category of positions at any BI-LO store is the management. Believe it or not, BI-LO stores have managers for each department. There's a produce-floral manager, meat-seafood manager, bakery manager and so on. These managers all work in tandem to make sure every store section is running like a well oiled machine.
Perhaps the biggest responsibilities of management in the grocery store environment involve making sure all of the food and food products pass quality checks.  The last thing a grocery store wants is for someone to walk out of the store with expired or contaminated food and bring it home to their family.
It is important to note that BI-LO jobs offer excellent opportunities to move through the company. Even a part-time associate could eventually be promoted and trained to fill a spot in a specialty department. Most department managers are hired from previous associates in that particular department. BI-LO has been recognized by the Food Marketing Institute for their outstanding and comprehensive Store Management Training Program.
Visit the company website for more information on BI-LO jobs online and fill out the BI-LO application for the best suited position.
Bi Lo Interview
Applicants seeking part-time employment should attempt to wear something nice for the interview. Any indication that an effort was made will express a desire for the job and an attention to appearance. Review the job description prior to the interview. Look at the desired qualifications and begin thinking about how to express these qualifications in the interview.
Studying sample interview questions is a good practice for any job interview. However, stay clear of memorizing pre-written responses to these questions. It will end up sounds robotic and unnatural in the interview. It is a better strategy to just have a general idea of what you want to say as a jumping off point. Those trying for a job in a specialty department will want to demonstrate their love and passion for the given department. For example, an applicant for the bakery department should talk about their favorite kind of bread or their favorite pastry to make, a favorite recipe or anything that will make the interviewer believe they are the most passionate candidate out of all the applications.
This also applies to interviewees for department manager positions. In addition to demonstrating this passion, potential-managers should also showcase their ability to run a department effectively. There's a lot on the menu for managers between keeping a handle on inventory, managing a team, performing quality control on ingredients and so on. These applicants need to prove they are organized and level-headed enough to handle all of these duties.
Advice For Application Process
The BI-LO application is an online application. There is no printable application form. Some locations may have a direct application at the store. To find out, consult a team member at the customer service desk. If they don't have a printable application for BI-LO, they may be able to instruct jobseekers on how to apply for BI-LO online. The free application can found online under the BI-LO careers link.
Apply online today to the nearest store.
There are many competitors in the grocery store world. Two of BI-LO's main competitors are Publix and Food Lion. Both of these stores offer a very similar work environment. For those who may be deciding among them, it may come down to simply which place is hiring, or provides the shortest commute.
Publix is a slightly bigger company and has more locations in the same section of the US. There isn't much of a difference between Publix and BI-LO. However, in recent years, BI-LO struggled financially. Publix actually bought several of BI-LO's stores. Although BI-LO has since recovered, applicants who want guaranteed job stability might be better off applying at Publix.
Food Lion is also very similar, but on average, their prices are cheaper than BI-LO. It would be a fit for someone who enjoys servicing customers by giving them some of the cheapest prices around. Food Lion locations are more around the mid-Atlantic area in states like Tennessee, Kentucky and West Virginia.
It the local BI-LO doesn't have an opening in the desired specialization, Publix or Food Lion may have job opportunities in that department.
Also See:
Lucky Supermarket: For career opportunities, fill out the Lucky Supermarket online application.
Stater Bros.: See our resource page for more information on Stater Bros. careers.
Whole Foods: Use the Whole Foods job application to apply here.
Mi Pueblo Food Center: Visit the Mi Pueblo Food Center application.
Giant Food Stores: Giant Food Stores offers opportunities for both, beginners and experienced roles.
Company Links