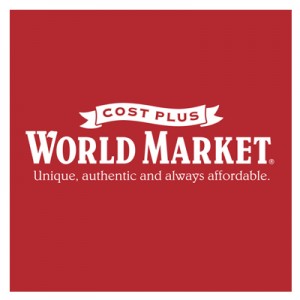 World Market is a big chain of import/specialty retail stores. It's a US-based company selling home furniture, curtains, décor, rugs, apparel, gifts, coffee, craft beer, wine and other imported items.
The company's actual name is Cost Plus World Market, but people would often just call it "World Market" so the name stuck. The company was created in 1958 by a traveler named William Amthor. The founder opened his first store in San Francisco, CA.
World Market has more than 270 stores in over 30 states in the United States. Its main office is currently located in Alameda, CA. The company has been a subsidiary of Bed Bath & Beyond since 2012.
In terms of employment, Cost Plus offers its qualified full-time workers a complete work benefits package. All eligible employees will receive dental, vision, and medical plans, life insurance, health and wellness programs, 401k retirement plan, etc.
People like working at this company because of the salary, benefits, and career growth opportunities offered to all employees. The company gives back to its employees by giving more work benefits, especially to hardworking full-time workers.
How old do you have to be to work at World Market?
Interested applicants should be 18 years old and above. Also, they must have a college or high school diploma to qualify for entry-level, managerial, or corporate positions. Related work experience is an advantage, but not required for most entry-level positions.
World Market Careers
The company is often looking for qualified applicants to fill the following positions:
Sales Associates: Sales associates work closely with other team members to render quality service to customers. Their duties include giving excellent customer service, merchandising, cashiering, stocking products, and sustaining visual standards set by the management. Since they are frontline workers who interact more with customers, sales associates must be approachable and able to initiate a dialog.
Stock Associates: Stock associates are responsible for many things, like giving outstanding customer service, merchandising, and cashiering. They are also engaged in stocking products and upholding visual standards set by the management. Just like the sales associates, stock associates should be approachable and able to initiate a dialogue with everybody.
Logistics Supervisor: A logistics supervisor acts as a leader in a store. She helps the lead supervisor and general manager in managing the store's daily operations. Her primary responsibilities include implementing the everyday priorities established by her general manager. She will oversee everything when the lead supervisor or general manager is not around.
Supervisor: A supervisor takes some managerial tasks in the store. He also helps the lead supervisor and general manager in controlling the store's daily operations. His primary responsibilities involve implementing the everyday urgencies directed by the general manager. Likewise, he may supervise the whole team on behalf of his lead supervisor or general manager.
POS (Pricing and Signage) Coordinator: His primary responsibilities include assuring timely and accurate pricing of all products. Also, he manages the placement & deletion of advertised signage, and other clerical paperwork are assigned to him by the general manager. When the POS coordinator is not around, his tasks will be assigned to a well-trained management employee or backup associate.
General Manager: A general manager has more authority in a store as she supervises it in general. She's the leading decision-maker for all aspects of store's operation which include product acquisition, personnel, customer service, and merchandising. A general manager should have strong leadership skills so that she can effectively train, manage, and lead the supervisor and sales associates.
Drop Ship Merchandise Manager: A drop ship merchandise manager takes care of every aspect in the assortment expansion and implementation of a drop ship business. He is responsible for the creation and strategy of an online drop ship merchandise assortment, which merges the preserved merchandise assortment.
Contractual Merchandising Assistant: She provides support to merchandising division in handling financial plans. She follows the marketing master calendar daily, and that's a crucial part of her responsibilities. She manages divisional projects based on the instructions given by the divisional merchandise manager. Her focus will be sample management, data entry and maintenance, and everyday store or vendor communication.
Business Finance Analyst: A business finance analyst oversees the daily management of a budget preparation system. His job involves analyzing and generating new reports while refining the existing ones. Likewise, a business finance analyst would be responsible for generating and issuing multiple weekly or monthly reports to a parent company and other internal associates inside the organization.
General Warehouse Operator: A warehouse operator deals with receiving, refilling, and ordering fill activities based on demand. His job includes ensuring that products are in proper locations with adequate quantities to hasten the order-fill pick procedure. He loads outbound trailers in the accurate, timely, and quality way.
World Market Application
The company offers the job seekers with two ways to apply. First, they may apply in person. Second, they may prefer sending their application through the web. Online applicants should create a user account on the company website to continue.
The hiring form may be available in both paper-based and online-based copies. Whether they choose to apply online or in person, applicants should grab a copy of the hiring form and fill it out completely.
Job aspirants who prefer applying in person can download and print the hiring form. Candidates must fill out the form carefully using black or blue ink for clarity. Reviewing the entries before submitting the application form is always necessary.
Further, job hopefuls must submit the latest copy of their resume together with the completed application form. Resumes should be neat, presentable, and with accurate details especially for contact details and home address.
Candidates who meet the given qualifications would be invited for the interview in 1 to 2 weeks after submitting their application. Once called, applicants should prepare themselves for the interview. Proper attire and being confident will help them succeed.
Facts About World Market
The company believes in the "open door" policy in expressing its interests and sharing concerns or ideas. Anyone's opinion is always respected, encouraged, and heard. The workplace atmosphere is something casual with helpful and friendly individuals.
With continuous success, World Market is celebrating once again as it will be having a new store. The company said the new store will be in Chandler Pavilion, Chandler, AZ, to offer great products for which the company is known.
Since 1958, the company has been providing imported original and handcrafted items. World Market offers low prices and guaranteed quality for all items. To make customers happier, it never stops in finding new great items to add in its selection.
Further, the company stays committed to giving back to communities it serves. It works closely with various charities and supports humanitarian programs. Also, the company launched its own campaign called Share Joy Program that helped local hospitals and food banks.
Application Links
Company: www.worldmarket.com
Careers: http://www.worldmarketcorp.com/careers
Application: N/A