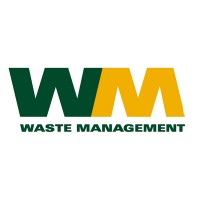 Waste Management is a reliable company that specializes in unified environmental solutions. The service provider offers quality waste disposal services to homes and businesses in North America.
The firm's corporate office is in Houston, TX. The company was founded by Dean Buntrock and Wayne Huizenga in 1968. Its main objective is to help communities in keeping the environment clean and green.
With over 43,000 employees, the company can provide services throughout the continent. Its network has 300+ collection operations, over 340 transfer stations, and 200+ active landfill dumping areas. Also, the network has over 100 recycling plants.
Waste Management employees receive complete medical insurance including vision, dental, and prescription medicine coverage. Likewise, the company offers other benefits like adoption assistance, scholarship programs, education savings accounts, paid vacations, sick leave, holidays, etc.
People love working for this company because it gives a competitive set of benefits for entry-level and managerial employees. Also, it introduces its employees to a culture that fits everyone.
How old do you have to be to work at Waste Management?
The company looks for qualified applicants who must be 18 years old and above to fill entry-level positions. Aspiring candidates should have a high school diploma or equivalent.
Waste Management Careers
The company provides several job opportunities for interested individuals. The business continuously undergoes innovation and growth, so the management is frequently in need of new talent. Entry-level employment usually leads qualified applicants to rewarding careers, including:
Driver: Drivers normally have a flexible working schedule, so they may need to work even on holidays and weekends. They follow a schedule for traveling so they don't reach all service areas in just one day. Drivers collect, load the garbage into dump trucks, and discard them to landfills.
Customer Service Representatives: CSRs are entry-level employees who deal with customers' concerns and complaints. They are good at problem-solving and in interacting with people since they have good communication skills. Customer service representatives are office workers, so they must be computer literate too. Their daily tasks involve accessing account details, giving billing information, and promoting a new product or service.
Mechanic: A mechanic maintains and repairs different mechanical equipment. His job usually involves dismantling and rebuilding equipment and machines. He may deal with machines like cranes or bulldozers. A mechanic's job also involves vehicle maintenance and repair. He diagnoses any possible automotive issues by using electronic and manual techniques.
Equipment Operators: They are specially trained and licensed individuals who deal with heavy equipment and machines. Equipment operators ensure that the machines and systems are always in good condition. They detect any possible malfunctions in the machines and systems. After that, they will carry out basic maintenance and repairs for them.
Office Clerks: Office clerks may receive incoming phone calls and relay information to somebody else in the company. These people should have excellent communication skills as they interact mostly with other employees and clients in the office. However, their job is more on creating word processing files or spreadsheets, and encoding.
Utility Worker: A utility worker has many things to do each day. His job involves operating different tools like pumps, sampling equipment, telemetry controls, and other waste equipment. He manages and inspects the water storage and treatment plants. A utility worker's job deals more on various technical tasks.
Operations Specialist: An operations specialist tracks and analyzes reports to determine where improvements could be made in terms of business processes. Also, this person identifies customer needs to present the business objectives properly. Companies hire an operations specialist to manage the improvement plan development and to assist all departments in dealing with changes.
Accounting Clerks: Accounting clerks generally specialize in one aspect of the accounting procedure. They have titles that accentuate their specialties like billing clerks, accounts payable assistants, and payroll clerks. Accounting clerks work under the supervision of a CPA or staff accountant.
Hazardous Waste Technicians: The role of hazardous waste technicians involves handling, packing and tracking of harmful waste for treatment, shipment or disposal. They may coordinate dangerous waste programs for the public and private sectors. Also, hazardous waste technicians undergo a specialized training program on safer handling and disposal of the biohazard, chemical & radioactive wastes.
Scale House Attendant: A scale house attendant greets and directs customers. They ensure that all incoming waste loads are harmless and free from inappropriate materials. A scale house attendant also handles general maintenance of the facility. He deals with administrative matters like regular filing.  
Waste Management Application
The company invites everyone to visit its official website and go straight to the Careers section. Waste Management updates its website regularly to feature the latest job openings. Walk-in applicants are not welcome because the company handles the entire hiring process exclusively online.
To apply, people should create profiles with the website's job portal and upload their CV. In filling the application form, applicants must collect details about their previous employers, education, and references. They must make sure that everything they enter in the application form is correct and accurate.
Likewise, applicants should check their resume first before uploading it when applying for a job. It must be updated and with a recent ID photo. Applicants should make certain that their application form and CV contain the same details.
Applicants called for the interview should arrive on time. They must be well-groomed while wearing casual business attire. Also, they should be confident when answering questions, which may help show their strong interest in the job.
Facts about Waste Management
Waste Management believes that it's vital to display ethical standards of the highest quality. This company aims to be well-defined by a philosophy and culture that shows the firm's core values. These values give the basis for the company's standards and practices.
The company introduced Think Green as part of its job to minimize resource cost while reducing and protecting Mother Earth. Also, Waste Management uses advanced technology to come up with new eco-friendly solutions when handling waste.
The company is known for its industry-leading solutions for proper and eco-friendly waste disposal. It offers great waste disposal solutions that will benefit both business owners and homeowners. These solutions are proven effective and safe for people and the environment.
Also, the firm's Charitable Contributions program support the campaigns or organizations that enhance or preserve the natural resources. The company works closely with schools and students by supporting their environmental education programs.
Application Links
Company: https://www.wm.com/us
Careers: https://www.wm.com/careers/index.jsp
Application: N/A