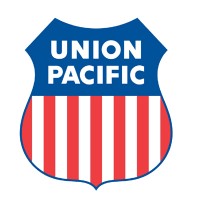 Union Pacific Railroad, or UP, is a haul freight railroad with nearly 9,000 trains and over 32,000 miles of track in 23 states. It is the largest network of railway in the United States, and it has over 50,000 employees. To join this large national company, you can complete a Union Pacific Railroad application.
The company's largest rival is the BNSF Railway, which is the second largest freight railway in the United States. It services the continental west of the Mississippi River, while Union Pacific Railroad operates west of Chicago, Illinois and New Orleans, Louisiana.  Union Pacific Railroad is headquartered in Omaha, Nebraska. The national basis of the company means, Union Pacific Railroad jobs are available in many locations.
The company started in 1862 with the Union Pacific Railroad Act, which was approved by President Abraham Lincoln as a wartime measure. Throughout the 1860s, the railroad expanded to service the majority of the country, and it provided jobs for many people. In 1872, the company was involved in a scandal, which involved bribing congressmen. As a result, in the 1870s, the company went bankrupt.
With investments from Jay Gould and with company reorganization, Union Pacific Railroad was back in business by the 1880s. Since the beginning of the twentieth century, the company's revenue passenger traffic has been on the decline. However, Union Pacific Railroad jobs are still a hot commodity as the company still provides a fundamental service and is the top of its industry.
Union Pacific Railroad Careers
Union Pacific Railroad careers are focused on building America as a railroad company, a telecommunications company, and a technology leader. The company is dedicated to connecting the country through innovation. This large company helps power a myriad of industries from agriculture to automotive to energy. To provide services to these companies, Union Pacific Railroad uses its employees to build new networks, operations, and infrastructure.
Job opportunities exist throughout the country in a variety of capacities. Jobs that are hiring include Freight Car Repair, Engineer, Technology Developer, Law Clerk, Consultant, and Internships. These careers often require special skills and experience. You can find more details on the job description and responsibilities on the company website.
How old do you have to be to work at Union Pacific Railroad? The minimum age is 18 years old. Internships are available to those who are currently enrolled in a Bachelor Degree program in Computer Science, Computer Engineering, Electrical Engineering, MIS, or a related IT field. Beyond internships, all other positions require prior experience or a special degree.
The company provides benefits for its employees. These depend on the location of your employment, as well as your career. The company has a union, which you can join in order to participate in collective bargaining benefits. Non-union benefits come from the company's Benefits Design team. Benefits can include health and wellness programs and insurance and retirement and financial planning.
Union Pacific Railroad Job Descriptions
Internship – This is the only entry-level position offered. It helps interested students get a jump-start on their Union Pacific Railroad careers. Those who are interested in working in the Information Technologies Department in Omaha, Nebraska can work in a variety of areas from application development to systems engineering. To be considered, you must submit a transcript and resume when you apply online. Salary is not listed.
Freight & Passenger Car Repair – Those in this position inspect, repair, and rebuild railroad freight cars according to federal regulations. To complete this job, you must be able to lift heavy equipment and use physical exertion. You must also pass some pre-employment tests in order to determine whether working in these conditions is possible. Union Pacific Railroad application for this position is available online. Salary is not listed.
Project Engineer – This is a position in which you work on projects for the company. These can include replacing old systems or designing new systems. You must be able to move to different places, so you can be a local presence on each job. Project Engineers must have a Bachelor Degree in the relevant field, experience with Java development, and certain scores on pre-employment testing. Salary is not listed.
Developers – This company is focused on developing itself as a technology company, so it is focused on hiring those with computer skills and experience. Developers work on the software and systems for the company, maintaining and modifying them. To do this, you must be fluent in computer programming languages and must be creative. Salary is not listed.
Union Pacific Railroad Interview Questions
The interview is the essential way the company determines if you are a good fit for their team, so practice answers to basic questions in advance of the interview.
What appeals to you about this position? The interview is interested in knowing why you completed a Union Pacific Railroad job application online. You should come up with an answer that shows you know what the job is about and that the job fits with your skills, talents, and interests.
Why are you the right person for the job? The company is going to hire the person who they think would do the best job. In your application form and interview, your job is to explain why your perspective, knowledge, and attitude is the best fit for the job. You should decide on a couple traits that are your strengths and would be unique assets to the company.
What is most important for you in a new position? The interviewer wants to make sure that the company is a good fit for you because you will not do well on the company team if you do not fit in. Be honest about what you look for in a job.
What physical restrictions do you have? Some of the online application pages list physical requirements for jobs, and you may be asked to submit to physical testing before you are hired. This means you need to be honest about any accommodations you require or tasks you will be unable to complete.
What are you looking forward to about this job? It is important to do some research on the company in addition to completing the free application and looking at Union Pacific Railroad jobs online. Come up with a couple of interesting tasks or projects from the website or jobs description.
Advice For Application Process
How to apply for Union Pacific Railroad online is a straightforward process that requires a lot of care and attention. Look at the link for open positions and read about the ones that catch you attention. You can then fill out applications online. In addition to the direct application, you may be asked to upload additional documents, like a cover letter, resume, or transcript.
Once you submit this information, your printable application for Union Pacific Railroad will be considered. If you look like you are a promising applicant, you may be contacted for an interview and/or pre-employment testing. This means that when you apply for jobs at Union Pacific Railroad, you should prepare yourself for testing and the interview.
To prepare yourself for the interview, download application form to get an idea of the questions they may ask you. Practice your answers, so you can come off sounding articulate and intelligent. You may use information from your printable application form in your answers, but you should try to expand on what you have already provided online.
To prepare yourself for pre-employment testing, you should read about the tests on the company website and on other websites, so you can get a sense of what will be required of you. Make sure to schedule the tests on a convenient day and to leave yourself plenty of time to do well.
Also See:
Postnet: Postnet offers opportunities for both, beginners and experienced roles.
Regis: For employment at Regis visit the application page.
PetSmart: PetSmart offers opportunities for both, beginners and experienced roles.
Kaplan: See our resource page for more information on Kaplan careers.
UPS: For employment at UPS visit the application page.
Company Links
http://www.up.com/aboutup/corporate_info/uprrover/