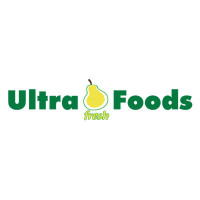 Strack and Van Til is a prominent grocery chain serving Chicago and its surrounding areas. The company manages dozens of market locations under different banners including Strack and Van Til, Town and Country Food Market, and Ultra Foods. The Ultra Foods division of the grocer has locations throughout Illinois and Indiana.
Ultra is part of a well-established conglomerate of supermarket companies. It is owned by Central Wholesale Grocers, Inc., which collectively supplies over four hundred grocery stores in the Chicago area. Their own brand products, under the name Centrella, are also distributed to the markets. The expansion of the company and its subsidiaries is the result of the involved independent retailers' ongoing commitment to returning recycling profits back into company investments.
Ultra Foods offers customers a full selection of meat, produce, and packaged provisions. Included in each store is a meat department with a variety of Grade A proteins, a fresh assortment of produce, a delicatessen with a prepared array of ready-to-eat options, a bakery producing fresh breads and cakes daily, a seafood department featuring catch of the day specialties, and a floral division where customers can arrange custom bouquets.
The grocer and its sister stores take an active interest in supporting their local communities. The retailers use their role in in the community to focus awareness on organizations that aid women's issues, ease hunger, serve military personnel, and contribute to bettering educational resources. The store encourages organizations to reach out with donation requests to systematically assess if they can be of service.
Ultra Foods Interview Questions
In what way would you make up for your inexperience? This question is used to gauge how you react to a direct challenge. You can tell them that you are aware of your lack of experience, and then go onto talk about how your hard work, passion, personal strengths etc. will make up for your inexperience. It is important to display self-confidence when dealing with this question.
Is there anything you would like to ask me? This question is typically an end-of-interview question. Your reply should never be no and you should always be prepared for it. Do some research at home prior to the interview, so you know what the company does and understand what the job will entail. You could ask if there will be opportunities for training or promotion, or what they as the employer expect of you.
How do you measure on the job success? This question allows you to analyse your strengths and explain how they match the requirements of the role. Completing work before the deadline, coming in under budget, and hitting targets are all positive examples. If possible, talk about a specific example that relates to the new role and how your past employer gained from the success.
What has been the most enjoyable aspect of the job? Be careful of your answer, it should not be about social aspects of your work as it may lead to uncovering / exposing your attitude to work ethics. Instead you should talk about the enjoyment and sense of achievement and pride you experienced when completing projects, either through teamwork or individually.
Company Links
https://wfa.kronostm.com/index.jsp?locale=en_US&APPLICATIONNAME=StrackAndVanTilNonReqExt