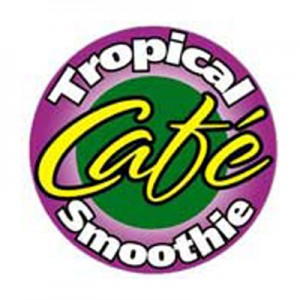 Tropical Smoothie Café is a successful restaurant franchise specializing in smoothies and health snacks. It aims to inspire a healthier lifestyle by offering made-to-order smoothies made from real fruits and veggies. The restaurant also serves flatbreads, sandwiches, toasted wraps and salad bowls made from quality meats and fresh produce.
The company opened its first café in Tallahassee, Florida in 1997, and two years later it introduced other food options for its menu. Because of its success, it opened in more locations and is now in 43 states in the US.
Tropical Smoothie has received various awards and was included in Entrepreneur's 2018 Franchise 500, and 2018's Fastest-Growing Franchises of the Year. It has more than 630 locations and thousands of employees.
Starting positions at its many cafes are very attractive to young people and fresh graduates who undergo paid training.
Employees enjoy working at Tropical Smoothie Café because of its fun and friendly environment.
How old do you have to be to work at Tropical Smoothie Café?
Interested applicants who are 16 years (depending on the regulations of the state) and older may work for Tropical Smoothie Café. A valid driver's license may be required for some positions. A lot of the crew members are young and enthusiastic.
Tropical Smoothie Café Careers
The Tropical Smoothie Café continues to expand to different locations so there is always an immediate need for store crew members. Among the roles that are in demand are team members, cashier, shift manager, assistant manager and store manager.
Morning team member: Team or crew members are expected to not only prepare and assemble food and smoothies, but also to accommodate customers visiting the café. Those assigned to the morning shift will help open and set up the store.
Mid-shift team member: Like other team members, those in the mid shift are responsible for keeping the store organized and sanitary. They should be adept in taking customer orders and other requirements.
Evening team member: Crew members assigned to the evening shift are in charge of closing the store. Like other crew members, they are responsible for cleaning and organizing the kitchen, workstations, dining room, and restrooms.
Cashier: The cashier is in charge of the cash register. He or she should know how to operate the register while taking orders from customers. The cahier should also be accurate in handling cash and giving out change.
Sanitation specialist: Because the job requires operating machines and sometimes heavy lifting, an applicant for the sanitation specialist job has to be physically fit. The work includes mopping floors, cleaning equipment and workstations and handling trash bags.
Delivery driver: The delivery driver will be made to do errands for the store. He or she should make sure that all orders are complete and are delivered on time.
Shift leader: The shift leader has to interact well with crew members, customers and vendors. As a supervisory, he or she is expected to make sure that all workstations are operating within the café's standards. The shift leader should also know how to train and coach crew members during each shift.
Assistant manager: Assistant managers are usually experienced Tropical Smoothie Café crew members. They interact with crew members and customers and makes sure that the store is operating properly and up to standards. Like a shift leader, he should also help train and coach team members.
Store manager: The store manager should be familiar with franchise policies and procedures. He or she is responsible for hiring employees, and for supervising them, including the assistant manager and shift leaders. Other responsibilities include ordering supplies and marketing.
General manager: The applicant for this position should have at least two years of managerial experience in a food establishment. The general manager is responsible for monitoring the sales and expenses of the café. He or she needs to make sure that profit margins are met. He is also responsible for the image and standards of the café.
Tropical Smoothie Café Application
Those who are interested in working for Tropical Smoothie Café may check online postings on various job websites or visit the company website. Potential employees are expected to have the company's core values, such as the ability to have solid relationships, a creative spirit, a competitive edge and the drive to live healthier.
In the company website, store employee applicants will be asked to indicate the city they are interested in working in. They can choose a branch and fill up the online application. Applicants can also walk in with a printed application and ask the manager for an interview.
It is important to be precise and honest in your application form. Make sure that you mark your available hours accurately. In the part where the past job experience is discussed, applicants should make sure that they highlight the skills they acquired and applied during their last job. There is also a portion that asks how the applicant can "deliver amazing" in every interaction with customers. It would be helpful to cite concrete examples or past experiences where the applicant showed excellent customer service.
An applicant's resume should be short but comprehensive. It should not include work experience that are not related or are not relevant. References should be updated. Applicants can highlight achievements such as awards earned as a performing employee.
Aspiring crew members should be ready for questions about team work and weaknesses. They should not hesitate in answering why they left their last job. It is important to phrase things positively and not dwell on negative situations. Giving examples on how you deal with customers and other food establishment-related problems would show that the applicant has good experience and would be a good addition to the team.
Things To Know About Tropical Smoothie Café
At the core of Tropical Smoothie Café's culture is the pursuit of a healthier lifestyle. As one of the fastest-growing franchises in the US, its cafes are a place of fun and collaboration for its crew members. Creativity and "Tropitude" are valued among its employees, as well as the ability to develop trusting relationships.
2017 was a year of tremendous growth for Tropical Smoothie Café as it opened more than 100 new stores. Because of this, the company raked numerous awards, including ranking 14th in the Franchise Times' Fast & Serious smartest-growing brands.
Besides being a very successful franchise chain, Tropical Smoothie Café is known for its healthy smoothies and food. Fresh fruits and vegetables pack their smoothies with nutrients and great taste. Quality cheese, meats and sauces, on the other hand, make their wraps, flatbreads and sandwiches among the best in the industry.
The company is using their healthy brand to partner with Camp Sunshine and provide memorable experiences for children who have life threatening illnesses. Tropical Smoothie Café's customers, franchisees and crewmembers have donated more than $5 million for the said program.
Application Links
Company: https://www.tropicalsmoothiecafe.com
Careers: https://www.tropicalsmoothiecafe.com/work-with-us/
Application: https://www.tropicalsmoothiecafe.com/work-with-us/apply/