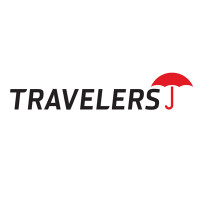 The Travelers Companies is an insurance provider operating in the United States since the 19th century.  To see what career paths are available and to find out how to apply for Travelers online, follow the link at the bottom of the page to get started on your Travelers application today.
The original company with that name was founded in 1864 providing travel insurance for passengers on the railroads.  The present company as formed from the merger with St. Paul Fire and Marine Insurance Company that got its starts in 1853.  Travelers has often used its familiar red umbrella logo throughout its history.
The company has locations in every single state in the US, providing employment for over 30,500 employees and still hiring!  They also have over 14,000 independent agents and brokers.  The company headquarters are located in New York City.  They have three basic sectors: personal insurance, business insurance and bond and specialty insurance.
They also provide information on their website to help clients prepare and prevent incidents before they become a problem.  You can find a business risk index and a consumer risk index as well as fire and home safety information to help you protect your home.  They also have informative articles for auto drivers.
Travelers Careers
There are many different routes into Travelers jobs.  There are job opportunities available to applicants at all different levels of experience.  There are dedicated application paths for interns, students, graduates and for experienced professionals.  The company also provides opportunities for employees on active duty and a program for transitioning military personnel.
There are many departments that you can send applications to including: Actuarial and Analytics, Administration, Business Analysis, Claims, Corporate Services, Customer Service, Executive, Finance and Accounting, Human Resources, Information Systems, Investments, Legal, Management Information, Marketing, Policy Services, Premium Audit, Product Management, Operations, Risk Control, Sales and Underwriting.  For most of these roles you will need qualifications in a relevant area.
How old do you have to be to work at Travelers?  You must be at least 18 years old or over to apply for jobs at Travelers.
You'll find there are many benefits to Travelers careers.  They provide their employees with health and wellness initiatives including medical, dental and vision insurance, child care discounts and an employee assistance program.  You can also receive retirement plans and periodic bonuses.  Some working locations have various amenities such as day care and fitness centers.
The hours of operation will vary between the different locations so you will need to check your exact job description for your individual working hours.
Job Descriptions & Salaries
Account Executive – You will be assigned to a particular business group such as Oil and Gas or Construction.  Your responsibilities will include ensuring the profitability and growth of your territory and report to management on its progress.  You will also be expected to train and advise Account Administrators.  The salary is around $80k/year.
Auditor – The job description for this role requires you to have a great attention to detail and have extremely good organizational skills.  You will carry out audits and reviews on different business functions and areas depending on which business area you are assigned to.  It will help to have a knowledge of risk assessment.  The average salary is up to $70k/year.
Claim Rep – You will need to have good interaction and communications skills to be able to handle customers and process their claims in different areas of the business.  You will need to be aware of all company policies and services.  There is a training program that leads directly to this role.  The salary for this is up to $60k/year.
Customer Service Representative – In this role you will be on the front line of the company, helping customers with their issues and enquiries and so good interpersonal skills are vital.  This is an entry-level position but you will be required to work in a team and be able to handle a varied workload.  The salary ranges between $28-40k/year.
Travelers Interview Questions
After you submit your Travelers application, prepare yourself for the interview by practicing common questions.
Why do you want to work here?  Always turn up to the interview with a clear idea of where the company fits into the industry and what its major areas of business are.  Try to do some research on the company before you go. 
What is your biggest weakness?  This can throw some candidates because they don't want to admit to weakness but you can answer this question well by following up your weaknesses with how you're working to improve yourself.
How would you handle a customer complaint?  This is mostly applicable to Travelers jobs that are customer facing but you may have to handle clients in a number of positions.  You will need to show that you can handle situations like this.
How would your last boss describe you?  You should always focus on your positive attributes when you give your answer to this question.  You can talk about specific projects you were involved in and what the outcomes were.
How would you handle a conflict with a coworker?  Teamwork is a very important part of many jobs so demonstrate to the hiring manager that you can work together with people and handle difficult situations in a professional manner.
Advice For Application Process
Search Travelers jobs online to find the careers section of their website where you'll find a list of all of their available positions.  To submit a Travelers job application online you need to fill in the online application form and upload your resume after you create a profile.  You can apply online for multiple jobs at once.
For some entry-level positions you may be able to make a direct application by heading down to your local office and requesting a free application form from the manager. However the preferred method is online as there may be other assessments to take. There isn't an option to download a printable application for Travelers.
Most applicants will be asked to attend up to two interviews before being offered a position.  For the interview it will always help your chances of getting the career you want if you're well prepared.  Always bring another copy of your resume to the interview and think of some questions of your own that you want to ask.
When you meet your interviewer remember to smile and make eye contact.  Take your time and speak slowly and clearly when you answer their questions.  It's best to answer in complete sentences and to give examples to illustrate your point from your past work experience because this helps to make your answer stronger.
Also See:
BOOKOFF: For employment at BOOKOFF visit the application page.
Cintas: Visit the Cintas application.
UnitedHealthcare: Visit the UnitedHealthcare application.
Pacific Life: See our resource page for more information on Pacific Life careers.
Kaiser Permanente: Checkout the application page for work at Kaiser Permanente.
Company Links
https://www.travelers.com/about-us/careers/index.aspx#
https://www.travelers.com/about-us/index.aspx