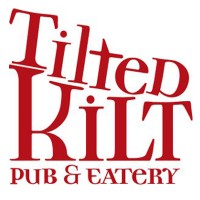 Tilted Kilt Pub and Eatery, more commonly known as Tilted Kilt, is a Celtic themed sports pub chain that has locations in both Canada and the United States. The company's headquarters is located in Tempe, Arizona, USA.
In 2003, the company's 1st restaurant was opened by business partners Mark DiMartino, Omid Joon, Shannon Reilly, and John Reynaud in the Las Vegas Rio Hotel and Casino.
The company employs more than 2,500 employees in the 55 locations that they own. In 2012, the company and its owner, Ron Lynch, were featured in CBS' hit TV show Undercover Boss.
The company offers a comprehensive benefits package for employees to help them have better lives. The package includes competitive pay, employee discounts, health and dental care coverage, and flexible schedules.
Employees love working for the company because of the nice co-workers, they get to meet great people everyday, and the staff is very organized. Studying employees also love how the company gives them very flexible schedules.
How old do you have to be to work at Tilted Kilt?
The company provides hiring consideration for applicants who have the skills that the company needs and qualify for the minimum age requirement of at least 18 years old.
Tilted Kilt Careers
The company's number one goal is to make sure that their guests have a good time whenever they dine at Tilted Kilt, and they ensure that they have skilled employees to meet this goal.
Waitress: Waitresses are responsible for giving what the customers need. They provide guests with dining essentials, take and serve orders, and perform customer requests. They provide customer service by answering questions and participating in conversations with the guests. Waitresses need to have good customer service skills to deal with customers and the stamina to move around the entire shift.
Hostess: Hostesses accommodate the customers while they eat at the restaurant. They greet arriving customers, guide them towards their table, and provide them with dining essentials or with a waitress to serve them. They interact with customers so they need to have a pleasant attitude and good customer service skills.
Dishwasher: Dishwashers clean the restaurant's kitchen and dining equipment. After receiving dirty dishes from the bussers, they wash them and ensure that the utensils are clean. Their job needs them to work with water and cleaning agents. Dishwashers are required to follow the company's sanitation standards.
Busser: Bussers ready the dining area for the customers. They push a bus along the dining area to take dirty dishes and fix tables. After that, they take the dirty plates to the dishwashers. Bussers need to work quickly to ensure that the restaurant can accommodate many customers.
Line Cook: Line cooks work while being supervised by chefs. They prepare the ingredients and equipment needed to prepare meals. Line cooks need to have patience since kitchens are usually extremely hot or cold and sometimes they have to work against time. They have to have proper grooming. They are also responsible for following the company's sanitation standards.
Bartender: Bartenders accommodate the bar's guests. They prepare drinks, which is why they need to have an extensive knowledge about the different kinds of drinks, as well as the creativity to make unique ones. They must have a good attitude and good customer service skills since bartenders communicate with the customers. They are also responsible for preventing minors from drinking.
Prep Cook: Prep cooks are responsible for readying ingredients for different recipes. Their duties include chopping and peeling vegetables and fruits, preparing frozen products, measuring and mixing ingredients, and preparing the equipment needed for the orders. They have to work fast because the other cooks rely on them. Prep cooks must adhere to the company's sanitation and food preparation standards.
Entertainer: Entertainers perform acts to entertain the customers. They can play instruments, sing, and perform dance numbers. Entertainers must possess creativity so every performance they do is unique. They must have good charisma and stage presence. They must also keep the restaurant's atmosphere in mind, so they won't do performances that would put the atmosphere off.
Assistant Pub Manager: An assistant pub manager helps the manager watch over the pub. The assistant manager is hands-on and does a variety of jobs such as light cleaning, preparing ingredients, and serving food. If the manager is unavailable, it is the assistant's job to assume his leadership role.
General Manager: The general manager ensures that an area that the company operates in produces good results. Their duties include contacting managers about the restaurant's performance and going to the company's locations to see how things are going. They can also make business-related decisions to make their area perform better. General Managers need to have good leadership and communication skills.
Tilted Kilt Application
For applicants who are aspiring to land a job at Tilted Kilt, all they have to do is know if they fit in any of the job openings, complete the job requirements, and submit an application.
Applicants can also opt to make an online application. All they have to do is access the careers section of the restaurant chain's official website, and file an application.
In filling up the application form, the applicants should review their personal information first so they won't miss out anything relevant. They should also write their contact information clearly so the company can contact them easily.
For the resume, choosing the right format can bolster their credentials. They should go easy on the achievements so that the resume won't be too long and tough to read.
To prepare for the job interviews, they should ensure their confidence. They should prepare by doing a mock interview with a friend. They should arrive according to the schedule and wearing corporate attire.
Facts About Tilted Kilt
The management of Tilted Kilt ensures that their restaurants have a fun atmosphere for their customers and their employees and friendships are built in every establishment.
In 2018, the company announced that they are coming to Fresno, California at Shaw Avenue and Highway 41. The location is set to open in late April.
The company's pubs are known having a Celtic theme, for the food they serve, as well as for their staff that is composed mainly of women who wear tilted kilts.
In 2014, the company broke the annual donation record by raising approximately $115,000 for the Folds of Honor Foundation, whose cause is to provide for the families of fallen or injured soldiers.
Application Links
Company: tiltedkilt.com
Careers: tiltedkilt.com/careers
Application: N/A