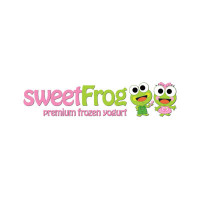 SweetFrog sells frozen yogurt in many flavors, attracting customers all over the world. Individuals can fill their own cup with base flavors and then add toppings. Premium frozen yogurt shops were not common on the East Coast. Many were located on the West Coast, which was one way that the business attracted the company's entrepreneur. A frozen yogurt shop is simple and kept at a low cost.
The company was founded by Derek Cha and his family when they moved to Richland, Virginia. Cha, his wife Annah Kim, and two children began the company in 2009.
This premium frozen yogurt company has 340 store locations in 26 states as well as internationally. International locations include the United Kingdom, the Dominican Republic, and Egypt.
The company helps individuals from all parts of the world and life get started in the business. There are retired veterans, stay-at-home parents, doctors, and many other diverse individuals who work with the company. The company is always willing to help anyone get started and help with training.
Employees enjoy working at the company because of the bright and unique atmosphere and the smiles that they can easily bring to the community. Some perks of working for this company include receiving free yogurt, flexible hours, and a fun work environment.
How Old Do You Have to Be to Work at SweetFrog?
Individuals must be at least 16 years of age to obtain a position at the company. Those with more experience can obtain higher jobs such as a corporate manager position.
SweetFrog Careers
Whether you are interested in investing in your own business or obtaining a position at your local business, this company provides many opportunities and help for you to get started.
Team member: A team member working for this company is expected to be personable and attentive. They will be operating cash registers and filling the toppings bar. A team member also prepares toppings and cuts fruit for the topping bar. There are also team members that are designated certain shifts.
Part-time shift: Part-time shift workers must help guests and answer questions during their morning hours. They are required to operate the cash register and be responsible for money. They should also be able to lift at up to or over 40 pounds. It is important that a part-time worker maintains equipment and always ensuring that the topping bar is filled and neat.
Cashier: A cashier must operate the cash register while maintaining responsibility for money. They count money at the end of each shift or at the conclusion of each working day to be sure that it matches the purchases. A cashier scans items and handles card transactions.
Maintenance: A maintenance worker makes minor repairs to plumbing and mechanical tools. They also make electrical and carpentry repairs as necessary. A maintenance worker may also perform work outside of the building such as repairs to windows, roofing, and sidewalks.
Janitor: A janitor ensures cleanliness in a business. This individual sweeps and mops floors, as well as shampoo carpets. A janitor washes windows and power washes the outside of the building. It is required that a janitor manages restrooms by restocking supplies, cleaning, and taking out the trash. It may also be required to move tables and chairs in order to completely clean the floors.
Team leader: A team leader provides direction and assistance to team members and those working each shift. Various roles for a team leader are established based on what the specific business requires in that given time. This position requires that those interested have 2 or more years of experience in opening and closing a business.
Assistant store manager: An assistant store manager helps to lead the staff of an individual store. This individual assists in monitoring and discipling other employees as well as helping to train new employees if needed. An assistant store manager should have prior experience in food service, specifically a higher level such as management.
Store manager: A store manager serves as a leader for all of the staff of each individual store. A store manager interviews and chooses employees. A store manager also takes on the responsibility of training them. This individual also monitors and disciplines employees. The position requires that those interested have  experience in food service, specifically management, of at least 3 years.
Operations manager: An operations manager has the job to be sure that the business is running not only correctly but efficiently as well. It is important that the operations manager checks to make sure that the business is serving the customers as well as possible and that the employees are meeting the business expectations. An operations manager ultimately controls the success of the business.
Investor: An investor is able to open their own business because the company is pre-approved by the Small Business Administration (FBA). The cost to begin a sweetFrog shop varies from $250,000-$300,000. Being an investor is one of the popular ways to get involved in this company because it is the dominant frozen yogurt company in the eastern United States. They are also fun to operate with an exciting atmosphere, appealing to all ages.
SweetFrog Application
You can visit the company's website to submit a form for "information request," where the company will review your request for beginning your own franchise. This helps the franchise learn a bit more about your own personal and business interests and goals.
An application for a position at this company is available online. In-store applications can be requested at your local business.
Be sure to fill in all of the personal information that the application requests and any other information that it suggests filling in.
It is important that you list your past food service positions as that will help you obtain a job with this company.
It is encouraged to inform yourself about the company before entering your interview. You can search questions online that previous employees have been asked, as many blogs and forums post them. Since the restaurant focuses on its fun and friendly atmosphere, it is important to show excitement for the position and your personality.
Things to Know About SweetFrog
The great service and unique trademarks of the company make it an attractive franchise for the community to purchase from and for individuals looking to open their own business.
This leading company in the frozen dessert industry is constantly making local and national accomplishments that have been recognized. They were the 2014 and 2015 Gold Daisy Awards Winner in the category of "Favorite Ice Cream/FroYo Shop" and the 2013 Family Choice Awards Winner for "Favorite Ice Cream/FroYo Shop."
Besides their popular frozen yogurt, the company is also known for working with several leading organizations such as Muscular Dystrophy Association, Our Military Kids, and March of Dimes.
SweetFrog supports local nonprofit and civic organizations all over the world. Assisting with national organizations also helps it bring happiness to its employees, community, and customers.
COMPANY LINKS