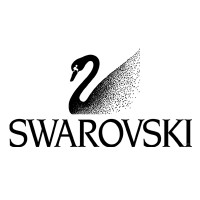 Swarovski is the world's main manufacturer of cut crystal. It creates, produces and sells refined crystal based jewelry, accessories, interior decorations, adornments and figurines. Since its expansion into retailing, which began in 1999, the company has considerably increased the employee pool and a Swarovski application can mean the beginning a glamorous career.
The founder of the company, Daniel Swarovski, started the business in 1895, in Wattens, Tyrol, Austria, to benefit from the local hydroelectricity needed for the energy-intensive grinding processes he invented. Before that, he worked as an apprentice in his father's small glass factory, learning all the family secrets for cutting glass and patenting, in 1892, an electric cutting machine which expedited the manufacturing of crystal glass.
The corporation is divided into Swarovski Optik that manufactures precision optical instruments like telescopes and binoculars, Tyrolit, a division that supplies machines and tools for grinding, sawing, drilling and dressing, and last, but not least, the Swarovski Crystal Business which designs, creates and markets jewelry, excellent crystal, real gemstones, produced stones, accessories and lighting items.
The conglomerate has retailing locations in about 170 countries. Their factories span all over the world: Austria, China, Czech Republic, India, Liechtenstein, Thailand, Vietnam and US. The group's revenue for 2014 was € 3.05 billion. The company offers employment to about 30,000 people. Some of those employees are working in the 2,480 stores opened all over the globe.
The business has always been managed by family members since five generations ago when it was founded. Even its shares are 100% owned by family members as to keep all operations in the clan. Robert Buchbauer is the current CEO of the company and his ambition is to augment the legacy for the next Swarovski generations.
Swarovski Careers
A well-defined mission helps the company run like a finely tuned machine because it's no secret that the jewelry industry is very competitive. That is why this multinational looks for its product and services to surpass the clients' wishes, by encouraging its employees to come up with new ideas and rewarding their success. All actions are answered for as part of the corporation's responsibility of positively influencing the world.
The Corporate Responsibility is divided into six sectors: ethics and integrity, which governed all dealings from the company's inception till the present day; caring for the employees and communities; making secure and responsible products; conserving the environment; giving back through charity and sponsorship; and using a responsible supply chain for augmenting reliability, quality and productivity.
Those interested in Swarovski jobs should be at least 18 as to fit the "How old do you have to be to work at Swarovski?" requirement. The working hours are Mondays to Saturdays from 10:00am to 09:00pm and Sundays form 11:00am to 06:00pm. Most often available job opportunities are as sales associates, key-holders, assistant managers and store managers.
The jewelry manufacturer is hiring constantly on a full-time or part-time basis, not only on entry-level positions but also for corporate level careers. For those with less experience there are plenty of openings in sales, customer services and chain warehouses while the more qualified individuals find meaningful employment in retail management, design, IT, legal and human resources.
The benefits luring future applications are competitive salary, paid vacation, discounts for the staff, health and wellness programs, flexible hours, bonuses and paid training, all being offered to both part-time and full-time employees. Qualified personnel have 401(k) pension plans and healthcare insurance. With so many perks, the Swarovski careers definitely merit filling out an application form.
Swarovski Job Descriptions
Customer Service Employee – These jobs require for the applicants to give answers to clients' enquiries in call-centers via phone and emails. To qualify, one must have good computer and interpersonal skills, clerical competences like proofreading and data insertion, inkling for fashion and work well independently. There is availability for both full-time and part-time positions in shifts that include weekend, night and holiday work. Pay varies between $9.00 and $13.00 an hour.
Sales Associate – The main responsibilities for sales associates are greeting the customers in stores, assisting in purchases and keeping the store tidy and organized. The related experience should be in retail and sales. If applicants are at the start of their careers then motivation and initiative can sway recruiting staff to employ them. The hourly pay is between $9.00 and $12.00. The minimum education required is high-school level.
Senior Sales Consultant – This is a managerial position where the employee supervises junior staff, supports sales and sorts out store goals and displays. Applicants must have at least five years of education mixed with experience in retail, customer services and management. Candidates should be prepared to work nights, weekends and holidays, but the salary is enticing with hourly earnings of $13.00 to $14.00, which can amount to over $36,000 yearly.
Boutique Manager – Whoever fills this position, will have to achieve selling and financial objectives and personally be responsible for 20% of the store sales. The boutique manager makes sure that the operational, visual, loss prevention and inventory standards are followed thoroughly. To qualify one must have at least three years of store manager experience and a high-school diploma.
Swarovski Interview Questions
Swarovski jobs are filled after a careful screening process. That is why candidates must prepare answers for the most frequent questions asked during the interview.
How much do you know about our company? This is a question frequently used and which all employees should be ready for by reading as much as possible about the firm. 
How would you characterize good customer care? The success of the company is directly influenced by how happy customers are with the services they're receiving. That is why a lot o focus is put on customer care. 
How would you describe Swarovski? Knowing how to promote the company should be obvious from the interview stage as to demonstrate commitment to hiring staff.
Are you available to work during holidays and in shifts? The work schedule for some of the positions can be quite irregular so the store managers are looking for candidates with night, weekend and holiday availability.
How does your experience apply to the position you are looking to fill? For the managerial roles, relevant experience is important, therefore the hiring personnel will want to hear candidates speak as much as possible on that topic.
Advice for Application Process
A Swarovski application can take between a few days and a few weeks to process. Candidates can either do an online application or drop off a resume in one of the stores. Swarovski careers have a dedicated page on the company's website. There, applicants can use a link to apply online via their free application process. The career page also provides full details on how to apply for Swarovski online.
Before completing a Swarovski job application online, candidates must accurately read the job description as to ensure they qualify for the role. Old-fashioned people can do a printable application for Swarovski by downloading an application form and taking their time filling it out. Besides the direct application on the firm's website and the printable application form, employment hopefuls can also apply for jobs at Swarovski via recruiters.
Once the right Swarovski jobs online have been identified and research has been conducted, the actual applications can be completed. Attention to details at this stage is important, as it will determine whether or not candidates get picked for the actual interview, which is usually a 1:1 meeting. The duration of the interviews depends on the job level with 15 to 20 minutes for beginners and can last up to 45 minutes for those applying for seasoned roles.
In addition to researching the company, revising the CV and arriving on time, the applicants must also pay attention to what they are wearing and how they conduct themselves during the interview. Professional attire will clearly make the hiring personnel look favorably on the candidate and will also prove respect for the whole process. The job hopeful needs to express gratitude for the chance and reply truthfully and politely.
Most questions during the interview will aim to shed light on the character of the applicant and establish if he/she is compatible with the position advertised. The candidate should ask any questions he/she has prepared for the recruiting staff. The follow-up is crucial and should never be neglected. If the answer is not favorable, making a good impression will convince Swarovski to consider the applicant for any future position.
Also See:
Orchard Supply Hardware: Use the Orchard Supply Hardware job application to apply here.
Piercing Pagoda: For career opportunities, fill out the Piercing Pagoda online application.
Zales: Use the Zales job application to apply here.
Edwin Watts Golf: Use the Edwin Watts Golf job application to apply here.
Jared: See this page for jobs at Jared.
Company Links
http://www.swarovskigroup.com/S/careers/WorkAtSwarovski.en.html
http://www.swarovskigroup.com/S/careers/Job_Search.en.html