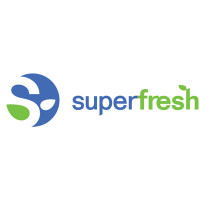 SuperFresh is a supermarket chain that concentrates mainly in Northern New Jersey and New York City. They aim to supply affordable groceries and household needs to the surrounding suburban areas.
The supermarket brand was founded in 1982 in Philadelphia, Pennsylvania by the organization A&P. However, in 2016, Key Food took ownership and rights to the stores due to A&P's bankruptcy, and remain their operator today. The present-day headquarters reside in Staten Island, New York.
There are currently a dozen stores in operation, down from over two dozen original locations in the beginning with A&P. However, they are working on re-expanding and have opened new locations in Staten Island and New Jersey.
SuperFresh offers many benefits to its employees. There are financial and retirement programs offered to their full-time workers to aide them in present and future needs. New parents are given maternity and paternity leave, and many past workers have expressed enjoyment of the great employee discount of the store's products. Vacation and family time is offered too, as well as professional development Support.
Employees express that SuperFresh is a positive work environment with friendly management. The tasks to be completed were not a challenge, and the company works around school schedules. Past workers have also expressed excitement over being promoted to managerial positions after being faithful employees.
How old do you have to be to work at SuperFresh?
Most of the jobs at this business only have an age requirement of 16. However, positions that deal with handling containers of alcohol require workers to be 21, and most pharmaceutical positions require a college education, meaning the general age of employees there is much higher.
SuperFresh Careers
This company offers a wide variety of jobs for people of different skills, abilities, and available work hours.
Cashier: A cashier is responsible for checking out all the items a customer is purchasing. They will interact with the consumer in a positive and friendly way and make sure their experience at the store was good. They will maintain their station and aid with the upkeep of the front of the store.
Grocery Clerk: Holding this position will consist of bagging the groceries, managing returns, and working in the realms of customer service. One must be friendly and helpful and willing to aid the customer in any means necessary. They might also complete other small tasks assigned by management to benefit the store in various ways.
Night Stock Clerk: A night stock clerk will work evenings and nights to receive shipments, restock inventory, maintain the store, inspect shipments, unpack boxes, and other tasks. They may be involved in physical labor when unloading and restocking. Their main job is to document merchandise shipments and inventory changes.
Pharmacy Technician: Someone in this position works under the supervision of the pharmacist to aid in the pharmacy department. They will supply customers with prescription and over-the counter medicines, assemble prescription medicines, and provide information to patients and consumers who request it. They will work with the pharmacist to help with any tasks they may need completed.
Department Manager: The department manager will oversee all happenings within their respective departments. They will provide instructions for those working in their department for the upkeep, efficiency, and stocking of the department. They should have expert communication skills and ability to command large groups of people in a polite and efficient way.
Assistant Manager: An assistant manager will help a manager complete the tasks necessary to run the store and upkeep inventory, cleanliness, and customer service. They will work to make the SuperFresh environment a positive one for both consumers and employees. They will oversee the workers to ensure that they are content as well as completing their jobs as instructed.
Store Manager: One holding this position will be in command of all the ins and outs of the individual store. They will be in charge of making sure every department and position is being run smoothly and correctly. They will oversee customer satisfaction to make sure the store is doing its job of providing services as needed and treating consumers in a friendly way.
Pharmacist: The pharmacist works to supply the store's customers with their prescription and over-the-counter medicinal needs. In order to do this, they will need a college degree in pharmacy or another applicable field. They should be knowledgeable of the procedures and the medicines themselves and be friendly when interacting with customers and answering questions.
Loss Prevention worker: In this position, one will work closely with customer service and customers themselves. They will work on reported loss or theft instances from customers and monitor inventory to ensure there are no cases occurring in the store. They will enforce safety rules and run checks to ensure everything is being done to prevent theft or other unfortunate circumstances.
Customer service representative: A customer service representative will help consumers with questions, complaints, returns, exchanges, and other common problems in person, as well as over the phone. They should have a kind, friendly demeanor when interacting with their customers as well as other employees. They should be skilled at problem-solving and conflict resolution.
SuperFresh Application
In order to apply, you must go to the Job Opportunities page on SuperFresh's website and select your preferred store to apply to. Then, the application will automatically come up to fill out.
The provided online application is the only way to apply. No in-store application, or any other means of applying to this company, is available.
Be sure to provide thorough, honest information when filling out the application. Use your full legal name. Include all previous work or volunteer experience and be sure to list skills that are relevant to the position you desire. For example, if one is aiming to work in customer service, they should be skilled in the realms of conflict resolution and professional communication.
Although a resume is optional, it will provide more information about someone and build their profile in a way that may help them get the job, so it is best to include one. Detail personal skills, talents, experiences, qualifications, and anything else that would prove competence and a great work ethic.
Be professional but friendly in an interview. Make sure to smile and shake the interviewer's hand and offer a formal introduction. Be natural, calm and collected, and don't be afraid to be yourself. Express an ability to work well on a team and to cooperate with co-workers and customers alike.
Things to know about SuperFresh
Many employees on various platforms have expressed that the business is a very positive work environment. It has been reported that the employees are a tight-knit group and develop real, quality friendships with each other.
The recent takeover of the SuperFresh brand by Key Foods was a large, newsworthy event. Key Foods is is helping to make the business grow and expand by opening new stores and rebranding. They are working to make this supermarket the top choice of families in the suburban areas of New York and New Jersey.
They are known for their selection, good prices, and friendly environment. It is a reputable supermarket chain with an interesting history and a growing claim on the New England areas.
Key Food is known for its work to provide and give back to the community. Recently, it teamed up with the Brooklyn Nets to serve lunch at St. John's Bread & Life and worked to collect food for families in the Brooklyn area facing unfortunate circumstances.
COMPANY LINKS