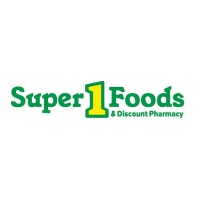 Super 1 Foods was formed with the goal of providing a wide variety of high-quality items and products at a low price which will suit customers' budget.
From the time the company opened on September 1, 1928 by the late Wood T. Brookshire, and with 90+ years of producing satisfaction-guaranteed products, Super 1 Foods continues to provide customers a great food and shopping experience.
The company has over 30 Super 1 Foods stores located in Texas, Louisiana, and Arkansas with more than 13,000 of employees/people who make the company successful up to this point.
The company has provided many career opportunities, giving employees benefits they deserve including health benefits, and access to the Brookshire Grocery Co.'s recreation area. The employees are considered for BGS's scholarship program and participate in 401(K) employee stock purchase program.
Employees describe that working there is beyond their imagination, providing them a flexible schedule, great benefits, and holiday bonus. The company is also a great starter job.
How old do you have to be to work at Super 1 Foods?
Employment at Super 1 Foods has a certain age limit. The minimum age for you to be able to work at the store is 18 years old.
Super 1 Foods Careers
There are various career options that are waiting at Super 1 Foods grocery stores that include traditional retail roles, vital non-retail support roles (Corporate), distribution, transportation, and facility services areas. Some of the open positions of the company are described below.
Category Analyst: Category Analysts are the ones who provide support to the Category Manager who performs daily routine and detailed analyses. Category Analysts also provide insights and recommendation for new product optimization. They also analyze the marketing, distribution, shelving, and pricing of new products.
Meat Cutter: Meat Cutters are the ones who process meat by removing its fat, making it tender, and cutting it into its proper size and thickness. They are the ones who prepare the primal cuts of meat into different cut sizes.
Order Selector: Order Selectors are the ones who operate on the electric pallet jack for the selection of an order, and prepare and load trailers for shipping. They are responsible for the delivery of customers' order in the delivery platform and fulfilling it according to the company's standards.
SAP Systems Administrator: A SAP System Administrator performs system updates, ensures stability and optimum performance of the SAP environment, performs security administration and controls changes. The proper installation and connection of users to the SAP system is the SAP System Administrator's responsibility.
Cashier: A Cashier is the one who receives payment by cash, check, credit card, and debit card. He issues receipts upon payment and is responsible for refunds or change. He is responsible for counting money in the cash drawers at the beginning and end of the shift to ensure that the amount is right and has an adequate change.
Grocery Stocker: Grocery stockers make sure that the food shelves are neat, labeled, properly stocked and organized. They also assist in receiving, shipping, ordering, unpacking, and filling of product levels on the sales floor. All the aspects of the grocery department's stock levels like receiving income inventory is the grocery stocker's responsibility.
Truck Driver: A Truck Driver is the one who operates trailer truck or a tractor that transports goods to and from different store locations. A truck driver also observes and performs safety practices and the rules and regulations of the Department of Transportation.
Produce Clerk: A produce clerk is responsible in answering customers' concerns, questions, and recommendations. The freshness of the product and the rotation of any product that is near expiration is the produce clerk's responsibility. Maintaining control in the inventory of stocking produce is also a produce clerk's responsibility.
Utility/Bagger: Baggers complete the overall shopping experience of customers by properly packing all their purchases. They pack the customers' orders beside the cashier during checkout.  They are also responsible to help the customers' carry their filled grocery bags to their cars in the parking area.
Deli Worker: Deli workers prepare the food in a presentable manner. They are the ones who are responsible in maintaining the deli section clean and organized. Deli workers also cook what's in the menu. They also answer customers' questions and respond to their requests.
Super 1 Foods Application
Super 1 Foods has established a simple step for a career application, from picking up an application form at their store, to downloadable forms at their website and electronically sending your application and resume or sending it via email.
Both in-store and online applications are accepted at this company. There is an online application form available on their website and a downloadable form you can use.
The company offers application form that you can fill out, and return it to them. The management hires candidates with an outstanding past work experience and open scheduling availability.
On writing your resume, be sure that it is updated. Update your work, skills, and trainings history. Give your resume a makeover, revise your summary by stating your goals and ambition clearly and briefly.
Upon interview, be sure that you wear the appropriate dress code and be at your utmost confidence. Make sure you have research about the company and just be yourself.
Things To Know About Super 1 Foods
The foundation of the Brookshire Grocery Co. is no different to every other store for it instils traditional customer service, a high level of training that is taught to the employees to ensure of a great shopping experience.
The company releases statement concerning cage-free eggs, hosts 34th annual spirit of Christmas food drive, wins national awards for dairy products, and supports tornado relief efforts in Van Zandt County.
The company is well known for its cheap but high quality brands. The company also owns a museum in East Texas, Brookshire's World of Wildlife Museum, which is one of the well-known museums in that place.
The Brookshire Company has a so-called "Giving Back Programs" and events like the "FRESH 15k". During Christmas season, the company held "Spirit of Christmas Food Drive" program, and the company also held an annual Brookshire's Benefit Golf Tournament.
Application Links
Company: https://www.super1foods.com/
Careers: https://www.super1foods.com/about-us/job-opportunities/
Application: https://www.super1foods.com/wp-content/uploads/2013/09/Job-Application.pdf