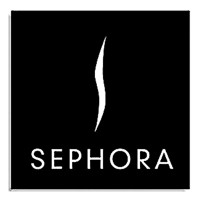 Sephora is a French chain of cosmetics stores based in Paris, France. It is a subsidiary of the LVMH brand that offers luxury beauty products including make-up skin care, body, fragrance and hair care. The brand name comes from the Greek spelling of Moses' wife Zipporah.
Dominique Mandonnaud founded Sephora in 1970. He opened the first store in Paris and started the open-sell sales experience where customers are encouraged to try products in store before purchasing.
From then on, Sephora has expanded their brand by increasing the assortment of brands they sold, created more shops around the world and even created their own cosmetics line, Sephora Collection. Today, Sephora is known as the leading retailer of cosmetics and perfumes in France and in the world.
As part of Sephora, employees have a load of benefits including free products and discounts from their brand partners and sister brands in the LVMH family. All employees are eligible for bonuses for company performance and entitled for certification and training opportunities within the company. Employees also get a comprehensive health plan, flexible spending accounts, paid time off and 401(k) retirement plans.
Aside from comprehensive benefits, Sephora employees remain loyal because of the company's commitment to improving the brand itself, the products they're offering and their people. The company invests in each individual's growth and empowers employees to not only do their jobs but do them well and be part of their company's success.
How old do you have to be to work at Sephora?
Sephora employees must be at least 18 years old and possess high school diplomas or GED equivalent.
Sephora Careers
As one of the leading cosmetic retailers worldwide, Sephora offers a wide selection of career opportunities at their retail stores and distribution centers. Listed below are some of the open entry-level posts they have:
Retail Careers – if you're interested in customer interaction and a pursuing job in beauty retail, these are the available jobs in their stores for you:
Operations Associate (Consultant) – An operations associates help the store to run its daily operations smoothly. They complete daily processing and organizing of damages, testers and known theft product. They execute all shipping and receiving activities in a timely manner. Associates help keep the store's front face and back clean and organized. Applicants should be able to work with shifting schedules.
Skin Care Advisor (Consultant) – The skincare advisor is the store's primary skin expert. They conduct skin consultations and makeovers as required. Advisors identify a customer's skin care needs and recommended products and services to meet those needs. They also participate in inventory control, loss prevention programs, ensures compliance with sampling policies and maintaining store cleanliness.
Color Consultant – The color consultant, also known as a make-up advisor, is the store's primary make-up expert. They determine clients' makeup needs and suggest products and services that meets those needs. They provide client touch-ups and makeovers as required. They also participate in inventory control, loss prevention programs, ensures compliance with sampling policies and maintaining store cleanliness.
Beauty Studio Coordinator – Hosts the Sephora Beauty Studio and all related events and services. They assist customers with service appointments and process all future appointment requests. Coordinators ensure that all beauty studio clients are properly educated and informed following Sephora's guidelines and practices. They assist in keeping the Beauty Studio stocked, clean and organized. A previous retail or service industry of 2 to 3 years is required to apply for this post.
Cashier – Cashiers are responsible for the efficient and accurate processing of all sales transactions by receiving payment by cash, check, credit cards or vouchers. They also process returns and exchanges. Cashiers maintain non-monetary reports and records, participate in inventory control and conduct gift-wrapping duties if needed.  
Distribution Center Careers – If you're looking for a more background support for Sephora, here are the open distribution center careers:
Warehouse Associate – A warehouse associate receives, picks, packs, prepares and ships product orders for both retail and online customers. Associates comply with all company rules and regulations on safety, dress code, loss prevention processes. This position requires applicants to be able to work in shifting schedules and be able to perform any other task assigned by the warehouse manager.
Maintenance Technician – Maintenance Technicians perform basic maintenance and repairs to equipment and facility as assigned. Techs perform general custodial and other household fixture repairs. They assist in the set-up, tear down and clean up of all company functions, meetings and events. Should be able to work in shifting schedules.
Inventory Control – Inventory Control Specialists work closely with associates to ensure productivity, accuracy, safety and security standards and expectations are met. They prioritize work tasks to other associates, assists in resolving issues and provide feedback for associate improvement.
DC Specialist – A DC Specialist performs a variety of operational office and clerical duties including wave planning, delivery scheduling, order tracking, auditing, paperwork management and generating departmental reports. Ensures all tasks assigned are completed in an accurate and timely manner and in compliance with company rules and regulations.
Equipment Operator – Operators use a variety of equipment to support the operational and production needs of the distribution center. They drive transfer trucks to transport products from the warehouse to the distribution centers. Applicants are required to have a valid driver's license with a clean motor vehicle record to apply. Having previous experience in operating equipment in a warehouse environment is a plus.
Sephora Application
If you're interested to start a career with Sephora, there are a lot of ways to do so. You can go thru your social networking channels, go online and check the company Careers page or walk-in the nearest Sephora store.
Of the three options though, going through the Careers page is recommended. With it, applicants can explore from one of the many career opportunities in the website and are given ample time to prepare themselves for interviews.
When applying online, applicants must register and create a user profile. They can also connect their LinkedIn or Facebook profiles to Sephora's Careers page to auto-fill the necessary fields. Doing any of the following includes the applicant to Sephora's Talent Network. With it, the company can help you streamline your job search, alert you to newly opened posts and give you updates on previously applied positions.
The website would show all the open posts in any of Sephora's career streams: retail, distribution and warehousing and corporate support. All job postings will have a detailed job description, a list primary responsibilities and qualifications requirements.
Applicants should highlight relevant customer service and retail sales experience. They should mention beauty courses they've taken and certifications they've received if any. Applicants should highlight product and brand awareness and share their expertise in the cosmetology. Be prepared for tests on interpersonal and selling skills during interviews.
Things To Know About Sephora
Culture
Sephora stands for the Beauty of Fearlessness. Together with their customers, Sephora not only encourages bold choices for beauty, but it also remains dedicated to inspiring women and help them become financially equipped, emotionally supported to face transitions and well prepared for anything.
News worthy events
Just recently, Sephora was selected as of the best-in-class retailers that proactively use personalization in their marketing initiatives. Sephora's personalized efforts increased potentials for customer loyalty. This relationship is still being further analyzed by experts.
What is the company known for?
Sephora's Color IQ is the first and only beauty service that scans the surface of your skin and assigns it a Color IQ number. This then reveals scientifically precise lip, foundation, and concealer matches for your skin tone.
Social efforts
Classes for Confidence is one of the many community-based initiatives launched by Sephora. Brave Beauty in the Face of Cancer is the latest program they offer. It is a 90-minute hands-on Sephora sponsored class for women who have battled or are battling with cancer.
Application Links
Company: https://www.sephora.com/
Careers: https://jobs.sephora.com/
Application: N/A