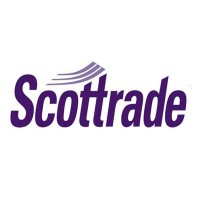 Scottrade is an online brokerage firm, which can cater to the needs of beginner and professional traders alike. The services provided to clients are diverse: IRAs, mutual funds, exchange trade funds, stocks, bonds and international investing. Around 4,000 employees work hard to ensure that clients are offered these services to the highest standards. A Scottrade application always awaits anyone wanting to join the team.
The company is privately owned and was founded in 1980 by Rodger Riney who is now acting as CEO. Back then, the name of the company was Scottsdale Securities and was changed to Scottrade in 2000 in light of the fame of the company's website, Scottrade.com, which was launched in 1996. Its growth was rapid, from 200 branches in 2004 to 500 by 2010.
All services are offered in branches over the phone and online. Its online platforms in the market are: Scottrader Streaming Quotes, Scottrade ELITE (for those with a minimum investing capital of $25,000) and Scottrade Option First. Scottrader Streaming Quotes is a web Java app that does not require a browser or to be downloaded. For advanced traders, the company offers Scottrade ELITE, a desktop platform with extensive trading tools.
2013 proved a very innovating year with the renewal of its iPhone and Android app and the launch of the iPad app. Furthermore, it was the birth year of the FRIP, this industry's first and only Flexible Reinvestment Program. 2014 brought two new products also: the Portfolio Review tool and The Launching Pad.
Their activity is based on five main values: customer services, trust and integrity, individual development, open communication and teamwork. In 2013, amid of all the platform unveils, Scottrade was ranked No. 53 in the "100 Best Companies to Work For" list by Fortune. The company gets involved in community support programs and signed collaborations with non-profit organizations: American Red Cross, Salvation Army, American Cancer Society and more.
Scottrade Careers
The headquarters are in Town and Country, Missouri. A secondary business operations center is located in Westminster, Colorado. There are also a data center in Scottsdale, Arizona and a trading support desk in Chicago, Illinois. All these centers plus the local branches are constantly in need of employees and interns.
The working hours are 8:30 a.m. to 5 p.m. Monday through Friday. Regarding "How old do you have to be to work at Scottrade?", the answer varies according to the job and its geographical location but it would be fair to nominate 18 as a minimum. The job openings can be divided into Headquarters positions, IT jobs, Branch employment and internships.
Scottrade jobs are to be coveted because of their stability, culture/teamwork, focus on customer service, work environment, growth opportunities, reputation for sociable individuals, competitive salary, professional development, Rodger Riney and flexibility to move between roles or departments. The firm's culture promotes a work/life balance, a family feel milieu and an open door policy.
Scottrade jobs come with an extensive list of benefits like bonuses, medical private policy, discounts on medical premiums, wellness reimbursement program, corporate gym and health club membership, dental cover, vision insurance, 401(k) plans, life and accident insurance, disability insurance, tax advantaged accounts, associate assistance program, tuition reimbursement, adoption assistance program, parking and mass transit relief program, and charitable giving program.
Scottrade careers' average pay is $40,000 annually, which translates into $19 per hour. Scottrade jobs are full-time and part-time. The best-paid career is branch manager earning $85,000 per year, while a stockbroker intern earns a minimum of $24,000 yearly. A large part of the company's website is dedicated to Scottrade careers where one can learn exactly how to apply for Scottrade online and what to expect post-hiring.
Scottrade Job Descriptions
Investment Consultant – The responsibilities for this position include contacting clients and potential customers to amass asset, solidifying client relationships as to increase profit for clients and Scottrade and collaborate with Scottrade Guidance Solutions Group to find the right products for each customer. The experience needed for this job is of at least one year in sales or financial services and preferably at least a year of brokerage work.
Receptionist – The main duty is to answer calls and forward them in a professional and exact manner. Other tasks are replying to employee questions or suggesting the right person to do so, organizing cabs and courier collections, supervising repair works to different company locations and assisting the front-desk team and porter. Only complete an application form if you hold a high school diploma and three years experience as a receptionist.
Stock Record Associate – The job description for stock record associates states they must primarily process the daily work of the Stock Record team. Candidates for this role should also be ready to process DTC, physical, foreign and DVP settlements, process customer and broker-to-broker buy-ins, reconcile memo segregation reports and other tasks. Applicants should have an associate's degree and over a year of both brokerage and customer service experience.
Treasury Analyst – Mainly, treasury analysts are responsible for working on the expansion of the department's treasury requirements and current processes. This translates into support for the design, implementation and management of the company's global strategy for capital, liquidity and funding, and for the investment projects for corporate money and deposit balances. The applications of those interested in getting the job should depict a four years experience in financial accounting and analysis.
Scottrade Interview Questions
Interviews are time limited so recruiters use each question to extract as much information as possible about the candidates and link their abilities to the job requirements. 
What is your five years plan? Most job opportunities arising at the firm are entry level because the company prides itself with not laying-off employees and promoting internally. Therefore, they are very thorough in hiring as they are looking to keep employees for long-term. Consider this question and try picturing yourself as part of the Scottrade team in five years time. 
Would you consider relocating for work? The firm has offices and branches all over the country. Since they like to promote people from within their ranks, they would firstly offer the position to one of their employees even if he/she lives in a different city. There is no right or wrong answer to this question; it boils down to every candidate's priorities. 
Are you up to date with all banking legislation? This question mostly targets candidates for positions with Scottrade Bank Equipment Finance. If applying for such a role you should know all the current rules and regulations of the banking industry.
What financial services do you think we are missing from our portfolio? Innovation is the key for survival in any market. This business knows that and it always encourages its' employees to bring forward ideas for increasing the client base or for raising more capital for existing customers.
Can you give an example of a past instance when you had to reprimand a subordinate? This is meant for team leaders, branch managers and any other high level positions and it looks to establish how developed your leaderships skills are and whether you can professionally and impartially asses your subordinates' job performances.
Advice for Application Process
To apply for jobs at Scottrade you can make a direct application by creating an account on their career page and then all you need to do is to apply online. A Scottrade job application online is a free application designed to find a perfect match between what the company needs and what the candidate can offer.
Candidates looking for Scottrade jobs online will be happy to discover a very friendly online application process which will shield them from having to download an application form or use that printable application form. A printable application for Scottrade could only be useful in case you want to go through your initial Scottrade application in preparation for the interview.
The main rule before sending a Scottrade application is to research the company not so much as to make a good impression during the interview but as to, first of all, see if you are a good fit for the role advertised. Compare your resume to what is required and tailor it as to only contain relevant information, which can be spotted easily.
Once the right job has been identified and the resume has been submitted via the online career account, it is in the hands of the recruiters to judge if you are a fit candidate. If they decide this is the case, they will ring you for a preliminary phone screening. If this step goes well, you are invited for an in-person interview with someone from HR.
Dress professionally and during the interview behave in accordance to the situation. Answer their questions concisely and accurately. Don't forget to have questions prepared for them as well. Once the interview is finished, express your gratitude for being invited to a face-to-face meeting. Call or email and ask on when to expect an answer. If you are chosen for the job you will have to agree to a detailed background check.
Also See:
Cashland: For employment at Cashland visit the application page.
Suntrust Bank: For employment at Suntrust Bank visit the application page.
Bank Of New York Mellon: See this page for jobs at Bank Of New York Mellon.
BB&T: BB&T offers opportunities for both, beginners and experienced roles.
Ernst & Young: See our guide for careers at Ernst & Young.
https://www.youtube.com/watch?v=1g11eBhYmaY
Company Links
https://employment.scottrade.com/joblist.html