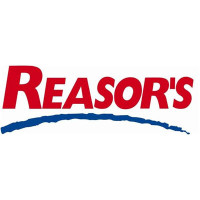 Reasor's started as a family owned grocery store in Oklahoma in 1963. Since that humble beginning, it has evolved into an employee owned business with over 19 locations in Northern Oklahoma and growing. From the start, the company's emphasis has been on customer service.
You can probably find just about all of your grocery needs at a Reasor's store. The in-store bakery offers everything from freshly baked breads to decorated cakes. The deli features the usual array of meats and cheeses plus custom made trays for your special occasions. The produce section has a huge selection of fresh fruits and vegetables, including locally grown. High quality meat and sustainably caught seafood round out the foods available.
In addition to the wide range of food items, customers at Reasor's can also get their prescriptions filled at the on-site pharmacy. The company's attention to health goes beyond providing medications. They have been recognized as a Certified Healthy Business. This means they have met specific criteria that show their dedication to encouraging both customers and employees to live a healthy lifestyle. Among the services they offer are help with meal planning, nutrition classes, and private consultations.
Other services that Reasor's customers enjoy include online shopping, banking, and floral delivery service. Ads and special discounts are posted online. Besides having the convenience of shopping from home, regular customers can accumulate points to be redeemed later for additional savings.
As a part of Reasor's focus on service, they offer an opportunity for their customers to purchase fundraising coupon books. A portion of the purchase price of the book goes to non-profit organizations. The individual coupons in each book are then used by the customer for dollars off on items bought in the store.
Reasor's Interview Questions
Are there any questions that you would like to ask me? At the end of the interview, it is advisable to always show that you are keen. If you say no, then the interviewer may think that you are not that interested. A keen question shows interest, such as: if I was to be successful for this job, then when would I hear back from you? Also, perhaps not a question but a 'thank you for your time' is a good way to finish.
What errors have you made on your job? You need to consider what errors you may have made but more importantly- what you did to correct them. It is all very well making mistakes but you need to consider the impact that it has on others. Have you validated how these errors may have occurred? Make sure that you can take the responsibility that it was your mistake rather than anyone else's.
Give an example of how you may have coped with the pressure of a lot of work at once. This is a question to see how you may cope with a large workload. Some people do not cope well when they have a lot to do. They want to be confident that will be able to prioritise your workload efficiently so that you focus on the most important task first and prioritise onwards.
What type of colleague might you not want to work with? Be honest here and link in to previous experience. Perhaps this is one to trick you into moaning and complaining about previous colleagues again. Be specific that your concerns about a person may be more based on their unprofessionalism or an element of safety rather than what you have believed about them in idol gossip in the staffroom.
Company Links
http://www.reasors.com/company/careers_cmpy.php