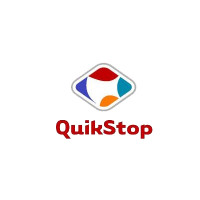 Quik Stop is an American company that offers fresh food, snacks and drinks. Their popular products include beverages like coffee, frozen fountain drinks. The company also serves fresh sandwiches, savories and groceries. Their stores provide handy services like the ATM's, money orders and calling cards.
Quik Stop Markets Inc. opened its first office at Fremont, California in the year 1965 with Leon Sayous as its first President. The company opened its first franchise store in 1966 at Hayward, California. Eventually, the company expanded its business operations to Southern California.
The company decided to operate its stores for 24 hours a day in the year 1981. There are around a hundred stores operated in Northern Nevada and Northern California. The convenience store company is currently operated by Kroger Co. that specializes in retail food and groceries, jewelry, etc.
Quik Stop offers excellent franchising and employment opportunities to interested candidates. The company offers QuikStop advantage facility that includes in-store training, accountancy assistance, advertising techniques and marketing for aspiring businessmen who want to experience running a business.
How old do you have to be to work at Quik Stop?
You need to be at least 16 years of age in order to work at Quik Stop. For managerial positions, the ideal age to apply is 18 years or above. Aspirants would enjoy being a part of this company as it offers excellent practical experience opportunities and attractive salaries.
Company Links
https://www.quikstop.com/topic/jobs-3